| | |
| --- | --- |
| Starters announced for 2017 All-Star game | |
---
| | |
| --- | --- |
| Sunday, July 2, 2017 7:33 PM | |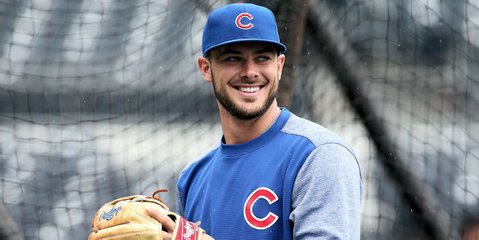 Major League Baseball announced their starters on Sunday night for the 2017 All-Star game in Miami, Florida and no Chicago Cubs will be starting for the National League. Last season during the Cubs impressive first half, the Cubs had the four infield members and five total voted in the 2016 All-Star game.
The Cubs are the first team to have a four starter dropoff in the All-Star Game since the San Diego Padres (1985-86) according to ESPN Stats and Info.
In the outfield votes, Jason Heyward was fourth, Ben Zobrist was fifth, and Kyle Schwarber finished eighth in the voting despite currently playing in the minors.
At the catcher position, Buster Posey won in a landslide with 3.3 million votes with Cubs young catcher Willson Contreras finishing second with 1.5 million.
Cubs closer Wade Davis will be the lone Cubs player that made the cut for the 2017 All-Star game. It will be his third All-Star selection and first in the National League. Also, Cubs manager Joe Maddon will be managing the All-Star game for the second time in his career.
NL Starters:
C: Buster Posey, Giants
1B: Ryan Zimmerman, Nationals
2B: Daniel Murphy, Nationals
SS: Zack Cozart, Reds
3B: Nolan Arenado, Rockies
OF: Charlie Blackmon, Rockies
OF: Bryce Harper, Nationals
OF: Marcell Ozuna, Marlins
AL Starters:
C: Salvador Perez, Royals
1B: Justin Smoak, Blue Jays
2B: Jose Altuve, Astros
SS: Carlos Correa, Astros
3B: Jose Ramirez, Indians
OF: Aaron Judge, Yankees
OF: Mike Trout, Angels
OF: George Springer, Astros
DH: Corey Dickerson, Rays
???? And here they are - Congratulations to YOUR 2017 #ASG Starters! ???? pic.twitter.com/RWlZJs3F19

— MLB Network Radio (@MLBNetworkRadio) July 2, 2017
#ASG NL reserves (1/3):
@Cody_Bellinger, @mconforto8, Paul Goldschmidt, @jhay_da_man. pic.twitter.com/YoAD90BJ51

— MLB (@MLB) July 2, 2017
#ASG NL reserves (2/3):
@enderinciartem, @JakeLamb18, @DJLeMahieu, @YadiMolina04. pic.twitter.com/uti48V47O6

— MLB (@MLB) July 2, 2017
#ASG NL reserves (3/3):
@coreyseager_5, @Giancarlo818, Joey Votto. pic.twitter.com/HMK477Xz72

— MLB (@MLB) July 2, 2017
#ASG AL reserves (1/3):
@YonderAlonsoU, @mookiebetts, Michael Brantley, Starlin Castro. pic.twitter.com/dBjWFPqMlN

— MLB (@MLB) July 2, 2017
#ASG AL reserves (2/3):
@ncboomstick23, @AvisailGarcia, @Lindor12BC, @SanoMiguel. pic.twitter.com/mNvbDaC9qu

— MLB (@MLB) July 2, 2017
#ASG AL reserves (3/3):
@ElGarySanchez, Jonathan Schoop. pic.twitter.com/WQMbyqxXov

— MLB (@MLB) July 2, 2017
#ASG AL pitchers (1/3):
@DBetances68, Yu Darvish, @MFulmer12, @Kimbrel46. pic.twitter.com/ArKnSrdbgw

— MLB (@MLB) July 2, 2017
#ASG AL pitchers (2/3):
@kidkeuchy, Corey Kluber, @LMcCullers43, @a_miller48. pic.twitter.com/QmNHXh6cyi

— MLB (@MLB) July 2, 2017
#ASG AL pitchers (3/3):

Chris Sale, @ErvinSantana_54, @LuisSeverino94, Jason Vargas. pic.twitter.com/oZB1SqvkDA

— MLB (@MLB) July 2, 2017