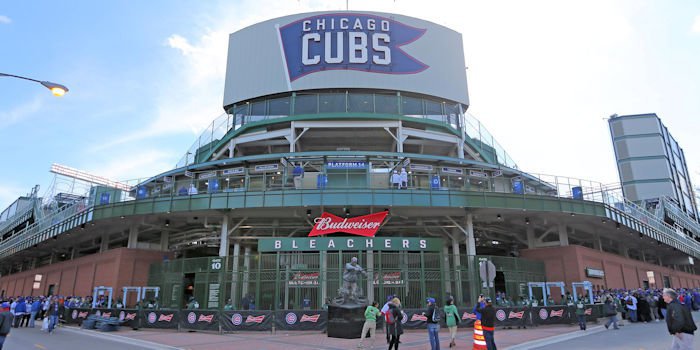 | | |
| --- | --- |
| Cubs News: Wrigley Field to have All-Star game in the "relatively near future" | |
---
| | | |
| --- | --- | --- |
| Tuesday, July 11, 2017, 5:51 PM | | |
The Chicago Cubs won their first World Series title in over 100 years and also have been renovating their iconic Wrigley Field. Now, that the Cubs have won a title and Wrigley Field has had a modern facelift, Cubs executives are pushing for the All-Star game in 2020.
Major league commissioner Rob Manfred told reporters during the 2017 All-Star preparation on Monday that Wrigley Field will host an All-Star game eventually.
"The city of Chicago and Wrigley Field, the renovated Wrigley Field, in particular, would be a great site for an All-Star Game," Manfred said Monday while at the All-Star Game in Miami. "There will be an All-Star Game in Wrigley Field in the relatively near future. Having said that, the caveat on that is we have a lot of cities really interested in having the game."
"It makes sense the Cubs get an opportunity ahead after the new renovations are complete," Manfred said. "This will provide the Cubs and Ricketts family a chance to showcase the unbelievable renovation they are in the midst of doing for Wrigley Field."
"I'm optimistic," Cubs President of Business Operations Crane Kenney said during the offseason at the Cubs convention. "No question, Chicago would be an incredible venue. We saw it during the World Series and the playoffs. We saw it with the TV ratings that were generated."
Kenney knows that the City of Chicago would embrace another huge baseball event such as the All-Star game.
"We think an All-Star Game here would be hugely popular and do great things for our city and great television ratings for the league."