| | |
| --- | --- |
| Bleacher Preacher wants to convert Joe Buck | |
---
| | |
| --- | --- |
| Tuesday, October 25, 2016 10:25 PM | |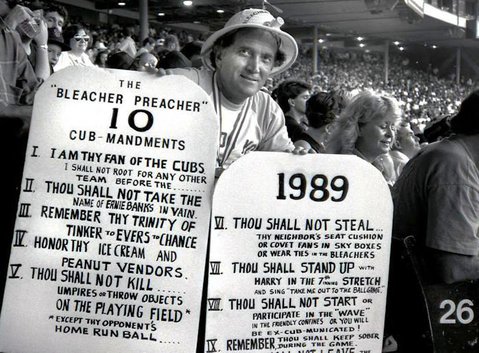 The Bleacher Preacher, Jerry Pritikin, is an 80-year-old Cubs fan and part of the original Bleacher Bums. He carries the "Ten Cub-Mandments" around and walks around the friendly confines to convert opposing fans to the ways of life of the Cubs.
His lifelong dream was to go to World Series and a Chicago company, Gilbert's Craft Sausages, learned of his story and will be sending him to the World Series game on Friday, Oct. 28, at Wrigley Field.
The Bleacher Preacher wants to convert Fox Sports announcer Joe Buck to a Cubs fan.
"If the "Buck" stopped here at (my place) he would understand the love that Cubs fans share with their family, friends, and co-workers," Pritikin said. It's a labor of love and traditions shared at every age bracket and the most important message-hope!"
The Bleacher Preacher thinks that Joe Buck needs to relax in the bleachers of iconic Wrigley Field and chill out.
"I would recommend that he sit in the Friendly Confines with me in the bleachers, feel the winds of Wrigley and the spontaneity of the moment. Bill Veeck used to say by inverse proportion of the price of a ticket, the fans knowledge of the game. Sadly there are no more cheap seats... but there are Cubs fans who loyalty is based on camaraderie no matter what!"