| | |
| --- | --- |
| Craig Sager has bet $1K on Cubs winning title for 35 straight years | |
---
| | |
| --- | --- |
| Thursday, November 3, 2016 7:15 PM | |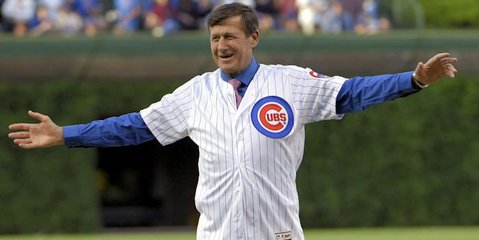 Fan favorite TNT broadcaster Craig Sager has been battling intense treatment for Leukemia as he has been in and out hospitals with chemotherapy sessions.
Sager is a diehard Cubs fan and threw out the first pitch and sang "Take me out to the ballgame" back in the beginning of June.
Every year since 1981, Sager has placed $1000 on the Cubs to win the World Series, and now he finally won after 35 straight losing bets.
Just two Cubs fans celebrating a successful procedure, a birthday & a WORLD SERIES in the same day!!!! #SagerStrong #ThankYouCubs pic.twitter.com/zvWU7XoDS8

— Craig Sager II (@CraigSagerJr) November 4, 2016
Congrats to the @Cubs and my Dad for finally being able to cash in after 35 years. #FlyTheW #LivingOutLoud pic.twitter.com/LgpVYMujtJ

— Craig Sager II (@CraigSagerJr) November 3, 2016
"It's fitting the Cubs get their mojo back the same night my dad checks out from the hospital," Sager's daughter said.
.@DwyaneWade is all smiles thanks to the @Cubs and his #WorldSeries bet with @KingJames. pic.twitter.com/AEEiTobRo5

— UNINTERRUPTED (@uninterrupted) November 3, 2016