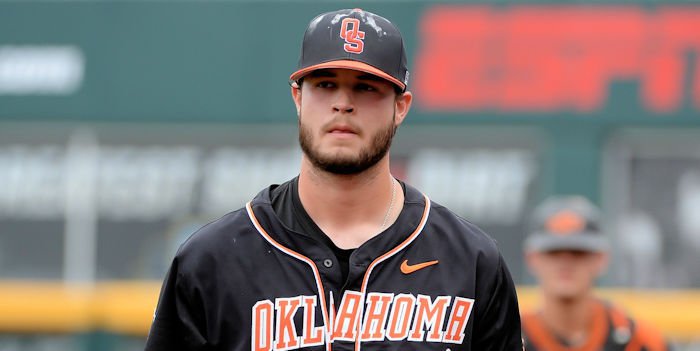 ---
CHICAGO – The Chicago Cubs today announced they have signed right-handed pitcher Thomas Hatch, the club's third round pick (104th overall) of the 2016 Draft. Terms of the deal were not disclosed. Overall, the Cubs have signed 21 selections to date in advance of the July 15 signing deadline.
Hatch, 21, completed his redshirt sophomore season at Oklahoma State by helping lead the Cowboys to the College World Series. Overall, Hatch went 9-3 with a 2.14 ERA (31 ER/130.1 IP) and 19 starts, including four shutouts. He allowed just two home runs, walked 33 and struck out 112 batters, becoming the 13th pitcher in OSU history to reach the 100-strikeout mark in a single season.
Hatch, recommended by area scout Ty Nichols, was named the Big 12 Conference Pitcher of the Year and was named to the All-America Third Team by Baseball America. He shut out three-straight opponents – TCU, Texas and Prairie View A&M – to become just the 10th pitcher in Big 12 history to record three shutouts in a season.
Hatch was selected by Colorado in the 32nd round of the 2013 Draft out of Jenks (Okla.) High School, but did not sign.
Here is a look at Chicago's selections from the 2016 Draft
Rd. (Pick No.) Player Pos. School Birthday B T Ht. Wt.
3 (104) Thomas Hatch RHP Oklahoma State University 9/29/94 R R 6-1 200
4 (134) Tyson Miller RHP California Baptist University 7/29/95 R R 6-4 195
5 (164) Bailey Clark RHP Duke University (N.C.) 12/3/94 R R 6-4 220
6 (194) Chad Hockin RHP Cal State Fullerton 10/7/94 R R 6-2 210
7 (224) Michael Cruz C Bethune-Cookman University (Fla.) 1/13/96 L R 5-11 210
8 (254) Stephen Ridings RHP Haverford College (Pa.) 8/14/95 R R 6-8 220
9 (284) Duncan Robinson RHP Dartmouth College (N.H.) 12/5/93 R R 6-6 220
10 (314) Dakota Mekkes RHP Michigan State University 11/6/94 R R 6-7 250
11 (344) Michael Rucker RHP Brigham Young University (Utah) 4/27/94 R R 6-1 185
12 (374) Trey Cobb RHP Oklahoma State University 6/24/94 R R 6-1 190
13 (404) Wyatt Short LHP University of Mississippi 10/14/94 L L 5-8 180
14 (434) Parker Dunshee RHP Wake Forest University (N.C.) 2/12/95 R R 6-1 205
15 (464) Jed Carter RHP Auburn University-Mont. (Ala.) 1/26/95 R R 6-0 190
16 (494) Holden Cammack RHP Oral Roberts University (Okla.) 6/14/93 R R 6-0 195
17 (524) Zack Short SS Sacred Heart University (Conn.) 5/29/95 R R 5-10 175
18 (554) Marc Huberman LHP University of Southern California 1/10/94 L L 6-2 190
19 (584) Matt Swarmer RHP Kutztown University (Pa.) 9/25/93 R R 6-5 175
20 (614) Colton Freeman LHP University of Alabama 12/18/93 L L 6-1 210
21 (644) Sam Tidaback C University of North Georgia 10/6/93 R R 6-0 210
22 (674) Dante Biasi LHP Hazleton Area HS (Pa.) 12/4/97 L L 6-0 185
23 (704) Delvin Zinn SS Itawamba JC (Miss.) 5/29/97 R R 5-10 170
24 (734) Rey Rivera 1B Chipola College (Fla.) 6/14/97 L R 6-6 215
25 (764) Trent Giambrone 2B Delta State University (Miss.) 12/20/93 R R 5-9 175
26 (794) Austin Jones RHP University of Wisconsin-Whitewater 11/26/94 R R 6-1 195
27 (824) Connor Myers CF Old Dominion University (Va.) 2/3/94 R R 5-11 170
28 (854) Rian Bassett RHP Clark CC (Wash.) 3/26/95 R R 6-5 210
29 (884) Tyler Peyton RHP University of Iowa 3/31/94 R R 6-3 200
30 (914) Montana Parsons RHP San Jacinto College North (Texas) 4/20/95 R R 6-3 185
31 (944) Brenden Heiss RHP Jacobs HS (Ill.) 9/15/97 R R 6-1 190
32 (974) Zach Davis CF Texas Tech University 6/29/94 R R 5-10 170
33 (1004) Nathan Sweeney RHP Cherry Creek HS (Colo.) 8/21/97 R R 6-4 185
34 (1034) Davis Daniel RHP St. James School (Ala.) 6/11/97 R R 6-1 180
35 (1064) Ryan Kreidler 3B Davis Senior HS (Calif.) 11/12/97 R R 6-2 175
36 (1094) Jake Slaughter SS Ouachita Christian School (La.) 10/24/96 R R 6-3 200
37 (1124) Davis Moore RHP Los Osos HS (Calif.) 3/4/98 R R 6-4 190
38 (1154) Tolly Filotei CF Faulkner State CC (Ala.) 11/28/95 L R 5-7 160
39 (1184) Anthony Block LHP Newport HS (Wash.) 4/16/98 L L 6-5 190
40 (1214) D.J. Roberts RHP Atlantic Coast HS (Fla.) 6/26/98 R R 6-2 218