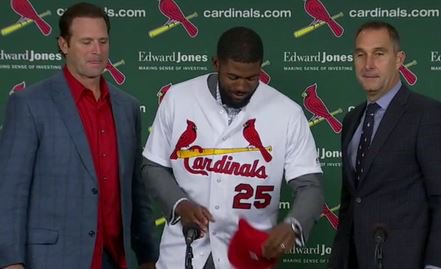 | | |
| --- | --- |
| Fowler's contract details with Cardinals | |
---
Former Chicago Cubs outfielder Dexter Fowler has officially signed a five-year deal worth $82.5 million with the St. Louis Cardinals on Friday morning.
"If I go in a clubhouse, we're gonna have fun," Fowler said during his press conference. "Win, lose, or draw, let's have fun. With the Cardinals, they're always in the hunt."
Fowler thinks that the Cardinals have a chance to win the 2017 World Series.
"This team has a chance to win the WorldSeries and that was a big part of coming... Winning is addictive.
Fowler said the Cubs called him before signing Jon Jay.
"I kind of had a sense," Fowler said. "They made a courtesy call before they signed Jay. I'll be forever grateful I was a Cub. "It's bittersweet. Now they're the rival."
Since the Cardinals have retired #24, Fowler picked #25 after his mentor, Barry Bonds.
This move will allow the Cardinals to bat Fowler leadoff and move Matt Carpenter down in the order. The Cardinals outbid the Blue Jays $60 million dollar offer earlier in the week.
The positive news for the Cubs since he rejected their qualifying offer, the Cardinals will lose their 19th pick in the 2017 draft and put a Cubs pick at the end of the first round.
Fowler is the first Cubs player to sign with the Cardinals after playing with the Cubs the previous year since Mark Grudzielanek in 2004.
Fowler had strong interest from the Cardinals, Blue Jays, and others with his impressive season spearheading the Cubs offense. He batted .276 with 13 homers, 48 RBIs, and 13 steals this season and was named to his first National League All-Star team. However, his numbers do not tell the tale of his play, leadership, and how great of a teammate he was during his time with the Cubs.
The Cubs and Cardinals will play on Opening Night in 2017 on April 2 in St. Louis (8:30 pm ET, ESPN).
St.Louis!!!!!!!

— Dexter Fowler (@DexterFowler) December 9, 2016
You go, we go... forever.

Thanks, Champ @DexterFowler! pic.twitter.com/x7uNembV3z

— Chicago Cubs (@Cubs) December 9, 2016