| | |
| --- | --- |
| Heyward's World Series Game 7 speech details | |
---
| | |
| --- | --- |
| Tuesday, March 14, 2017 2:09 PM | |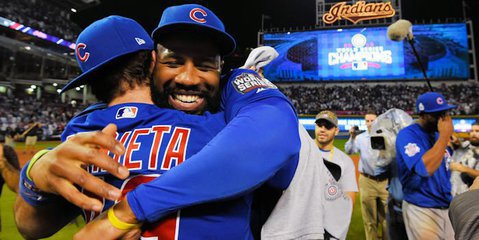 Sports Illustrated senior writer Tom Verducci's new book 'The Cubs Way' has some interesting insight into how the Chicago Cubs got over the hump and won their first World Series since 1908.
Cubs right fielder Jason Heyward gathered his teammates and held an impromptu meeting during the rain delay at Progessive Field's weight room.
"Guys, weight room! Won't take long!" Heyward hollered.
"When we got in," first baseman Anthony Rizzo said, "the mood was definitely down. All of us were just kind of pacing, and then J starts speaking."
Heyward began, "I know some things may have happened tonight you don't like..."
"At first I was afraid it was going to be negative," Ross would say later, "and I thought, This is nothing any of these young players needed to be hearing. But it wasn't that at all."
"We're the best team in baseball, and we're the best team in baseball for a reason," Heyward said. "Now we're going to show it. We play like the score is nothing-nothing. We've got to stay positive and fight for your brothers. Stick together, and we're going to win this game."
The Chicago ended up winning the historic Game 7 against the Cleveland Indians and the rest is baseball history.
The 'Cubs Way' will be available from Penguin Random House LLC on March 28.