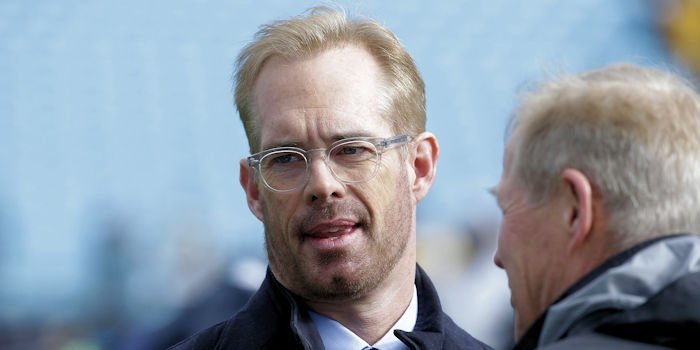 | | |
| --- | --- |
| Indians fans calling out Joe Buck | |
---
The Cleveland Indians lost 5-1 to the Chicago Cubs in Game 2 of the World Series on Wednesday. Some of the Indians fans were upset about the perceived bias of announcer Joe Buck towards the Cubs.
Buck spoke with Fox 8 Cleveland after the game on Wednesday night.
"I get blamed for hating every team," Buck said. "I'm in a no-win. I get it. I'm a huge hockey fan, so when I'm at home in St. Louis and I'm listening to now the national guys call the Blues games, it's like I want my own people calling it. People in Cleveland want their own people calling it. People in Chicago are used to their own people calling it. I get it."
Wait..now as the Cubs fans are also upset with the announcing of Buck during postseason play. There is actually an online petition that was made to replace Joe Buck with legendary broadcaster and former MLB player Bob Uecker for all the World Series broadcasts. This is no joke as the petition has already been signed by 53,732 supporters as of Thursday morning.
Buck tweeted about the petition against him recently.
"Nothing would make me happier than to have Uecker in the booth," Buck posted.
Pretty sad Joe Buck is trying to fix this contest just so he can have a dream season with his #Love #unlimitedbaseball #WorldSeries pic.twitter.com/6dElAQhJyi

— McNeil (@Reflog_18) October 27, 2016
I will be watching the remaining #WorldSeries games on MUTE so that I don't have to hear Joe Buck's one sided commentary. #RallyTogether

— Kristen Sell (@kristensell) October 27, 2016
@MLBONFOX I'm just wondering if you could tell Joe Buck to be a bit more biased for the Cubs.

— Kevin (@Kevin_1880) October 27, 2016
@KenCarmanShow is it just me, or does Joe Buck refuse to say "Indians"?

— Jay Miller (@FunNGamzz) October 27, 2016
Can someone please explain to me WHY Joe Buck continues to get the call to be the #WorldSeries announcer? I can name 56,824 better choices

— Matt Lisle (@CoachLisle) October 26, 2016