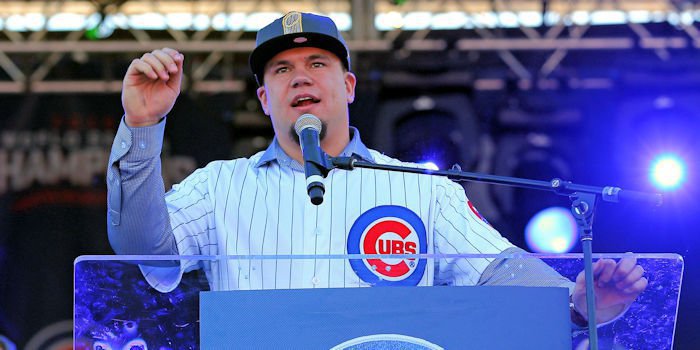 | | |
| --- | --- |
| Cubs News: Maddon discusses Schwarber at leadoff | |
---
Cubs manager Joe Maddon confirmed on Thursday afternoon that left fielder Kyle Scharber will be in the leadoff position to start the 2017 baseball season.
"I'd prefer that he subscribe to the Brian Downing method of leading off," Maddon referring to Downing only having 12 stolen bases in 606 total games as a leadoff hitter.
According to ESPN Stats and Information, only two major league players were listed at 235 pounds and batted leadoff last season: Jason Heyward (2 games) and Yasiel Puig (1 game).
If Schwarber needs a day off, Maddon said that Ben Zobrist would more than likely get the nod as the leadoff hitter.
He also said to the media that he is thinking about batting the pitcher in the 8th position and having Albert Almora Jr. or Jon Jay batting ninth before Schwarber.
During the 2016 World Series, he hit .412 with seven hits, a double and two RBIs to help the Cubs win their first World Series in over 100 years.
In 2015, Schwarber hit .246 with 16 home runs, 43 RBIs with an outstanding .842 OPS in only 69 games (273 at-bats) in his rookie season.
He was drafted by the Chicago Cubs in the first round (4th overall) in the 2014 MLB Draft.