| | |
| --- | --- |
| Maddon discusses the use of Lester, Chapman in bullpen | |
---
| | |
| --- | --- |
| Monday, October 31, 2016 7:49 PM | |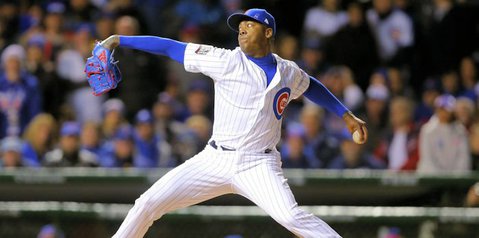 Cubs manager Joe Maddon spoke to the media on Monday evening as his team will travel tonight for Tuesday night's World Series game for the Cleveland Indians.
Maddon knows that he probably can't use Chapman for such a high pitch count like he did last game.
"I don't know that we could do what we did yesterday, necessarily," Maddon said. "But I'll talk to him tomorrow. He's a pretty strong guy. Beyond that I don't think we've overused him to this point. ... I'll definitely listen to what he has to say. I'm betting that he would probably think that he would be good for two innings, I would imagine tomorrow. But if it's not, we'll take what he can give us and then continue to work forward from there."
Chapman has a 2.08 ERA in 13 postseason innings giving up only seven hits, three runs, five walks, and an impressive 18 strikeouts.
Maddon also said that Lester will be an option in the bullpen on Tuesday in another win-or-go-home game but that doesn't mean that he will be used. Lester is 3-1 in 32.2 innings giving up only 24 hits, seven runs, five walks, and 26 strikeouts in the 2016 postseason.
"There's also Jonny Lester in the bullpen, and you'd have to make a decision how you want to utilize that if you actually put Jonny in the game," Maddon said. "Who you want catching Jon in that moment? So there's a lot of little subplots going on."