| | |
| --- | --- |
| Report: Ventura survived car crash but was robbed and left for dead | |
---
| | |
| --- | --- |
| Tuesday, January 24, 2017 11:43 AM | |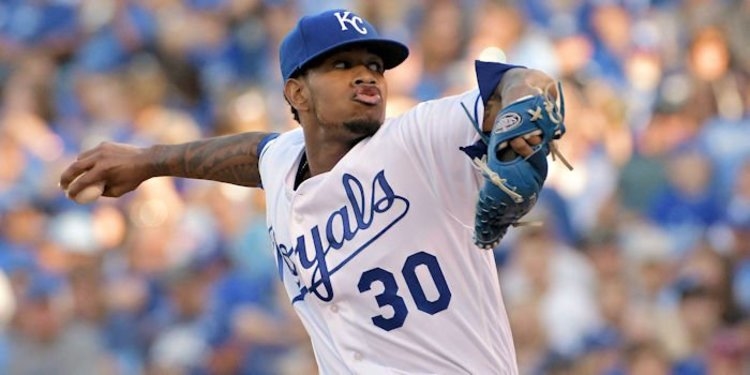 Royals pitcher Yordano Ventura was killed in a car accident in the Dominican Republic on Sunday morning, confirmed by the Dominican police force.
However, former MLB great and fellow Dominican Pedro Martinez believes based on his talks with people in the Dominican Republic that Ventura actually survived the car crash but was robbed of his belonging including a World Series ring and left for dead by those people instead of trying to help him.
This is really horrible news and I hope that Martinez is not right in this tragic series of events. RIP Yordano Ventura.
Que indignante saber que una vida como la de Yordano pudo haberse salvado de no haber sido que lo saquearan de la forma en que lo saquearon

— Pedro Martinez (@45PedroMartinez) January 24, 2017
Ahora es más doloroso al saber que Yordano quedo vivo luego del accidente y en vez de alguien socorrerlo, le robaron y lo dejaron morir.

— Pedro Martinez (@45PedroMartinez) January 24, 2017
Ojalá se levante una investigación, pues si existen evidencias puntuales de esto, sentiría mucha vergüenza ajena por mi país.

— Pedro Martinez (@45PedroMartinez) January 24, 2017
Here is the english translation of the Martinez's tweets above:
"That outrageous know that a life as it of Yordano could have is saved of not having been that it plunder of the form in that it sacked. Now it's more painful to know that I am beautiful live after the accident and instead of someone helping him, robbed and left him to die. Hopefully to lift up an investigation, because if there is specific evidence of this, I would feel very embarrassed by my country."
A unconfirmed report by a Dominican journalist wrote the following:
"Yordano Ventura was found alive, but several people assaulted him instead of helping him," and that the individuals "stripped him of the World Series ring that he won with the Kansas City Royals and other belongings."
Ventura left behind his wife and three children and his funeral will be held Tuesday in the Dominican Republic.
The 25-year old had 4.45 ERA with a record of 11-12 with 144 strikeouts, and 1.44 WHIP in 2016. For his short career, he had 3.89 ERA, 38-31 with 470 strikeouts and 1.34 WHIP. He was a World Series champion in 2015.
He signed with the Kansas City Royals as an international free agent in 2008 with a 28,000 signing bonus.
This is the second active major league pitcher to pass away over the last six months as Jose Fernandez passed away on Sept. 25.