| | |
| --- | --- |
| Why did Schwarber scream Suck My #$%$ to David Ross? | |
---
| | |
| --- | --- |
| Thursday, October 27, 2016 4:30 PM | |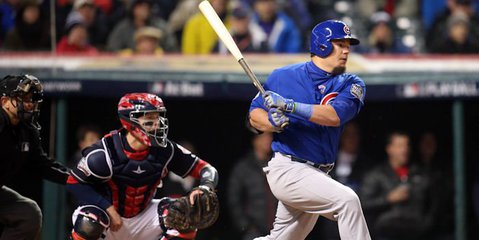 Cubs designated hitter Kyle Schwarber had a two-out RBI single in the second inning to put the Cubs up 2-0 against the Indians in the 2016 World Series.
Scwarber screamed,"I'M BACK!!!" to his teammates after the clutch two-out hit.
"IM BACK" #FlyTheW | #Cubspic.twitter.com/bfdzMVGaHB

— Seth Bloom (@Sconnieseth) October 27, 2016
However, Schwarber continued to celebrate the play and also screamed enthusiastically "F#$% Yea!! "SUCK MY @#$%" to David Ross on national television.
Yahoo! Sports' Jeff Passan found the man that was responsible for Schwarber cussing on television.
"It was me," David Ross said. "And I loved every second of it."
Ross had joked with Schwarber in game one of the World Series that he didn't drive in a run in his return.
"I almost passed out laughing," Ross said. "I love that guy. He is so tough mentally. He's stayed with the team and been in every at-bat with us. That's why he's having success. He's a natural-born hitter. But he has stayed engaged."
Check below for the video evidence.
... Yup. Definitely. #Cubs #WorldSeries pic.twitter.com/3VilzOcPJ2

— The 312 (@312pod) October 27, 2016