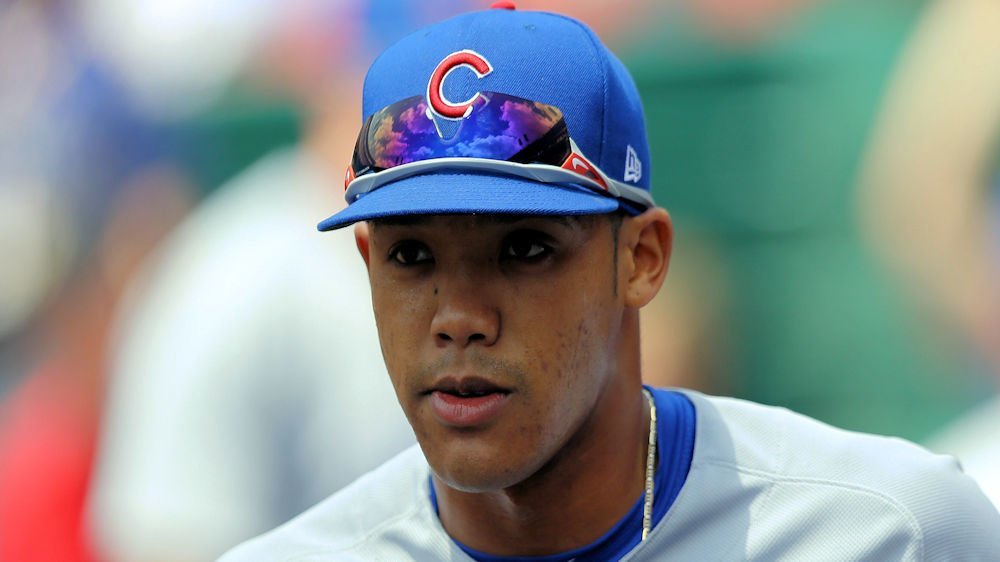 | | |
| --- | --- |
| Cubs News: Joe Maddon calls out Addison Russell for his numerous mistakes | |
---
CHICAGO — Chicago Cubs second baseman Addison Russell did not fare too well at Wrigley Field on Saturday afternoon. The Cubs' game against the San Diego Padres was played in somewhat extreme weather conditions, which included blistering heat, intense sunlight and sporadic gusts of win. Unfortunately for Russell, the heat seemed to get to him, as he committed several gaffes during the course of the contest.
Russell lost two different high popups in the sun, and both of them dropped in for hits. He also committed a pair of baserunning blunders, as he was was doubled off at second base on a routine lineout and gunned down at home when he unnecessarily went home on a ground ball. Adding insult to injury, Russell also lost control of his bat when swinging and missing and slung the bat into the Cubs' dugout, narrowly avoiding drilling his coaches and teammates.
In spite of Russell, the Cubs came away with a 6-5 victory, but Cubs manager Joe Maddon did not shy away from calling Russell out in his postgame remarks. Maddon referenced the miscellaneous mistakes suffered by both teams in his postgame press conference, and he elaborated on Russell's mistakes, drawing specific attention to the careless baserunning .
"He has to straighten some things out," Maddon said of Russell. "He has to. There's no question."
Sometimes you have a bad day. Sometimes you're Addison Russell and you lack common sense, let alone a bag of coins...#Cubs #AddisonRussell #EverybodyIn@PinwheelsIvyPod @SouthsideZo @AldoSoto21 @Matt_Enuco pic.twitter.com/8lNlU0AzoL

— Kevin Fiddler (@KFidds) July 20, 2019
Russell has suffered a litany of goofs on the basepaths this season, and he spoiled two Cubs scoring opportunities with undisciplined baserunning on Saturday. Russell's name has been mentioned in trade rumors off and on throughout the season, and, if Maddon's remarks are any indication, Russell could find himself being dealt by the Cubs before the July 31 trade deadline.
"We've talked about his baserunning in the past," Maddon said while continuing to harp on Russell. "We're making too many outs on the bases, and we're missing things on the bases that we can't to be an elite team."
#CubsWin Joe Maddon #postgame Cubs 6-5 San Diego Padres #W pic.twitter.com/LkrQjwxplr

— Yodeportes (@Yodeportescom) July 20, 2019