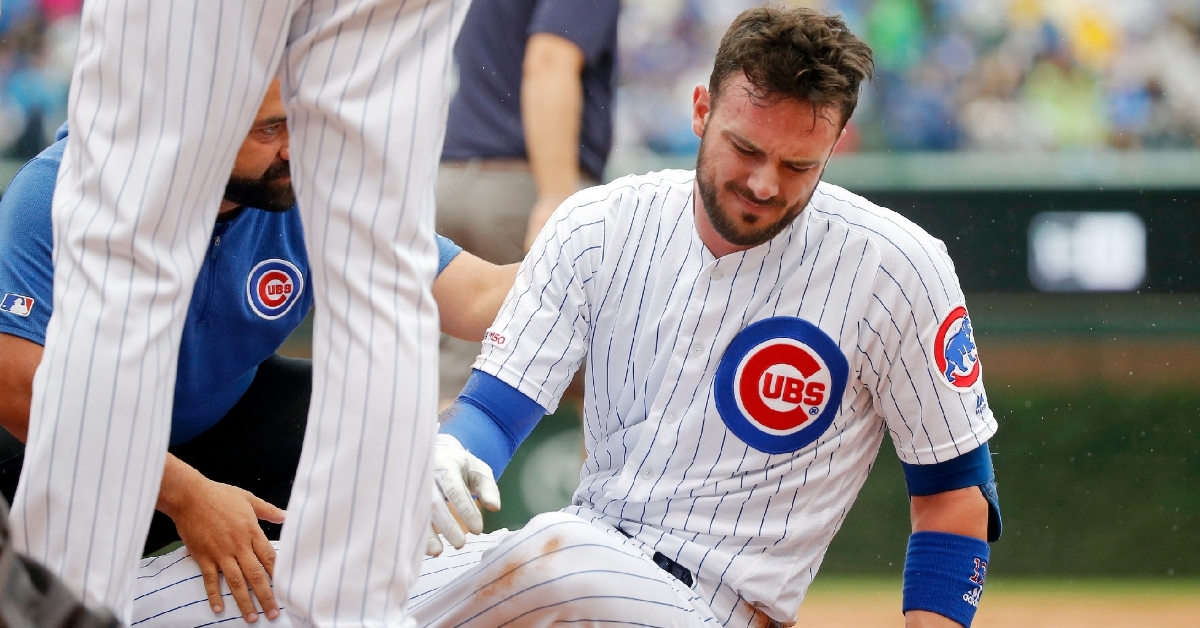 | | |
| --- | --- |
| Cubs News: Heyward, Maddon react to Bryant's injury | |
---
Chicago Cubs superstar Kris Bryant exited the Cubs' contest with the Cincinnati Reds at Wrigley Field on Sunday after taking a nasty spill in the outfield. Normally a third baseman, Bryant served as the right fielder on the afternoon, and, unfortunately, he collided with center fielder Jason Heyward while both players had their eyes fixed on a high fly ball in the top of the sixth.
Bryant was able to brace himself for impact just before slamming into Heyward, which likely assuaged the damage a bit. Nevertheless, Bryant was forced to depart the game after suffering what appeared to be an upper-body injury as a result of the collision.
After the game, Cubs manager Joe Maddon provided an update on Bryant's injury status, telling the media, "He's doing OK. He's still under evaluation. We don't know exactly what we're doing with this whole thing yet. But we're trying to talk with the docs and him to find out exactly where we're at."
Patrick Mooney of The Athletic Chicago discussed the injury with Heyward postgame, and, while Heyward understandably did not know any crucial details regarding Bryant's diagnosis, he said about Bryant, "I hope he feels great, but time will tell. We both went hard to make a play."
Maddon has used Bryant in the outfield on several occasions in recent seasons, and the trained infielder has been involved in multiple collisions while doing so, which begs the question of how much longer Bryant is going to be used as a semi-regular outfielder. If Maddon's outlook on Sunday's incident is any indication, he has no plans of ceasing to utilize Bryant as an outfield option anytime soon.
"It happens in our game," Maddon told Mooney when asked about the violent collision. "It's going to happen again. Hopefully not for a while, but I don't worry about stuff like that."
Mooney later reported that Bryant has been cleared to fly with the team to Texas for the Cubs' series with the Houston Astros that will begin on Monday, which is positive news that essentially rules out a substantial head injury. As for whether or not Bryant will receive any playing time in Houston is up in the air at this point.