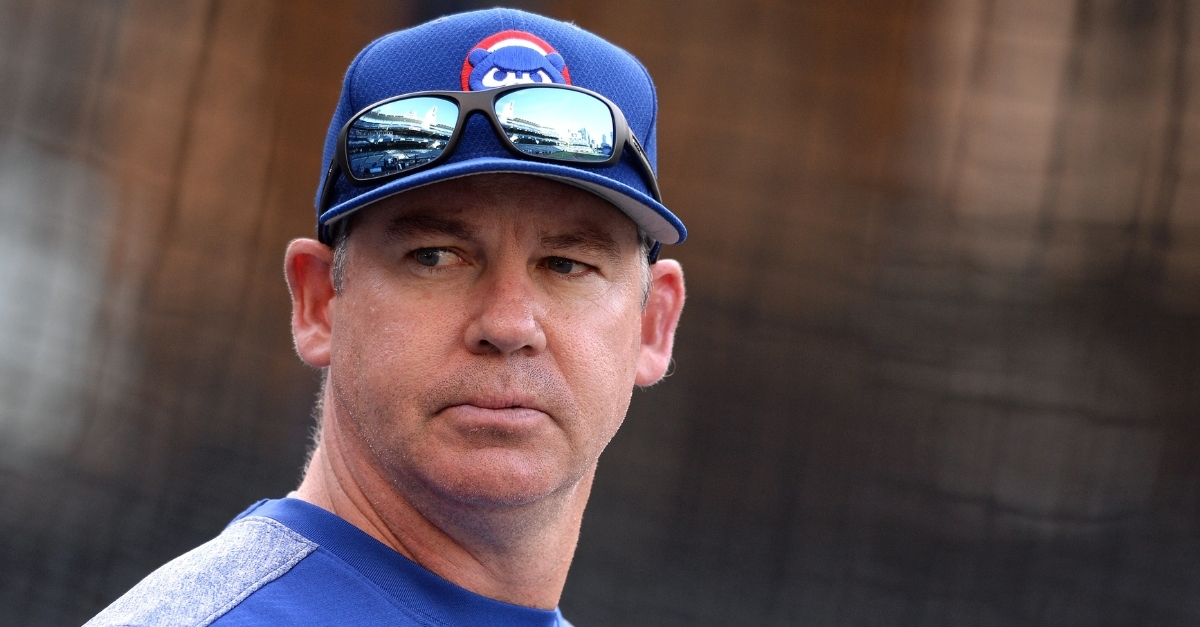 | | |
| --- | --- |
| Mark Loretta breaks down how he would manage Cubs | |
---
| | | |
| --- | --- | --- |
| Monday, October 7, 2019, 7:38 PM | | |
CHICAGO — Chicago Cubs bench coach Mark Loretta interviewed for the Cubs' open managerial position last week and is one of the leading candidates to land the job. Loretta recently completed his first season of big-league coaching after being hired by former Cubs manager Joe Maddon prior to the 2018 campaign. As a player, Loretta served as an MLB infielder for 15 seasons, in which he was selected to two All-Star teams and won a Silver Slugger Award in 2004.
Loretta was the first to interview for the managerial position with the North Siders when he met with Cubs President of Baseball Operations Theo Epstein and other members of the Cubs' front office last week. The Cubs are slated to interview Cubs first-base coach Will Venable and former Cubs catchers Joe Girardi and David Ross this week. When appearing on 670 The Score's Inside the Clubhouse last week, Loretta discussed what his managerial philosophy would be if he were given the opportunity to manage the Cubs.
"We have three or four areas where we need to improve," Loretta said. "We certainly had trouble in the bullpen early and late in the season. The defense, for sure, I think it could have been much better. On the offensive side, we struck out way too much. So those three areas for me are big concerns. I don't think it's an edge or concentration issue. I think we should look at how we practiced, check what our game planning was and things like that. We maybe need to make adjustments in those areas. I don't think it's about concentration or having an edge. This is not like football or basketball, where you say you are going to get emotional and use that as an edge. It's a fine line and hard to define."
Before coming to the Cubs, Loretta worked in the San Diego Padres' front office, and he now has a desire to try his hand at managing. Interestingly, Loretta indirectly implied that he felt like the Cubs could benefit from no longer following some of the practices instilled by Maddon. Loretta spoke on the importance of playing a core group of starting infielders on a regular basis, which contrasts with Maddon's constant lineup shifting. He also discussed the need for more accountability and structure for the Cubs' players, as the hands-off approach practiced by Maddon did not seem to work toward the end of his tenure.
"I have young children at home who fall into that description and age grade in communication," Loretta said of the players on the Cubs' roster. "I think coaching in this day and age is a lot like parenting. I think kids and millennials need a certain amount of structure. They need a schedule. They are so used to that. Driven around here, travel ball games, showcase events over here, all this stuff. They crave a schedule. There may be some initial pushback, but they like to have it. If you give them too much free time, that can go haywire."
In addition to Venable and Ross, who is a special assistant to the Cubs' front office, Loretta is an internal candidate hoping for the ultimate promotion of being granted the opportunity to lead the Cubs as the club's next manager. Based on his disposition and reputation as a hard-nosed player, it is easy to surmise that Loretta would approach managing with a much more no-nonsense style than the style that Maddon was accustomed to utilizing.
"We are not saying it should be a military-style [approach]," said Loretta. "I don't think that's the way to go. I do believe that structure and accountability mixed with relationships, love and fun is. We want to have fun in this game. Our trainer, Tim Buss, is just fantastic in team building and getting guys together to work and have a good time. We are still professionals, and the bottom line is we have to execute. The team that executes the most usually comes out on top."
Loretta made it obvious from his comments on the radio that he considers a significant change in the approach to managing to be necessary in order for the Cubs organization to get the most out of its incredibly talented group of star players. Despite the disappointing ending to the 2019 season and the ample changes that are sure to occur within the franchise in the coming weeks and months, the Cubs will still enter 2020 with full-fledged World Series aspirations, and Loretta might have what it takes to commandeer the Cubs back to the Fall Classic.