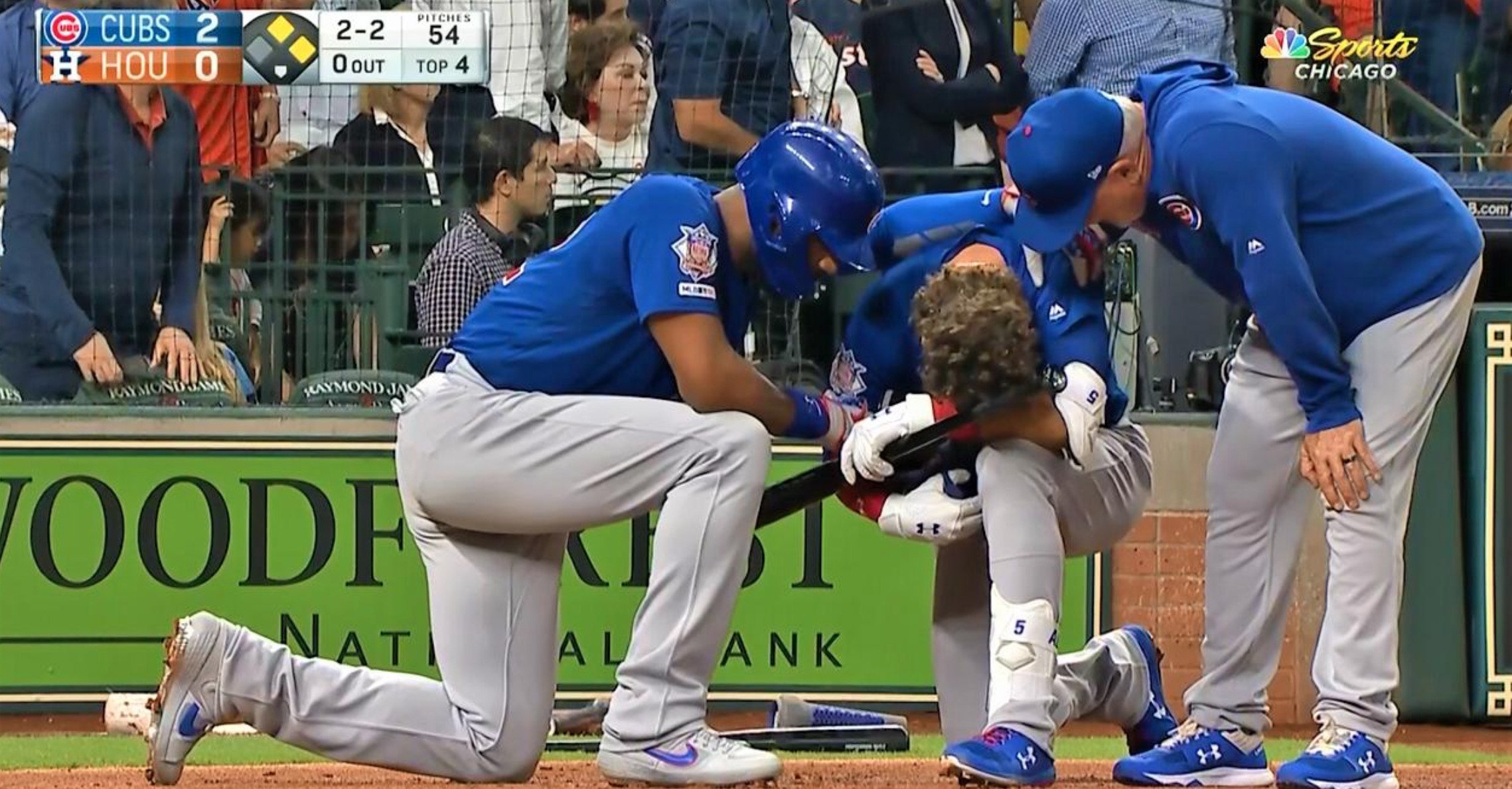 | | |
| --- | --- |
| WATCH: Awful moment as Almora hits foul ball that strikes young fan | |
---
| | | |
| --- | --- | --- |
| Wednesday, May 29, 2019, 9:38 PM | | |
A terrible moment occurred in the fourth inning of the Chicago Cubs' matchup with the Houston Astros at Minute Maid Park on Wednesday. Cubs center fielder Albert Almora Jr. hit a foul ball that was lined down the third-base side and into the stands. Unfortunately, the foul ball hit a child, causing Almora to react in complete dismay. While security and medical personnel dealt with fan, Almora sobbed at the plate, leading teammate Jason Heyward and manager Joe Maddon to attempt to console him.
Almora was able to finish out his at-bat, and, after he struck out and walked back to the dugout, Almora was shown by television cameras crying in the dugout. Understandably, Almora was incredibly concerned for the young fan and checked with a member of the security team at Minute Maid Park soon afterward. Of course, there is no word at this time on what Almora was told by the security guard, but, whatever it was, it resulted in Almora sobbing uncontrollably into her shoulder.
Almora has two children himself, so he was undoubtedly shaken to his core by the horrible moment, which was yet another needless incident involving a fan getting struck by a foul ball at a big-league ballpark. Simply extending the netting down the foul lines could prevent such awful scenarios from unfolding. No fan should have to fear for his or her life while attending an MLB game, and no batter should have to worry about seriously injuring a fan with a simple swing of the bat.
Update: ESPN and NBC Sports Chicago are reporting that the little girl is conscious and was taken to the hospital as a precautionary measure.
Check this out! It was a SCARY & JARRING moment @MinuteMaidParks last night during #Cubs-#Astros game, when a 4 YO girl was hit by a foul ball! It happened when Cub's player, Albert Almora Jr. hit a foul line drive into the stands. Fortunately, she's OK. #khou11 #htownrush pic.twitter.com/xvrxwmV5c5

— Michelle Choi (@MichelleKHOU) May 30, 2019
After Albert Almora Jr. struck a young fan with a foul ball, in between innings he went immediately over to that section to ask about the situation. You can see he is overwhelmed with emotion as him and the security guard have a moment. This is just a terrible & sad situation. pic.twitter.com/Yh3wWmDjhx

— Cubs Live (@Cubs_Live) May 30, 2019
Albert Almora Jr. was visibly shaken after a foul ball off his bat struck a young fan at the #Astros #Cubs game on Wednesday night. The child's condition is unknown. #kprc2 #HouNews #TakeItBack pic.twitter.com/xcjlgZTEFB

— KPRC 2 Houston (@KPRC2) May 30, 2019
May 30, 2019