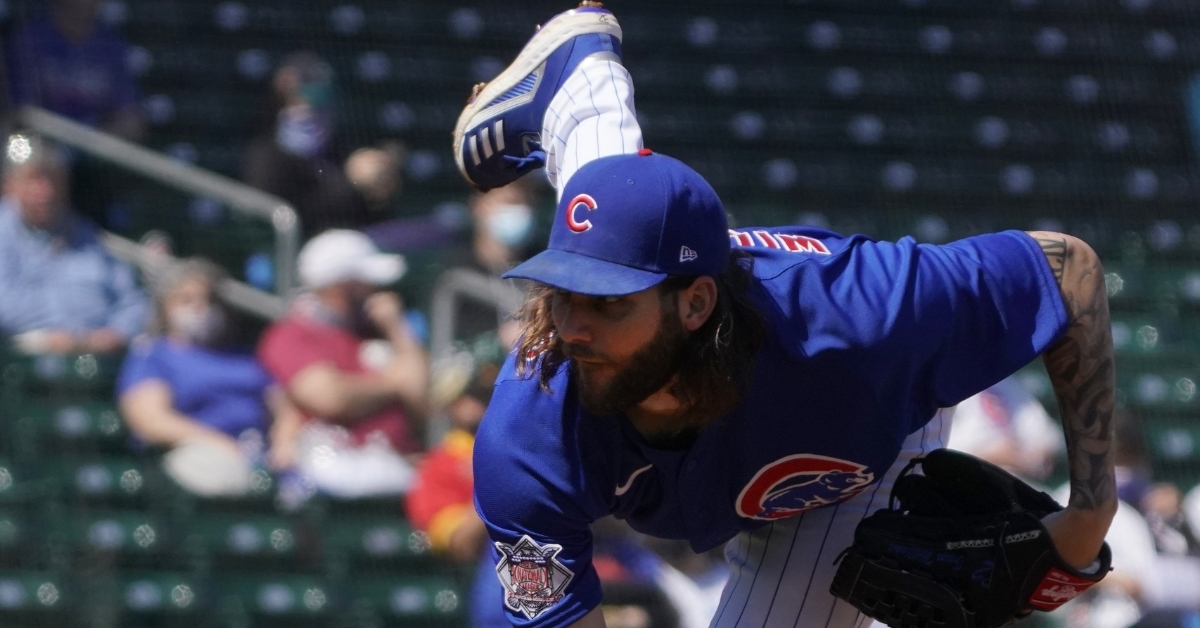 | | |
| --- | --- |
| 2021 Cubs Projections: Trevor Williams, Alec Mills, Adbert Alzolay | |
---
Last week, we started looking at starting pitchers by breaking down the Cubs rotation's front end. Today, we move to the back end of the rotation and dive into what they could bring to the table. Let's be honest, after losing Jon Lester, and Jose Quintana, the Cubs back end of the rotation was looking very slim heading into the offseason.
Adding Trevor Williams did help a little bit, but the Cubs still have some questions about who will fill the back end. Alec Mills and Adbert Alzolay appear to be the favorites to land the No.5 spot but don't count out Shelby Miller, who is putting together a strong spring.
Regardless of what the Cubs do, or should I say who the Cubs pick, some interesting decisions will be made. Given the significant jump in games from 60 to 162 this season, I expect David Ross to use a six-man rotation at some point this season, and it could happen sooner rather than later. This would allow him to monitor innings early and not worry about some guys burning out their arms too fast. The top three in the rotation should be fine, but the bottom three is where that could benefit.
Trevor Williams: Signed as a free agent for 2.5 million dollars in December, Williams is an intriguing fit for this team as he looks to solidify the No. 4 spot. After dealing with injuries not only in 2019 but in 2020, Williams is looking for a fresh start in hopes of bouncing back. Coming off a 2-8 season with a 6.46 ERA, and you can see why.
Williams has never been an ace or ace quality, but he was a very good arm coming through the Pirates system. When he finally got a chance to start, Williams showed great potential, especially in 2018, where he won 14 games and posted a 3.11 ERA. The following season he was off to an even better start until an oblique injury affected him down the stretch. That carried over to 2020, where he never seemed to get his mechanics back, and his performance suffered immensely. Hopefully, being healthy once again and a chance of scenery can unlock his potential.
Prediction: 25 starts (128 innings), 10-8 record and 3.74 ERA
I look at this signing like when the Cubs brought in Jason Hammel in 2014. Both were coming off rough seasons in the years prior but also showed potential before that. Hammel was looking for a change of scenery and ended up having the best run of his career with the Cubs.
During his three seasons, Hammel posted a 34-25 record but put together a 3.57 ERA over a run lower than his career mark. The Cubs are hoping Williams can follow a similar trend. Not a hard thrower, Williams has been seen in the 93-94 range this spring which is two MPH up from last year. He has also been using his slider much more this spring, which has turned into an above-average out pitch. Look for him to lean heavily on that pitch this season.
Given the injuries and struggles Williams has dealt with the past few seasons, I find it very unlikely he tops 25 starts this season as the Cubs will watch his innings and pitch counts in games. Should he continue to build off what we have seen this spring, you are looking at one of those top low-cost signings of the offseason and someone who could re-sign next year.
Alec Mills: A former prospect in the Royals system, Mills was acquired in the Wade Davis deal that sent Jorge Soler to Kansas City. Since coming to Chicago, Mills has not only bounced between AAA and the MLB roster but has bounced between the bullpen and starting rotation. A swingman most of his career, Mills showed promise in his five starts in 2018 and 19 and earned the No. 5 spot in the rotation last year.
He then started 11 games for the pinstripes getting off to an impressive 2-0 start before dealing with inconsistencies the rest of the way. Mills finished the season 5-5 with a 4.48 ERA but made headlines with a no-hitter against Milwaukee in September. Another soft tosser on the Cubs staff, Mills is all about location and contact as he needs the defense to go to work for him. He hopes to make an impression in the final two weeks of spring to earn the last rotation spot.
Prediction: 15 starts (105 innings), 6-6 record and 4.57 ERA
Mills is in a similar situation to last spring as he competes with Alzolay for the final spot in the rotation. So far, not only has he pitched better, but he has the experience, so I look for him to earn the No. 5 bid out of camp. That doesn't mean he will stay there long as he has logged barely 100 innings of major league work.
This is where the six-man rotation could come in handy. Mills can make 25 plus starts, but he needs to build up arm strength longevity. That is hard to do when you only have 100 innings of experience under your belt and are coming off a shortened season. I expect Mills to get a bulk of the starts early this season, but as the season goes on, don't be surprised to see him move to the pen and be used as a swingman. That would give the Cubs an innings eater out of the pen to fill in when needed for various roles.
Adbert Alzolay: The once top prospect in the Cubs system has been marred by inconsistency and injuries as he is no longer looked at as a top prospect. However, after finishing the season ranked 6th in the Cubs system, he is also the lone home-grown pitcher ready to contribute this season. Once viewed as the Cubs rotation's future, Alzolay to me is nothing more than a middle-of-the-rotation arm battling for the final spot in the rotation.
Coming off a year that saw him struggle early on, Alzolay bounced between the MLB roster and the South Bend site before finishing the season strong. In six games (4 starts), Alzolay posted a 1-1 mark to go with a 2.95 ERA, 13 walks, and 29 strikeouts. Across his final three outings, Alzolay posted a 0.91 ERA with four walks, and 17 strikeouts in 11 innings of work as his new slider made all the difference.
Given that he has an option left, it could be best to stash him in AAA early in the season to build up arm strength and give him confidence. With AAA now being pushed back to May 4th, it isn't easy to shut him down for a month before the AAA season so that may not be suitable for his arm.
Prediction: 12 starts (25 appearances), 5-5 record and 3.88 ERA
With the minor league season getting delayed a month, I expect Alzolay to land on the opening day roster but possibly in the bullpen to start the season. In other words, look for him to be the swingman early and ease his way into the rotation. With neither him nor Mills having a ton of experience, they will need to watch both of their innings this season.
Expecting the Cubs to go with a six-man rotation at some point, I look for Mills and Alzolay to each make 10 plus starts with someone emerging as the number five going forward. Whoever that is will be decided midseason, but the Cubs have a great swingman to deploy in the pen if needed.

Upgrade Your Account
Unlock premium boards and exclusive features (e.g. ad-free) by upgrading your account today.
Upgrade Now