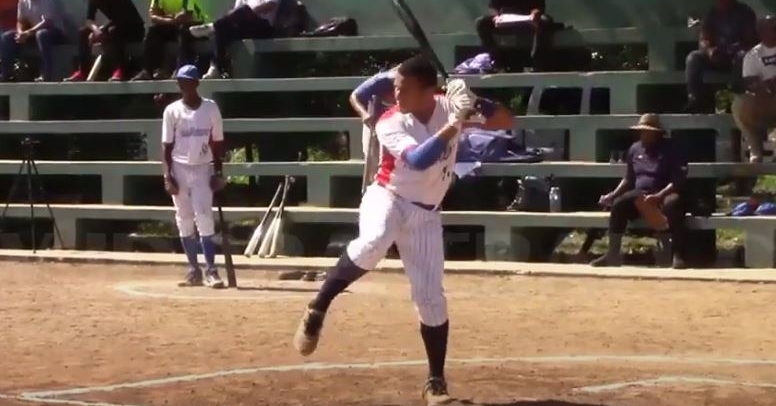 | | |
| --- | --- |
| Breakdown: Cubs 2020 Top 30 Prospects Part 4 | |
---
I hope everyone had a safe and enjoyable holiday weekend as we prepare for another one this weekend. Also, with preparing for another holiday weekend comes the end to a challenging 2020, with hopes of a better 2021 on the horizon.
As a new year approaches, a new prospect list as the current top 30 prospects may not be in the same order. From promotions to demotions to trades, every team's top 30 prospect list will look different in the coming months. For now, fans can still enjoy the end of the season top 30 lists as prospects continue to garner attention in the Cubs organization.
This is the part of the list where we begin to see the cream of the crop as we approach the top 10. There are a few players in this list several years away, but some players on this list could be knocking on the Wrigley Field door come September or early 2022.
For once, this portion of the series is not pitcher heavy as more position players land themselves on this list.
15. Ronnier Quintero (C): The Cubs certainly like their catchers, don't they, especially international catchers. Not only are both Victor Caratini and Willson Contreras of international decent, but the Cubs also have Miguel Amaya, who we will discuss in a few days leading the catching prospects in the organization. Well, the Cubs are certainly stocked long-term in the catching ranks as Quintero checks in at 2015.
Unlike Amaya, who could be knocking on the Big-league door this season, the 2019 International signing is years away from Wrigley after seeing no professional action thus far. The top International catching prospect out of Venezuela, Quintero, signed for 2.9 million with the Cubs, which happened to be the largest contract given to an international free agent in team history.
Although he has yet to play a professional game, Quintero is set to begin his journey this season as part of the Cubs Dominican Rookie League program. A big reason as to why the Cubs were so high on him is his lofty offensive ceiling. Not only does he have plus bat speed helping generate raw power, but that power comes from the left side of the plate.
Quintero may be considered a slugger given his ability to take the ball out all over the field, but he is much more than that. Quintero shows a great mindset and approach to the plate and could turn into one of the better hitting catchers if he can reach his potential. Couple that with excellent leadership skills and a strong and accurate arm, and the Cubs have another catcher in waiting.
14. Ethan Hearn (C): Sticking with Catchers, you will find Ethan Hearn checking in at 14. While Quintero was the top international catcher on the market, Hearn was the top Prep Catcher in the 2019 draft class and was scooped up in the sixth round by Chicago. Known for his power from the plate's left side, Hearn saw some time in Rookie ball with Arizona, hitting .163 with two homers and 14 RBIs across 23 games.
The power potential was certainly on display, but the overall hitting and approach need work, which will come with time. Hearn was viewed as a third-round talent but fell to the sixth round as many teams didn't think they could get him to waive his college commitment. Now in the Cubs system and you find a guy drawing a similar comparison to Quintero.
His bat speed and strength from the left side make him a legitimate power hitter who could turn into an all-around hitter. Hearn needs to settle down a bit at the plate as he has become too pull oriented, resulting in many swings and misses and grounders to the right side. All that can be fixed with more seasoning.
Like most catchers, Hearn doesn't have great speed but does move well behind the dish. What stands out most is his pitch framing ability and quick transfer from pop to throw. Both are essential in the MLB game and could help the Cubs later down the road.
13. Riley Thompson (RHP) Depending on what list you look at, Riley Thompson is one of the faster-rising pitchers in the Cubs system. The 2018 11th round pick, spent most of his time with South Bend thus far and checks in at 13. Thompson has been high as 10 on others. Across his two professional seasons, Thompson has gone 8-8 in 30 career games (29) starts but has posted an impressive 3.02 ERA. His 40BB to 112K is also very good and showed a lot during the 2019 Arizona fall league.
As a high school senior, Thompson made a name for himself by hitting 96 on radar guns consistently. That was until he blew out his elbow weeks before the draft, ultimately having Tommy John. Thompson enrolled at Louisville, where he redshirted his freshman season before having moderate success the next two springs.
Despite the TJ surgery, Thompson continued to show his big arm topping out at 100 MPH during his first pro start with Eugene in 2018. Since then, his velocity has dropped, with his fastball sitting in the 92-95 MPH range, although he can still get to 97 MPH. Not only does he still have some good velocity, but his curveball is also one of the best in the system as the high spin rate and downward action makes it difficult to hit. He throws that pitch between 82-86 MPH but sometimes has trouble throwing it for strikes.
The one pitch that has changed his course as a starter has been the changeup, as he has made significant strides with that pitch. A straight change in terms of movement, Thompson has altered his grip a lot by using more of a split-finger grip for that pitch. Thompson certainly has done a great job improving his command and should only get better with more work.
12. Cory Abbott (RHP) Last year's organizational pitcher of the year, Abbott was set to start the AAA season before the minor league season was canceled. Still, the 2017 second round pick spend the summer at the Cubs alternative site in South Bend and was in line to make several spot starts during the year. Although his big-league debut never happened, look for him to lead the Iowa staff this year and be in the running for a callup in 2021.
Abbott has been nothing but impressive in his two seasons, going 16-14 with a 2.84 ERA. That includes his 8-8 mark with Tennessee last season, where he posted a 3.01 ERA and became the first Cubs, minor league pitcher to strikeout more than 150 hitters in 10 years. Abbott has been seen getting his heater up to 95 MPH but lives in the 90-93 MPH range.
Even though his fastball may not be of elite status, Abbott can miss a ton of bats using a wide range of off-speed and breaking stuff. The best of those pitches would have to be his 84 MPH slider that can change to an 87 MPH cutter with an altered grip. Abbott also has an 80 MPH Curve with a more significant break and uses that more against lefties.
All his pitches have proven to be equally effective, and his easy delivery makes it easy to repeat from one pitch to the next. Of all the pitching prospects in the Cubs system, Abbott appears to be the closest to the MLB and should be ready this season.
11. Christopher Morel (3B) The older of the Morel brothers, Christopher could replace Kris Bryant at third. Of course, that is if the Cubs hang onto him as his name has popped up in numerous trade talks over the past two seasons. The Dominican born player was signed as an international free agent in 2015 and has been turning heads since.
Despite his lean 140-pound frame, Morel is proving to be a great hitter, and once he fills out his frame, lookout. His excellent right-handed swing allows Morel to produce not only elite bat speed but the best bat speed in the system. That should allow him to hit for more power once his body fills out, but he needs to redefine his pull happy approach. Across his 188 career minor league games, Morel has hit .243, 16 homers, and 91 RBIs, but is coming off 2019 where he hit a career-best .284 with six homers and 31 RBIs.
His 2019 was cut short with injuries, but Morel showed some of the best tools in the system when on the field. His quickness and athleticism give him the ability to play multiple positions, but his strong arm is best suited for the hot corner. 2020 is undoubtedly a year for Morel to put his name in the top 100 Overall prospect conversation and gives the Cubs another nice future piece to build around.

Upgrade Your Account
Unlock premium boards and exclusive features (e.g. ad-free) by upgrading your account today.
Upgrade Now