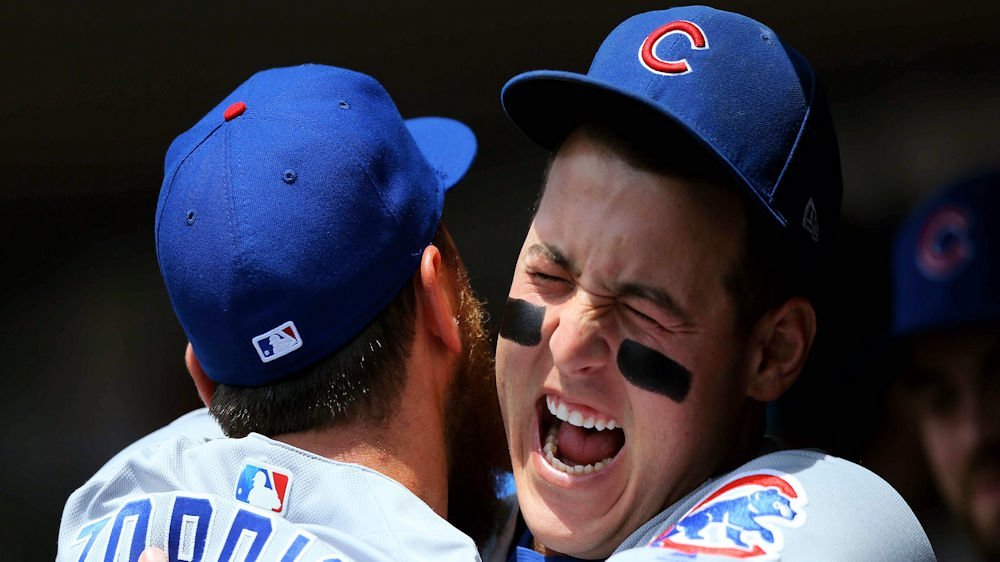 | | |
| --- | --- |
| Breakdown: Potential Cubs leadoff hitters for 2019 | |
---
| | | |
| --- | --- | --- |
| Tuesday, March 19, 2019, 1:06 PM | | |
If there is one thing, we have learned about Joe Maddon in the past four soon to be five years, that is nothing is set in stone as he is one of the most unorthodox managers in the game.
As much as Cubs fans would like a regular lineup or at the very least a set-in-stone leadoff hitter, that won't happen in the foreseeable future as the Cubs don't have a Dexter Fowler type hitter on the team anymore. Even with all the constant switching around at the top of the order, the Cubs managed to be successful in terms of production from that spot. Here are a few candidates that I could see becoming the leadoff hitters this season.
Albert Almora: By now fans can expect three things from Almora. He is a great defender who crushes lefties, but he continues to struggle against righties. I think those struggles are blown out of proportion as he was never allowed to hit his way out of slumps during the year. With the regular season less than two weeks away, one thing can be set in stone for the opening day lineup.
With Texas slating to go with lefty Mike Minor for opening day, not only will Almora get the start, but he will most likely lead off looking to continue to mash lefties. Last season, Almora was fairly strong in the leadoff role hitting .294 and getting on base quite often during the first couple months of the season.
With his aggressive style at the plate and keen sense to be a great fastball hitter, Almora is a perfect fit for the leadoff spot especially against lefties which is where I see him hitting most of the time.
The biggest challenge is finding a way to not only get him in the lineup against righties but to find a consistent spot for that matter. Should he produce as a leadoff hitter early on, I see him given every possible chance to succeed against righties in that role especially early in the season. If he still cannot adjust to right-handed pitching and show more patience at times, Almora will never be the full-time centerfielder the team has been longing for.
Ben Zobrist: Soon to be 38 years old, Zobrist may not be your typical leadoff hitter lacking speed and power but may be the perfect fit for the Cubs. Not only does he give you a professional at-bat every time up, but he has no trouble taking walks, often taking more free passes than strikeouts throughout the season. That alone is something the Cubs truly lack.
Zobrist fits the mold of a Daniel Murphy as he is an aging veteran who may lack speed but knows how to put the ball in play and do the little things to get the job done. Should Zobrist see ample time in the leadoff spot, the Cubs will need to be creative on how they will move him over as he lacks any speed to be an effective base stealer. That is why a Whit Merryfield trade would have been perfect for Chicago, but that is for a different day.
Chicago may never have the speed at the top of their lineup to strike fear in pitchers, but they need to find a professional hitter to get on base first. Once that happens consistently, that momentum trickles through the rest of the lineup which leads to overall success in the long run.
Jason Heyward: Now in the fourth year of his massive deal, Cubs fans are getting sick of his lack of production at the plate. After all, if you make 23 million dollars a year, you should be putting up 30 HR and 100 RBI seasons no problem. That Heyward may never happen again so insert him in the leadoff spot.
Jason did show signs of improvement last season hitting .272 and leading the team in batting average with runners in scoring position, despite a dismal last two months of the year. Why do I see him as the perfect leadoff hitter for the Cubs you may ask? Well for one, he has the speed to make things happen on the bases. That is just as important as hitting for a high average or power.
Secondly, he is a line drive type hitter that works the gaps and opposite field which could set the Cubs up nicely for first-inning runs. It can also prevent him from faltering in key situations should he struggle at any point once again. Heyward has batted leadoff in the past and has posted relatively decent numbers. Now the question remains to be seen will his spring training leadoff appearances be a sign of things to come for the regular season.
Anthony Rizzo: This a name people do not want to see on the list of leadoff hitters, but the fact remains Rizzo was terrific in that spot last year. Not only does he have a great eye to take walks, but he brings instant offense to the spot with a chance to give the Cubs an early. His .333 batting average in the leadoff position last season shows he will not shy away from that position if called upon to do that once again.
Why most fans do not like him leading off, is because they believe it takes RBI chances away from him and the team. That may be true during the first inning of the game but in reality, you only leadoff once a game. So, unless the Cubs are being shutout with limited hits, Rizzo will still get plenty of RBI chances in that role.
Javy Baez: After the numbers Baez put up last season, having him in the leadoff spot is stupid to think about. Or is it? With a healthy Kris Bryant this season, the middle of the lineup is that much deeper meaning guys could move around a little bit more.
What Baez can bring to the table as a leadoff hitter is an out of this world baseball IQ that you cannot teach. Not only does he bring great power to that spot, but Baez has good speed and a fantastic ability to avoid tags on the bases making him a threat to wreak havoc all game long. In a way he reminds me of Alfonso Soriano with a better average and more power potential.
The thing that would concern me about hitting leadoff is his high strikeout rate and low walk rate. If pitchers were smart, they wouldn't throw him a strike knowing he will swing at everything. That would prove to be disastrous in a leadoff spot with a team looking to get on base more frequently. Should he find a way to cut down on K's without changing his aggressive nature at the plate, Baez would be a very intriguing leadoff candidate.
Daniel Descalso: This is the least likely of all hitters to be the leadoff hitter due to his low career average, but he is an option. Even with a .244 career average, Descalso is a solid contact hitter that puts the ball in play even if he doesn't get on base.
Although putting the ball I play is a good thing, getting on base is more important which is something Chicago needs in the leadoff spot. He is someone better suited for either the No. 8 hole or No. 2 hole in the lineup, but I still see him finding ways to work his way into some leadoff opportunities.
Kyle Schwarber: Another hitter that Cubs fans do not want to see in this role is Schwarber as he flamed out miserably in that opportunity in 2017. The sole reason he is on this list is because he has done it before and he knows what Chicago expects from that spot.
Even though his average continues to be low, two things continue to be in Schwarber's favor. He will always be a 25-30 HR guy that is going to crank balls over the fence. He also poses a keen eye at the plate and will not hesitate to take walks as he has indicated this spring.
What makes me think he may get some chances as a leadoff hitter is because he has changed his approach at the plate going back to his pre-2017-18 stance and going back to the hitter he was in 2015-16. That alone is a huge bonus for the Cubs as he can bring instant offense to the table and a high on-base percentage to set the stage for the rest of the lineup.
The Cubs have plenty of internal options in terms of who they will and can use as a leadoff hitter during the season. Even though their overall success will not be dictated based on the success and failure from this spot, it certainly can have an effect considering it acts as a catalyst for the rest of the lineup.
Take the Brewers top of the order for example. Lorenzo Cain and Christian Yelich were both plus .300 hitters a season ago. When they were hitting which was most of the time, the lineup appeared to have an extra amount of juice in them. When they struggled and failed to get on base often, the offense appeared a step slow which is what the Cubs seemed like many times last season.
Even though I don't expect drastic changes especially early in the season keep an eye on the leadoff spot throughout the year. If things go well and the hitters produce, then the Cubs should be fine in terms of overall offensive success. If things don't work and go south expect Theo and company to be very active at the trade deadline looking to not only add, but to find an established leadoff hitter to set the tone for another Playoff push in 2019.