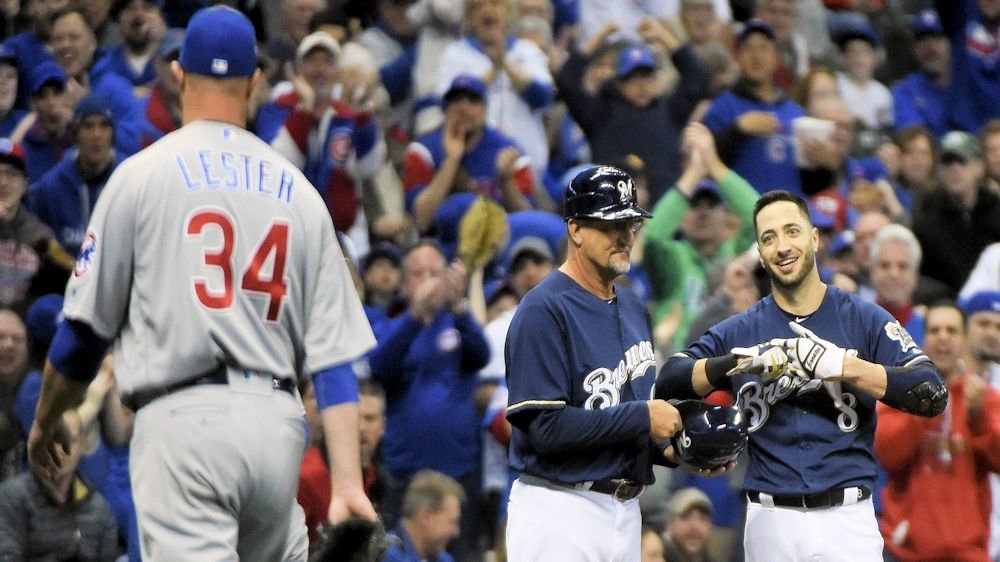 | | |
| --- | --- |
| Breaking down Cubs 2020 Opponents: Milwaukee Brewers | |
---
| | | |
| --- | --- | --- |
| Monday, July 20, 2020, 6:03 PM | | |
What better way to open the 2020 season than against one of your biggest rivals from just 90 miles north? That is precisely the case this season as the Cubs will kick off their 60-game season and 10-game season series against Milwaukee at home next weekend.
Historically speaking, the Cubs have had the Brewers number more often than not, but over the past two seasons, Milwaukee has turned the tables and outplayed the Cubs in every facet of the game.
What will 2020 look like between the two?
With just ten games instead of 19 this season, these games will be as crucial as ever knowing you have fewer games to make up in terms of a tie. With the July 24-26 series at Wrigley, the Brewers also head to Chicago August 13-16 before finally seeing them at Wrigley North Sept 11-13. You would think to have seven of 10 at Wrigley would favor the Cubs, but instead, it may favor the Brewers as they have played better at Wrigley than at home against Chicago.
For the third offseason in a row, the Brewers have a much different feel and look to their team, but that hasn't stopped them from making the postseason the last two years. However, this year has an even far different looking team than in the past as so many new faces are in and out of this franchise. Starting with the pitching staff and you will notice guys like Chase Anderson, Zach Davies, Gio Gonzalez, and Jhoulys Chacin are no longer on this roster with two being traded and the others going the free agent wire. That leads me to question what options the Brewers all have outside the three we know.
We know that 2019 ace and all-star Brandon Woodruff will start next Friday against Chicago as he looks to build on his impressive 2019 showing. Following him, there are so many options to throw out there but look for KBO free agent Josh Lindblom to get the ball for game two. The middle of the rotation is where things get interesting as the Brewers have plenty of options to choose from.
If you're going based off last season, Adrien Houser and Brent Suter would have to be your options. While both make sense, you also have Freddy Peralta, Eric Lauer, and Corbin Burnes fighting for rotation spots, although it seems as if Burnes and Peralta could be in the pen early. An under the radar offseason move that will hold down the No. 5 spot in the Brewers rotation is lefty Brett Anderson. The once former Cub was finally healthy again last season and provided the A's with a considerable boost. Let's hope that doesn't continue this season.
For you to beat the Brewers, you must avoid the back of that pen and Josh Hader. After being a setup man much of his MLB career, Hader was thrown into the closer role last season after Corey Knebel went down with an injury and never looked back. He will now be the closer full time and is a nightmare to scout against.
Once Knebel returns, I don't expect him to be the teams closer as I feel he will be the setup man going forward. Until that point, both Burns and Peralta are great options to have as your setup man as they can give you multiple innings if needed. Lefty specialist Alex Claudio is back for a second season, and depending on what happens with Suter in the rotation, the Brewers may have a pair of Lefty specialists in the pen. Jake Faria will be a name to watch as the season unfolds as will former Cub David Phelps who will be looking to stay healthy this season and carve out a regular role.
Offensively, the Brewers will only go as far as Christian Yelich and Lorenzo Cain take them at the top of their lineup. With an aging Ryan Braun, Mike Moustakas in Cincinnati, Yasmani Grandal on the South Side, and Travis Shaw out of the picture, the protection behind Yelich will undoubtedly be a key if the Brewers want to succeed this season.
One name almost sure to make a huge impact this season will be second-year second baseman Keston Hiura. After getting called up in June last season, Hiura did nothing but hit and showed more power than some anticipated. With a full offseason to get better, he could be in line for a big year. The Brewers went out and replaced Grandal with Omar Narvaez to help with the offense as he should see his power numbers significantly increase this season.
With Shaw gone from first look for Braun and off-season acquisition Justin Smoak to fill that void with players like Jedd Gyrko, Luis Urias, and Eric Sogard looking to fill the void at third left from Moustakas. Orlando Arcia will again be at the SS position, but if things don't change offensively, it may be his last season in Milwaukee.
The Brewers OF will again be anchored by Cain in CF and Yelich in RF as those two should bat 1-2 in the Milwaukee lineup yet again. However, if Braun moves to 1B, what happens to LF. Ben Gamel is certainly an option, but I see him more as a utility player still. From what I hear right now, Yelich looks like he could be making a move from RF to LF, opening the door for another offseason signing in Avisail Garcia to patrol right. Not only is he another top of the lineup option for Milwaukee, but he is coming off a great season in Tampa and will be looking for those numbers to explode this year.
As frustrating as it has been the past few seasons to see the Brewers have so much success with a roster build around guys that never had tons of success long term, I have to give David Stearns a lot of credit for taking chances on these players as they have panned out very well for him. This year, some non-roster invitees could pan out in the Brewers once again.
Shelby Miller was brought over on a minor league deal for starters after dealing with tons of injuries in Arizona the past few seasons. Before that, Miller was a pitcher on the rise hence why he was signed to a huge contract. If he can show he is healthy and pitch to his ability, that is another starter option for Milwaukee. Former Cub Justin Grimm has a shot at making the bullpen this season, mainly if he can duplicate his 2015 and 16 form.
Former Brewer Keon Broxton is back for his second go-around and a valuable bench option and OF to give players a day off. The one name to watch for that could contend for a starting spot is that of Logan Morrison. The 1B has had some great offensive seasons in the past, and putting him in Miller Park may allow those numbers to go way up. If he can have a nice stretch, the final week of camp look out for him.
Projection 5-5: These teams will go at it this season, and there is no reason they shouldn't. With that being said, I like the Brewers to win 4 of seven at Wrigley with the Cubs winning the series in Milwaukee to earn the season split. Both these teams have the talent to be division contenders once again, but both also have the chance to finish at the bottom of the division if things go south in a hurry. You should get a sense of where these teams are starting next weekend.