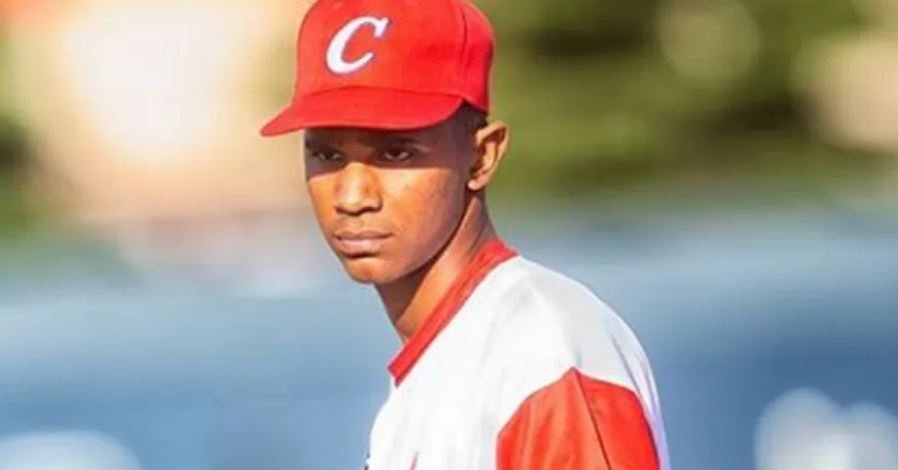 | | |
| --- | --- |
| Breaking down MLB.com's Top 30 International Prospects (Part 3) | |
---
| | | |
| --- | --- | --- |
| Sunday, May 10, 2020, 5:49 PM | | |
We continue our breakdown of the top international prospects in this year's class as we are now reaching the teens. Once again, this portion of the list will be highlighted by more shortstops, but other positions are starting to take shape as the International talent this season seems to be the best it has been in a while.
#20 NORGE VERA (RHP, Santiago De Cuba, Cuba): The first Cuban born prospect on this list, Vera checks in at no. 20. Known for their rich history of International hitting stars, Vera fits their build at 6-4 185 pounds but is a pitcher instead of a hitter. Currently, at 19 years old, Vera is one of the older prospects in this class, but that could be in his favor when talking about pitchers.
Scouts have been raving about his fastball that sits in the 94-97 MPH range right now, and his command got better the more international innings he threw. While his fastball was a tad lower than expected in his recent showcase in February, Vera demonstrated much better command of his secondary pitches, leaving scouts to believe the velocity will once again come back.
Vera is viewed as a potential top of the rotation type of arm as he has the body for it to go along with the calm demeanor you look for in a starter. While defecting from Cuba to play in the Can-Am League in New Jersey last summer, Vera was declared a free agent on January 16 and was eligible to sign two weeks later. The White Sox are in line to make him their future starting rotation arm, but given the success, the Cubs have had with both Adbert Alzolay and Brailyn Marquez, why not grab Vera to add another hard-throwing starter to your system.
#19 MIGUEL BLEIS (OF, San Pedro De Macoris, D.R.): Another D.R. product in this year's class, Bleis is just the second outfielder to crack this list which has been loaded with shortstops in the position rank. The 16-year-old already has a large frame standing 6-3 and 175 pounds, and he is only going to get bigger. Not only is he one of the bigger prospects in this year's class, but he may be the strongest also as he has an MLB type body already.
While he has only shown average power at the plate right now, scouts believe that is going to improve as he continues to develop, which is why he is so appealing at this point. He generates a ton of bat speed despite a short compact swing and reminds me of Christopher Morel in South Bend. During showcase games, Bleis has impressed with not only his ability to use all gaps but to drive the ball out of the yard consistently. He has a plan at the plate and utilizes that plan perfectly.
Bleis is projected to be a centerfielder at the MLB level, but given his plus arm, they may elect to move him to right field. He does have the ability to be a decent baserunner also. As of now, the Red Sox look to be the front runners for him, but we have seen the Cubs take players like Willson Contreras and Jorge Soler as international signees, so they know an excellent bat when they see one.
#18 DYAN JORGE (SS, Havana, Cuba): The second Cuban on this list, Dyan Jorge, is another shortstop which is a rare find in Cuban born players. Despite standing 6-2, Jorge is just 165 pounds giving him a lean build, which draws comparisons to Alexei Ramirez. Another older prospect at 17 soon to be 18, Jorge is listed as a defense-first player right now, but his bat should come around soon.
For now, Ramirez displays a quick, compact swing at the plate and handles the bat well as a line-drive hitter. Like some international prospects, it may take Ramirez a little bit to adjust to big-league pitching at the American Level, but he has the potential to be a 10-12 home run hitter.
What you can expect from Jorge is that he can catch, run, and throw, which is why he is a defensive first guy at this point. He is a great defender who makes minimal mistakes, and while his tools don't wow you, his performances in key moments do. While the Rockies are in on his services, they do have Trevor Story at shortstop, leading me to believe unless they have plans to move Ramirez, he may be ripe for the picking.
#17 VICTOR ACOSTA (SS, El Limon, D.R.): Getting away from San Pedro De Macoris for a minute and you find the next D.R. born shortstop in Victor Acosta out of El Limon. Despite ranking 17th on this list, Acosta is one of the top shortstops in this year's class and is an excellent prospect with tons of skills.
Portrayed as an electric athlete, the switch hitter shows good bat speed with some nice pop at the plate. While he has not shown a ton of power in his game yet, Acosta has demonstrated the ability to be a complete hitter, which is valued more than power sometimes. He can not only drive the ball to all fields but makes consistent contact, which is why he is predicted to be a No.1 or No. 2 hitter in most lineups.
On the defensive side, Acosta has great footwork and is light on them in the field. He shows a quick glove, which is very natural for him and has the potential to have a plus arm in the field. San Diego is the leading team for his services now, but they have other players in mind, so we know they can't have them all.
#16 JACKSON CHOURIO (SS, Maracaibo, Venezuela): There have been tons on MLB stars that have hailed from Venezuela, and Chourio is hoping to be the next. The 6-3 SS from Maracaibo is tall and lean and has the body that could keep him at shortstop, but it looks like a future move to centerfield is in the cards.
His hitting ability is by far the most advanced part of his game right now, but his defense is not too far behind. With action in both the infield and outfield, scouts are trying to figure out where he fits best long term as he has shown the ability to play both positions well.
From a batting standpoint, Chourio shows a quick bat and understands the strike zone. As a result of that, he can not only drive the ball to all fields but can hit the ball out of the park anywhere, although he uses the opposite field more than anyone in this class. He is expected to develop more power over time as he continues to mature. Central division rival Milwaukee is the front runner to sign him, but should his frame prevent him from playing shortstop and eventually push him to the outfield, and the Cubs may take a flyer out on him for that reason.

Upgrade Your Account
Unlock premium boards and exclusive features (e.g. ad-free) by upgrading your account today.
Upgrade Now