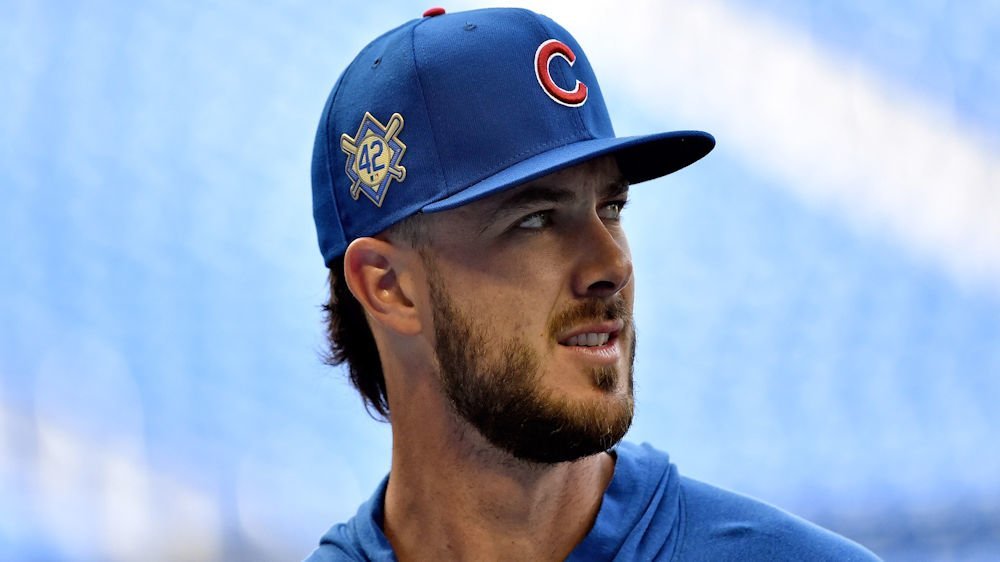 | | |
| --- | --- |
| Brew Crew win over Cubs, Streakin' Bryant, Russell speaks, Kimbrel, more | |
---
| | | |
| --- | --- | --- |
| Saturday, May 11, 2019, 8:33 AM | | |
Next Game: Today, 1:20 PM CDT: Brewers vs Cubs. RHP Zach Davies (4-0, 1.56 ERA) vs LHP Cole Hamels (3-0, 3.38 ERA)
CUBS NEWS AND NOTES:
Friday's Game Recap: New day, new opponent, same initial on the cap, but this one was bound to be tougher than the Marlins. Jose Quintana took the hill for the Cubs, hoping to rebound from the beating he took in Milwaukee last month, while Craig Counsell sent newcomer, Gio Gonzalez, to the hill.
Quintana looked great for the first six frames, but the walls came crashing down after that. Ryan Braun's homer in the fourth broke the ice (his 38th career homer against the Cubs), and by the seventh, the Brewers just started pouring it on. The Cubs had multiple opportunities to score but failed time after time to push a run across. Without run support, Q's effort turned futile. Final score: Brewers-7; Cubs-0.

With the win yesterday, the Brewers have now won seven straight, and they'll be facing the Cubs again this afternoon for sole ownership of first place in the NL Central.
Brewers/Cubs Probable Pitchers: Sunday- 6:05 PM: Jhoulys Chacin (3-3, 5.03 ERA) vs LHP Jon Lester (2-1, 1.41 ERA).
Maddon on the "L": "We faced a guy today that has been notoriously difficult...It's one loss. Best out of 3 series. Let's go home, have a good night sleep and come back tomorrow."
Q and the Crew: I'm not sure what's going on with Jose Quintana when it comes to the Brewers, but they've gotten to him twice this year already, which is not what historically happens. In two outings against Milwaukee this season (one away, one home), Q has put up the following (combined) line: 9.2 IP, 12 H, 4 HR, 11 ER, 6 BB, 9 K. This means the Brewers account for: 24.35% of his innings pitched, 30% of the hits that have come against him, 80% of the home runs that he's allowed, 73.3% of the earned runs that he's given up, 54.6% of the walks that he's dished out and just 22.5% of his strikeouts this season.
KB streakin': With his walk yesterday, Kris Bryant has now reached safely in 20 consecutive games. No hits for KB, but the streak stays alive. Pitchers are pitching around KB, as he now has 11 walks this homestand (8 games).
Addison Russell: After catapulting back into the lineup Wednesday and receiving round after round of boos, Addison Russell has stuck his foot in his mouth. "I'm a baseball player for the Chicago Cubs. I'm one of the dudes in this clubhouse. I'm one of the guys who goes out there and puts his [body] on the line. We do it because we love it. We want to win, and we want to bring another championship to Chicago. And if hometown fans want to boo someone that's trying to help bring the team a World Series again, then that's on them." Probably not the smartest choice of words, and apparently, he didn't learn a whole bunch about how to handle things when he gets irritated. Russell did sort of take back his statement, saying that if the fans booed him, he'd have to respect that.
Craig Kimbrel: If anyone is still holding out hope for the Cubs to sign Kimbrel (or Dallas Keuchel, for that matter), here's a little more hope to cling to… Both Keuchel and Kimbrel have almost reached the point where MLB rules state that a compensatory draft pick will not be imposed against the team that signs either (or both). When that happens, they'll be signed fast.
Javy's message to moms: Ladies, if your husband or kids forget, you can tell them that El Mago didn't.
Happy early mother's day to all the moms out there! And a special thank you to my own mom and my wife! ?? https://t.co/9sXgwofVkF

— Javier Báez (@javy23baez) May 10, 2019
Next Stop- Cincinnati: When the Cubs finish with the Brewers on Sunday, they'll have an off-day before heading down to Great American Ballpark to face the Reds for the first time this season. The three-game series will run from Tuesday through Friday, with all three games starting at 5:40 PM CDT. The pitching matchups are expected to be as follows: TUESDAY: RHP Kyle Hendricks (2-4, 3.19 ERA) vs RHP Sonny Gray (0-4, 4.15 ERA); Wednesday: RHP Yu Darvish (2-3, 5.40 ERA) vs RHP Tanner Roark (3-1, 3.27 ERA); THURSDAY: LHP Jose Quintana (4-2, 3.50 ERA) vs RHP Luis Castillo (3-1, 1.97 ERA). As always, I'll have a series preview for you, before game time.
Yesterday's Cub Birthdays: Happy birthday to ex-Cubs Pierce Johnson (28) and posthumously, Tim Hosley (72), Merritt Ranew (81), Jim Hickman (82), Russ Bauers (105), Freddie Maguire (120), Bill Davidson (135), and Charlie Ferguson (144).
NL CENTRAL SCHEDULE (May 5 – May 4, 2019)
(Wins are in green, losses in red)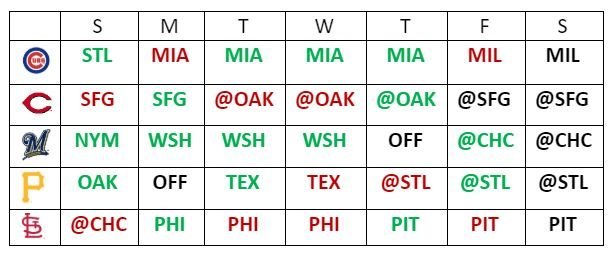 YESTERDAY'S NL CENTRAL SCOREBOARD