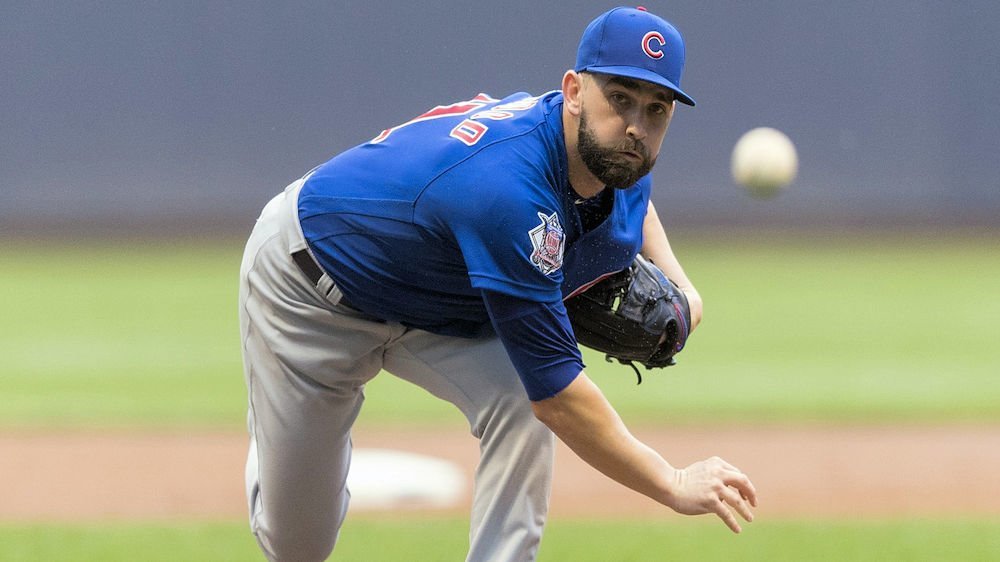 | | |
| --- | --- |
| Chatwood implodes in the second as Reds crush Cubs | |
---
| | | |
| --- | --- | --- |
| Wednesday, March 13, 2019, 7:12 AM | | |
After a rainy day in Arizona, Mother Nature relented enough for the Cubs to be able to host the Reds. Joe Maddon gave Tyler Chatwood (1-0, 2.25 ERA) his second start of the spring (his first since Opening Day on 2/23), while the Reds countered with right-hander, Tyler Mahle (0-0, 0.00 ERA).
Tyler Chatwood would implode in the second as the Reds would go on to win comfortably 12-3.
T1: Tyler Chatwood would have an excellent first, taking Winker by swinging strikeout to open the game. Senzel would fly out and Dietrich would end the 1-2-3 inning with a bloop fly-out to short left. Credit to Kris Bryant for a nice, over-the-shoulder grab.
B1: (CIN: RHP- Tyler Mahle) Cincinnati would also come out firing, taking the first two Cubs in order (Albert Almora ground out, Javier Baez strikeout) Batting against a shift that resulted in a four-man outfield, Bryant split the middle of the infield for a two-out single, but he'd get Schwarber on a called third strike to end it. Game 0-0.
Now a FIVE-MAN OF by the Reds vs Kris Bryant. Not really, it's Tyler Mahle jogging on the track. But still awesome. pic.twitter.com/qYrBuGnApg

— Len Kasper (@LenKasper) March 13, 2019
T2: Chatwood good spring would be interrupted, as he would implode in the second. He'd issue a total of three walks (Farmer, C. Joe, Winker) and two singles (Ervin, Colon), then add insult to injury when he overthrew Victor Caratini (error, Chatwood), attempting to get a force at home. A mound-visit from Tommy Hottovy was ineffective, and Chatty was subsequently removed with just one out in the inning, and the Reds up 4-0. Jose Rosario (RHP) would enter the game, raking up a pair of strikeouts (Senzel, Dietrich) to end the inning.
B2: (CIN: RHP- Mahle) Ben Zobrist would get the Cubs off to a good start with a double to center, but Heyward would fan. Caratini would ground out, leaving it up to Ian Happ, who would strikeout to end the inning and strand the runner. Cubs trail 4-0.
T3: Making his spring debut, Mike Montgomery would take the mound and immediately give up a leadoff homer to Farmer. Baez would commit a fielding error on a groundball, allowing Ervin to reach, but an excellent pickoff move would erase Farmer on a 1-3-4 putout (Caratini-Adduci-Zobrist). Monty would next give up a single (Casali), but he'd get the second out on a groundout to Zo. On the next play, a grounder to Bryant would result in a throwing error, when he overthrew Adduci at first, allowing another (unearned) run to score. The inning would end on a groundball to Zo, and with the Reds now up 6-0.
B3: (CIN: RHP- Mahle) The Cubs failed to do anything in the third, going down in order on a groundout (Adduci) a strikeout (Johnny Field was pinch-hitting for Almora) and a groundout by Baez. Cubs down 6-0.
T4: Montgomery would have a better fourth inning, retiring the side, 1-2-3, on a pair of groundouts (Winker, Senzel) and a flyout (Dietrich).
B4: (CIN: RHP- Wisler) New pitcher, same result. Cubs go down in order on a pair of strikeouts (Bryant, Schwarber) and a groundout (Zo). Cubs trail 6-0
T5: Carl Edwards, Jr. would hold the Reds in the fifth, retiring the side in order on a flyout (Farmer) a line-out (Ervin) and a strikeout (Casali).
B5: (CIN: RHP- Bass) Former Cub, Anthony Bass, would face his former teammates for the first time since joining the Reds over the winter. Bass has looked great this spring, and tonight was no exception. He'd quickly get Heyward on a flyout, and despite walking Caratini, he'd retire Happ on a fly-ball, then get Adduci on a grounder. Cubs continue to trail 6-0.
T6: Righty, Allen Webster would try to hold ground for the Cubs, but a leadoff walk (Joe) would be followed by Webster beaning Trahan to give the Reds two-on with nobody out. Although he'd fan Colon, a single to center (Winker) would tally another run. The inning would end with a flyout (Senzel) followed by a groundout (Dietrich). Cubs trail 7-0.
B6: (CIN: RHP- Romano) Down seven runs, the Cubs would start to show signs of life in the sixth, beginning with a single by Field. Baez would hit into a fielder's choice, advancing Field, who would then score on Phillip Evans double to left. The inning would end too soon though, on Schwarber's strikeout and Zobrist's groundout. Cubs down 7-1.
T7: Lefty, Randy Rosario, would hurl in the seventh, quickly retiring Farmer on a flyout, but Ervin would reach on a fielding error by Nico Hoerner. Rosario would next walk Clementina, then serve up a home run ball to Connor Joe, raising the deficit to nine runs. Rosario would get Colon to fly out, but Joe Maddon had seen enough, replacing him with the righty, Mario Meza. Colon would tag Meza for a triple after the ball got by a diving Johnny Field in center, but he'd fan Hawkins to end the frame. Cubs trail 10-1.
B7: (CIN: LHP- Reed) Three-up, three down again on a flyout (Heyward), and a pair of groundouts (Francisco Arcia, Happ).
T8: Lefty, Kyle Ryan, would pitch the eighth for Chicago, retiring Fairchild on a strikeout to start the inning, but Crook would reach on a single. Ryan would retire VanMeter on a fly, but then Brown would double, advancing Crook to third. Credit to the Reds' 3B coach who held Crook at third, though he could have easily scored. Clementina would fly out to Mark Zagunis to end the inning.
B8: (CIN: LHP- Reed) Jim Adduci would leadoff with a groundout, but Johnny Field would reach on a single. The inning would end when Hoerner grounded into a 4-3 double-play. Cubs continue to trail 10-1.
T9: Kyle Ryan would give up a leadoff single to Joe, but he'd get a Trahan to ground into 6-4-3 double-play (Hoerner, Zack Short, Ryan Court). He'd next walk Johnson, then give up a two-run bullet to Courtney Hawkins that sailed over the right-centerfield wall. Ryan would finally get Fairchild on a ground out to end the inning. Reds lead 12-1.
B9: (CIN: RHP- Gutierrez) Evans would leadoff with a groundout, but Trent Giambrone would reach on an infield single, followed by Short's single to center. After Zagunis went down swinging, Arcia would reach on an error, loading the bases with two away. Wynton Bernard, pinch-hitting for Happ, would hit a single, then advance to second on indifference by the Reds' defense, scoring Giambrone. The game would end on Short's groundout. Final score: Reds 12; Cubs-3.
The Cubs will try to recover, as they travel to face Oakland. Jon Lester will get the start for the Cubs, while the starter for Oakland has yet to be determined. Game time: 3:05 PM Central.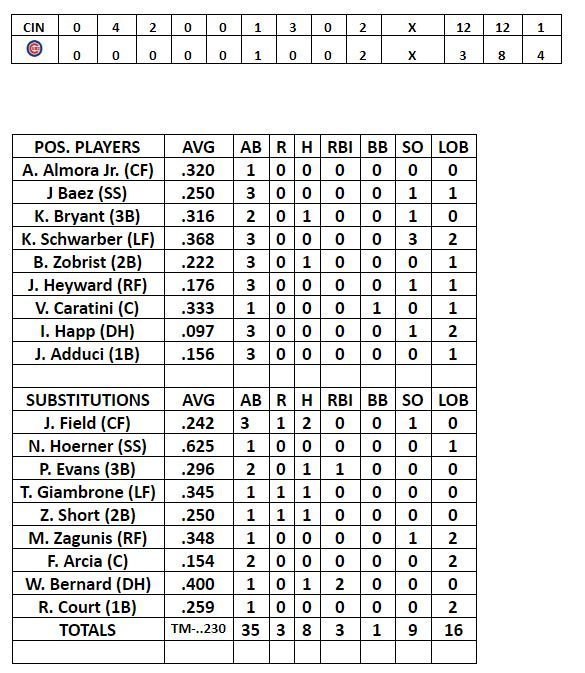 Final: Reds 12, Cubs 3. #SpringTraining pic.twitter.com/CyB29FMNuQ

— Chicago Cubs (@Cubs) March 13, 2019

Tags: Cubs Baseball
,
Tyler Chatwood
,
,
,
Victor Caratini
,
Jose Rosario
,
Ben Zobrist
,
,
Mike Montgomery
,
Randy Rosario
,
Kyle Ryan
,
Mark Zagunis
,
,
Joe Maddon
,
Tommy Hottovy