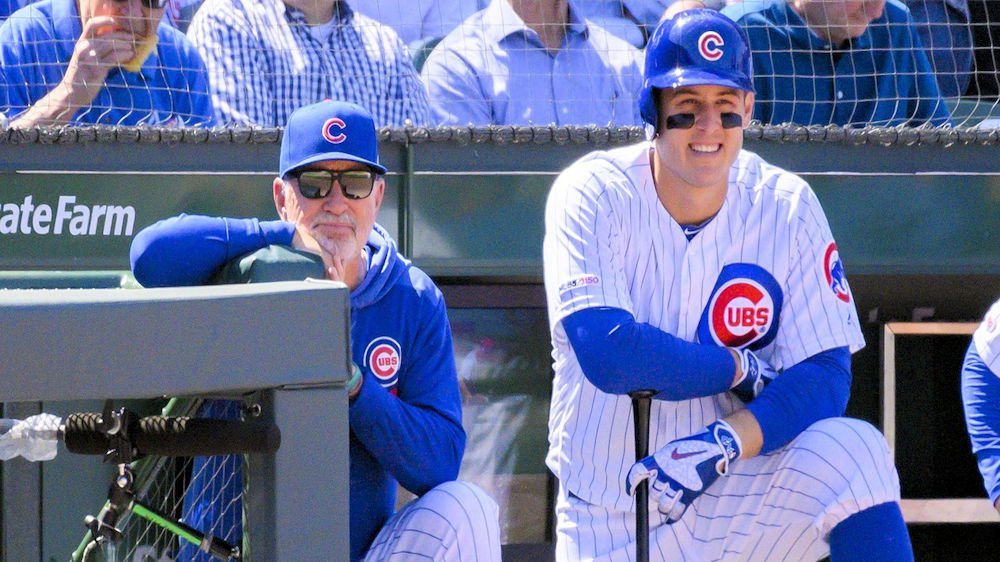 | | |
| --- | --- |
| Chicago Cubs: Roster Outlook in 2020 | |
---
As the Cubs finish up the fifth year and possibly last of Joe Maddon's tenure, the Cubs have a hectic winter to plan for and discuss. The Cubs had a record high payroll this season well over 200 million, but they will have nearly 60 million dollars coming off the books as the Cubs look to lose or re-sign six players with pretty hefty contracts.
The team is also smack dab in the middle of its contention window, with 2021 looking like the team's epic success's expiration date. The Cubs only have Jason Heyward, Kyle Hendricks, Yu Darvish, and David Bote on the books beyond 2021. This is a crucial offseason for the Cubs to either decide to build the team toward future success or retool toward a future rebuild. David Kaplan among others think this is the offseason you attempt to extend your stars, and possibly move a Kris Bryant or Kyle Schwarber.
But the number one priority will be assessing the managerial situation. Joe Maddon's contract is up when the last out of the 2019 season happens, and it seems as if the writing is on the wall regarding Joe's future. They won't move on from him if the Cubs make or win the World Series, and they also may choose to re-sign him if they make the NLCS and playing the Dodgers competitively. However, it is almost a World Series (ish) or Bust season for Joe Maddon. After deciding whether it is Joe Maddon or someone else for the future, moving on to the contracts coming off the books is the next order of business.
Cole Hamels - $20 Million
Ben Zobrist- $12.5 Million
Nicholas Castellanos- $9.95 Million
Steve Cishek- $6.5 million
Pedro Strop $5.9 Million
Brandon Kintzler $5 Million
Brandon Morrow $10.5 Million
I think the Cubs will be looking to re-sign every player on this list; they would be silly not too. It seems like there is a potential that Ben Zobrist retires after this year, but if he chose to keep playing, Zo's stock would be down - allowing the Cubs to re-sign him for less.
Cole Hamels would be asking for a similar deal that he had, but for the Cubs, they could choose to restructure the contract to be cheaper but include incentives for Hamels to earn more money.
The bullpen trio of consistency that the Cubs have ridden all year long in Cishek, Strop, and Kintzler will probably ask for less than 10 million dollars a year. It seems like Cishek may have a steeper asking price along with Kintzler. After a bit of a down year, my guess is Strop's price may be lowered.
Morrow will most likely not be re-signed unless he comes back and pitches exceptionally well down the stretch. Obviously, he is just too injury-prone to invest too much money on his services.
Castellanos is an intriguing player as he has sparked the Cubs by his addition, and they admire his professional at-bats and hustle. His defense may not be great, but the bat is why the Cubs could choose to resign him. He is a more athletic, right-handed version of Kyle Schwarber, and it seems unlikely that the Cubs would decide to keep both in a defensive-minded organization, long term. However, for the time being, exploring a future with Castellanos is an option the Cubs must look into, the offense looks as good as it has all year with him in the two-spot. Castellanos may have a steeper asking price than 10 million, especially with the Boras group as his agent. But, if this current winning trend continues, Castellanos' fit is too good to pass up on.
Should the Cubs look outside the organization for some help (which they will) here is a list of free agents that will be available after this season:
Anthony Rendon
Josh Donaldson
Alex Gordon
Yasiel Puig
Jason Kipnis
Kole Calhoun
Starlin Castro
Brett Gardner
Nick Markakis
Jonathan Schoop
Gerrit Cole
Stephen Strausburg
Hyun-Jin Ryu
Felix Hernandez
Rich Hill
Kenley Janson
Dellin Betances
The options seem plentiful outside of the organization for the Cubs, as the looming offseason may prove to be exciting and fun to watch.

Upgrade Your Account
Unlock premium boards and exclusive features (e.g. ad-free) by upgrading your account today.
Upgrade Now

Tags: Cubs Baseball
,
Jason Heyward
,
Kyle Hendricks
,
Yu Darvish
,
David Bote
,
,
Kyle Schwarber
,
Cole Hamels
,
Ben Zobrist
,
Steve Cishek
,
Pedro Strop
,
Brandon Kintzler
,
Brandon Morrow
,
Aroldis Chapman
,
Jake Arrieta
,
Joe Maddon