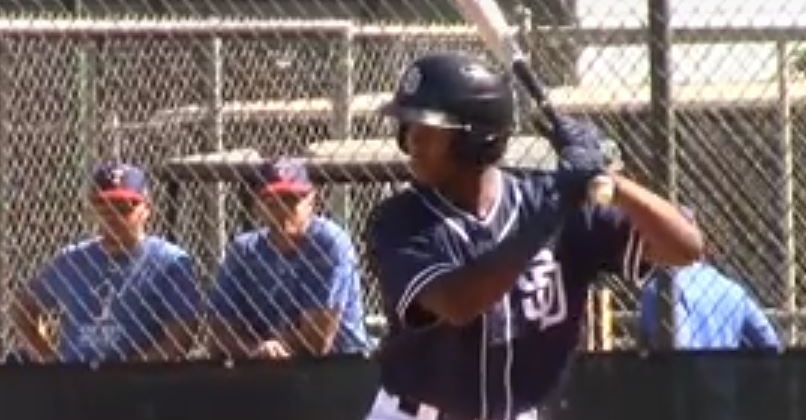 | | |
| --- | --- |
| Chicago Cubs Top 30 Prospect Rankings for 2021 Part 2 | |
---
| | | |
| --- | --- | --- |
| Wednesday, March 24, 2021, 8:01 AM | | |
We continue down the Cubs top prospect list as we get closer to the top 20. Most of the players in this range are years away from making the big-league club, but they also provide tons of upside and could be critical pieces to the success of the future. While just one of these players is a pitcher, that shouldn't deter fans from how talented this group of players is.
Prospect #25 overall Ismael Mena (OF)
When the Cubs traded Yu Darvish to the San Diego Padres, a boatload of prospects were sent the Cubs way in return. Mena was one of those prospects and checks in at Number 25. The 18-year-old international free agent was one of the better athletes on the market, which is why the Padres inked him for 2.2 million dollars.
Granted, he has yet to make his professional debut, with the Minor league season getting canceled last year. Still, Mena has participated in multiple instructional leagues and has shown great ability. Speed is his best attribute at this point which is why he is a center fielder first. However, some scouts feel he could develop into a Gregory Polanco type of player.
His plus speed not only helps him get on base but will make him a threat to steal once on base. He has a good feel for the game, and once he fills out will be someone who can give you 15-20 homers a season. Look for him to play in the Arizona Rookie League this year and finally make his professional debut.
Prospect #24 overall Ronnier Quintero (C)
Sticking with the international market where the Cubs love to find talent is catcher Ronnier Quintero. The top-ranked international catching prospect in 2019, the Venezuelan-born Quintero signed for just under three million dollars and was added to the Cubs system. Another young kid who has only seen instructional action to this point, Quintero will also find himself in rookie ball this year but in the Dominican League.
Although Quintero needs work on his game's defensive side, he does offer a very high offensive ceiling which is crucial. Not only is he a left-handed power hitter with good strength, but he has shown the ability to take the ball over the fence the opposite way with relative ease. He has a good feel for hitting and could provide the Cubs with similar numbers to Willson Contreras offensively.
The biggest question surrounding his game is if he is good enough to remain behind home plate. His arm is strong and accurate, and he is a great leader on the field. However, his receiving skills are a big question mark, while his above-average speed could land him at first or third in the future.
Prospect #23 overall Ethan Hearn (C)
Not only did the Cubs land the top international catcher in 2019, but they got the top high school catcher in Ethan Hearn, drafting him in the sixth round. Signed to a 950,000 deal, Hearn has tons of raw power, but his defensive ability is his best attribute right now.
In 23 professional games in the Arizona League, Hearn hit just a 163 with two homers and 14 RBIs. He also struck out 36 times or roughly 37% of his total plate appearances, which needs to come way down. Like Quintero, Hearn is a left-handed hitting catcher who provides bat speed and strength to take the ball to all fields.
That strength should let the homers come naturally, but he tried to hit too many homers in his first professional season, which is why he struggled so much. Since then, the team has worked with him on his swing, and they have been encouraged by his results. Given his plus athleticism behind the dish, Hearn should have no trouble sticking their long term and would be a nice pairing with Miguel Amaya in the future.
Prospect #22 overall Chris Clarke (RHP)
The long pitcher in this group is 2019 4th round pick, Chris Clarke. The 6-7 righty out of USC has been the most consistent pitcher in that 2019 draft class for the Cubs and the most impressive. After struggling in his start to his USC career, Clarke not only figured things out but put his talent on full display in his pro debut.
Across 23 innings so far, Clarke has posted a 1.96 ERA to go with a 4BB to 26K ratio. All that was done with Short Season Eugene, and with that league no longer exists, it will be interesting to see where the Cubs stash him. Clarke works off a 92-94 MPH fastball but did touch 96 a few times in 2019. He uses a mid-80's slider and changeup with sink as secondary pitches, but his curveball is what stands out the most.
Not only is his curve around 82 MPH, but it is a hammer curve that works against both lefties and righties and is viewed as the best in the system. The high spin rate mixed with the powerful downward break helps it generate many ugly swings and should only get better. Clarke should be good to land in Myrtle Beach to start the season as a starter, and depending on success, expect him to rise through the system in a hurry.
Prospect #21 overall Rafael Morel (SS)
Younger brother of another prospect Christopher Morel who will be found later this list, Rafael was an international free agent in 2018 worth signing an 850,000 contract. Just 60 games into his professional career, and you can see why the Cubs are so high on him. Not only did he show he can hit with a 283 average, but his four homers and 32 RBIs showed a bit more power than expected. Add in a 26BB to 38K ratio with 23 steals, and you can see a young hitter who is not only patient but has speed.
All those numbers were during his time in the Dominican Rookie league, but I expect him to make his stateside debut this season with Arizona before moving to Myrtle Beach. Not only what appears to be a complete hitter, but Morel has plenty of athleticism to stay at shortstop and could provide the Cubs with base-stealing abilities.
He manages the strike zone extremely well for a young kid and makes solid overall contact, especially to the pull side. The Cubs have no question that he can stay at SS long-term, but with so many other SSs in the system, they may look to move him to CF or elsewhere to utilize him.