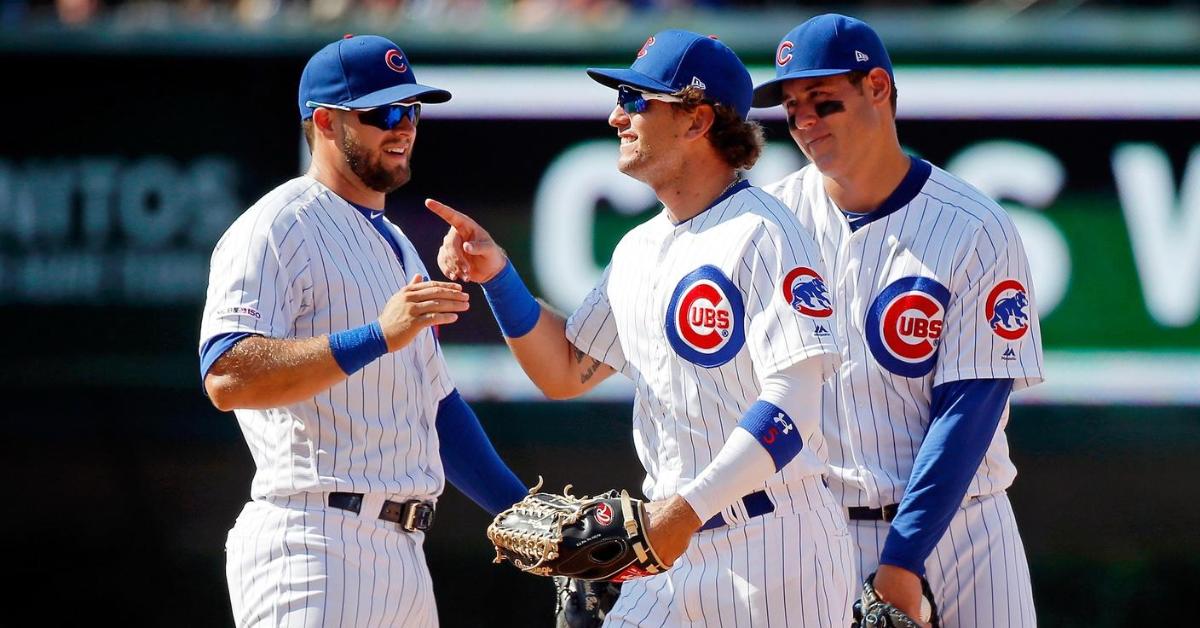 | | |
| --- | --- |
| Commentary: Cubs need to look within as trade deadline approaches | |
---
| | | |
| --- | --- | --- |
| Tuesday, August 25, 2020, 2:44 PM | | |
As we are in the final week of what will be an interesting trade deadline, we look at some of the needs this Cubs team has. Immediately people would say bullpen help, which is true, but not in the way you would think. Other people would say offensive help, which would be the case if their star players didn't have the track record they have. So, what is the Cubs initial approach for this season's deadline?
Cubs President Theo Epstein spoke to the Media last weekend and reiterated that they would not make trades to make a trade. He did, however, say that they do have a few priorities come to the deadline and will use their resources to fill those needs. The needs discussed was adding a bat to hit left-handed pitchers while finding some left-handed bullpen help.
However, this team is in first place and has been most of the season, so how much help do they need. The Cubs should necessarily worry about the deadline at this point and instead worry about improving from within to better this team.
From a bullpen standpoint, the Cubs entered the season with Rex Brothers, Kyle Ryan, and Brad Weick as three reliable left-handed options. Weick is now on the 45-day IL after making just one appearance while Brothers struggled in his few outings, leaving Ryan as the only current lefty option. Ryan was solid last season, but this season it has been a struggle further showing the Cubs needs lefty help.
They will get some help tonight as Jose Quintana will return to the team after missing the start of the season with a sliced finger. The 31- year older starter is in the final year of his contract but will be starting the season out of the pen. That is huge for the Cubs because not only does it give them another lefty option, but an option that can go multiple innings or start if need be. While I don't see his stay in the bullpen permanent, the Cubs have some options in South Bend that would be worth giving a shot this season.
The first name that comes to mind is this year's second-round pick in Burl Carraway. With 51 games under his belt at the collegiate ranks, many scouts felt Carraway was the most MLB ready arm in the entire draft class. Some scouts even went further to say that had this been a full 162-game season, Carraway would be a September callup for the Cubs and would be given a chance to audition for next season.
I still think that could and should happen at some point this September. Carraway has a mid-90's heater that can touch 97, but his curve is nasty and would immediately be one of the elite curveballs in the game. Given his closing experience in college, Carraway would have no trouble adjusting to the back end of the pen to help the Cubs with matchups late.
Another lefty that could help is that of Justin Steele. The often-injured starter has bounced around from starter and reliever the past few seasons as he earned a promotion earlier this year. Although he never saw game action, the fact that Chicago did promote him makes me think he is a candidate later this year.
Much like Carraway, Steele possesses a lethal breaking ball that is almost impossible for lefties to hit. His fastball isn't going to reach the same level as Carraway, and his command is far from polished, but Steele has at least some professional experience, which is something you can't teach.
The final pitcher who, to me, is an X-Factor is that of Brailyn Marquez. Now, at just 21 and having yet to surpass High A Myrtle Beach, he would be the least likely of all the options, but you can see why the intrigue is there. Marquez has been molded as a starter throughout his minor league career, but I would like to see how he handles a relief role when you see his stuff.
His fastball consistently sits at 98 and has topped out at 102 MPH, which is incredible for just a 20 now 21-year-old. Add in a changeup at 92 and a slider around 90, and you have a big, powerful arm with three established pitches. From a body type, he is a smaller version of Aroldis Chapman, and I think he could be the Cubs version of Josh Hader down the road. Given the amount of zip he has on his heater, why not give him a chance to put that on full display.
In terms of hitting, the Cubs need to figure things out offensively, especially against left-handed starters. However, bringing in someone from the trade market may not be the answer. Guys like David Bote, Albert Almora, Steven Souza, Javy Baez, and Willson Contreras have long track records of hitting left-handed pitchers with great success. For some reason, this season hasn't shown those results as southpaws have carved up the Cubs.
I get the thought process of bringing in a bat to hit lefties, but what happens if those players start to hit the way we have become accustomed to against southpaws. Your offense will then begin to take off, and no additional help is needed. It is on the players to figure this out and stop relying on the front office to help.
While I fully expect the front office to entertain all ideas, this will be the year the Cubs need to improve. It is time for the players to figure out how to hit. It is time for the organization to put some trust in their prospects instead of wheeling and dealing. The organization has helped this team out enough at deadlines in the past. Now it is time for the team to help them.

Tags: Cubs Baseball
,
Rex Brothers
,
Kyle Ryan
,
Jose Quintana
,
Justin Steele
,
Brailyn Marquez
,
Aroldis Chapman
,
David Bote
,
Albert Almora
,
Javy Baez
,
Willson Contreras
,
Theo Epstein