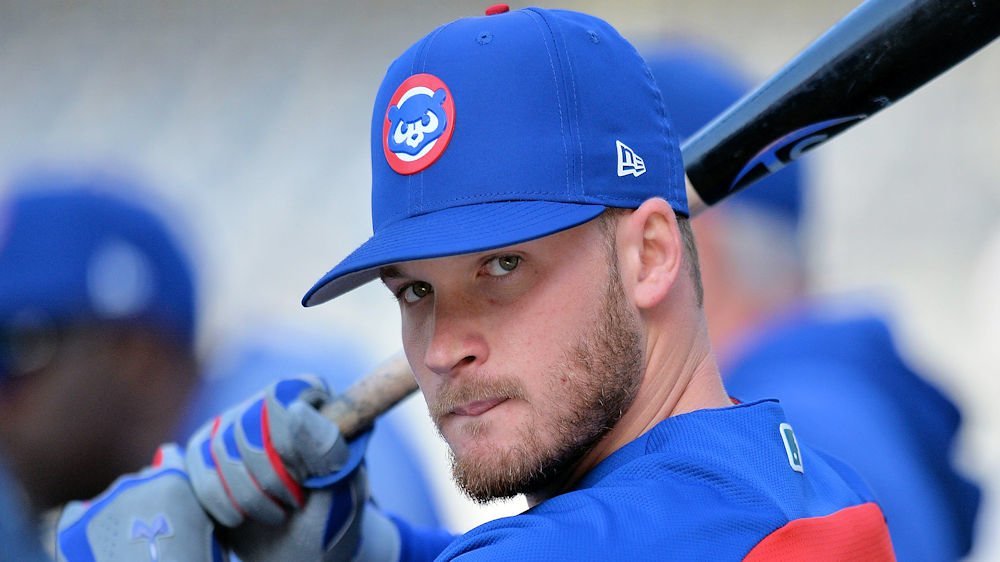 | | |
| --- | --- |
| Commentary: Is it time to call up Ian Happ, release Descalso? | |
---
| | | |
| --- | --- | --- |
| Wednesday, July 17, 2019, 1:54 PM | | |
One of the biggest stories coming out of spring training for the Cubs was the demotion of Ian Happ to AAA Iowa. After playing nearly two full seasons on the Northside in which Happ displayed great power and potential, the lack of consistent contact and strikeout numbers were alarming to the point that Chicago felt he needed to figure things out in Des Moines before returning to the corner of Clark and Addison.
At the time, few questioned this move while most supported it given the poor numbers, he posted in spring training. I was mixed on it at first given the value he brought to this team, but the more I thought about it, the more I realized Iowa was where he needed to be and once again the front office proved that it was the right decision as Happ has undoubtedly had an interesting season, to say the least for Iowa.
Happ was furious with his demotion, but unlike Tommy La Stella and Tony Barnette, Happ took it with a grain of salt and reported to Iowa with hopes of it being a short stay. Despite all the power, speed, switch-hitting ability, and swiss army knife statue much of the likes of the aging Ben Zobrist, Happ needed to go to Iowa to figure things out. With his power from both sides of the plate, Happ certainly has a high ceiling, but that ceiling has quickly been capped due to the high volume of strikeouts that he has stacked up.
The first two weeks of the minor league season only showed us that Happ was where he needed to be as he struck out 22 times in the teams first 14 games of the season. Since that rough start, however, Happ has gone through a lot in AAA and based on what he has done in the past three weeks may be ready to return to the big leagues to help this team down the stretch.
If you don't believe me, we can break his season down into six different six-game stretches to look at production. From April 4-19, Happ batted an abysmal 211 with a 35.5% K rate and just 6.5% walk rate. Those would both rank near the bottom of the MLB roster. From April 20-May 5, His slash line improved to .294, with a 19.7%BB rate and just 12.1% K rate. That was followed by another rough stretch from May 6-23 in which Happ hit .200 with 18%BB rate and 32.8% K rate.
May 24-June 26 was perhaps the roughest stretch he had as he managed to hit just 200 in those 32 games with a 29.5% strikeout rate and 14.5% walk rate. That leads us to his most recent stretch of 16 games dating from June 27-July 15. Happ is not only hitting the cover off the ball at 323 to bring his average to .240 for the season but continues to display a respectable walk rate of 14.5%. His K rate is still high at 26.3%, but it has since declined since the high 30's earlier in the season.
Looking at those numbers, I just broke down, and you can see there is a ton going on. The one thing to focus on is his overall production as it seems he fluctuates from rotation an excellent two-week stretch and a bad two-week stretch throughout the season. What that tells me is that he is a streaky hitter and will always be that for his entire career. Although most teams would shy away from that, the reality most MLB players go through streaky portions of their season the only questions are how long do they last, and will they bounce back?
I will focus on more what he has done the past two weeks, and except for hitting a ton of home runs, Happ is playing the best he has played all season to this point hitting two homers the other night and four in the past ten days which brings him to 14 dingers total.
Ian Happ homered twice last night. We're sure Twitter has no thoughts about it. pic.twitter.com/Zx9fjoDntM

— Iowa Cubs (@IowaCubs) July 16, 2019
He is batting .395 with seven extra-base hits, 9 RBIs, and 10 walks in the last 12 games.
That brings me to my next point as to why it is the perfect time to call him up.
Happ is playing with the most confidence he has shown all season and if you call him up now that confidence should carry right over. Given the state of the Cubs bench and the lack of production for the most part from that spot, Happ would provide an immediate jolt of energy that could be used to jumpstart the bench. Not to mention his ability to move around makes him an easy decision to give certain players off making the Cubs lineup that much deeper.
For him to get called up, either an injury, demotion or release need to happen. The injury has occurred as Willson Contreras is now on the IL, but the Cubs traded for Martin Maldonado to hold that position down. If you are looking for a demotion, Robel Garcia would be the man but given the way, he has hit since he has been called and the fact that he leads the Cubs system with 21 homers I don't see him being sent down anytime soon despite a 40% K rate.
That only leaves one other option, and it seems like a perfect fit. The Cubs need to release Daniel Descalso. I know I sound like a broken record as I have been critical on him for quite some time but what exactly is Descalso bringing to this roster right now minus a veteran presence. He is hitting south of 200, has no speed or range on defense, lacks power, and has only been used to play second base. If those are the numbers, you want why not bring up Happ. Especially since he will provide you with more power, more speed and better defense at multiple spots.
Do I see this scenario happening? No I do not because if it were to happen, it would have happened a while ago. However, this is a topic that needs to start getting talked about, especially if his name is brought up in trade talks. Teams like his potential as a player but until he puts it together on the big-league roster, no one will trade maximum value for him. With the way he is hitting as of late, now is the perfect time to get him up here to see if he can rake with the big league team.
For those of you hoping he stays in Chicago, I preach to have just a little bit more patience as he is close. Now the question remains will he arrive in Chicago pre or post-September or will he be playing elsewhere on a big-league roster before the season is done. Stay tuned as you don't want to miss the rest of Happ's AAA journey and comeback to the bigs.