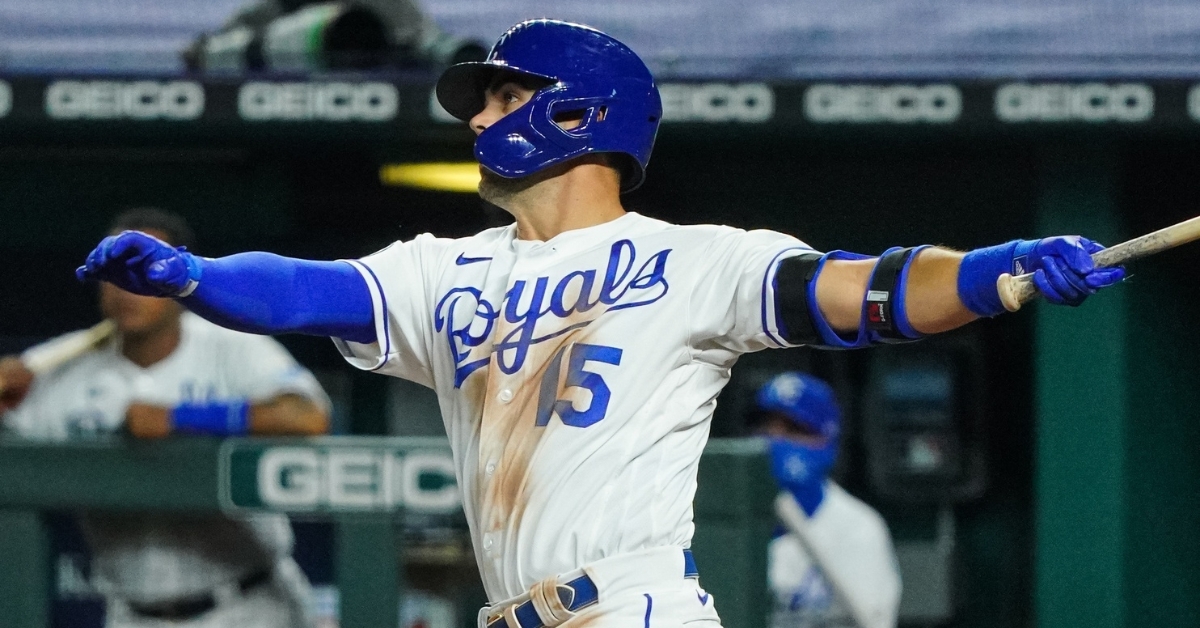 | | |
| --- | --- |
| Commentary: It's time for Cubs to finally get Whit Merrifield | |
---
| | | |
| --- | --- | --- |
| Saturday, December 12, 2020, 11:14 AM | | |
This Chicago Cubs team is going on five seasons without a proven leadoff hitter, with Dexter Fowler being the last. During that time, the Cubs have used several different options, including Jason Heyward, Anthony Rizzo, Kris Bryant, Kyle Schwarber, and Ian Happ. For the most part, none of these players could do much in the leadoff role except for Happ, who did a fine job last season. Some would argue that Rizzo is the best of this group, but he is not someone you would leave there long term.
Don't get me wrong, Happ did a phenomenal job anchoring down the leadoff role last season when Bryant failed to do so. When you look at his numbers from what they were hitting in the middle of the lineup instead of the top, you see a drastic difference. Yes, Happ took his walks and got on base, but his average dropped 48 points after he went into that role and finished the season at 254. That is not a number you like to see from a leadoff hitter.
What options does this team have heading into next season? Well, for starters, the easy answer is they have no real alternatives. At least not yet. Happ seems the most likely candidate once again, but his bat needs to be in the middle of that lineup. A high contact guy like Jason Kipnis or Nico Hoerner would also be a great option, but with Kipnis a free agent and a question about whether Hoerner is ready to be an everyday player, those two names don't seem to fit.
Heyward is another guy that showed promise as a leadoff hitter at times, but much like Happ, his bat was miles better, hitting in the seventh spot last season, so that is where he should stay. Unless the Cubs are going to spend in free agency to get guys like Cesar Hernandez, Jonathan Villar, or others who can lead off, they may be stuck using a leadoff by committee approach once again, which is not ideal.
However, this team has reiterated that they need to change this team's identity and that several key players could be dealt. If that is the case, why not better yourself for not only this season but also the next few seasons by going out and getting a leadoff hitter who can fill a position of need in the field. With Schwarber not being tendered a contract, the Cubs have an opening in left. Now is the perfect time for Chicago to put the big boy pants on and get Whit Merrifield.
For the past three seasons, Merrifield has been rumored a potential trade piece with the Cubs, but nothing has come from it. There are no records of how close the sides have come in the past, but it seemed last season was rumored to be the closest yet. Merrifield not only is the perfect leadoff hitter for this team, but he still has two or three years left of his contract extension for a reasonable price. Not to mention he can play left field, which is a position of need.
Much like the Cubs, Kansas City is in rebuild mode and could be looking to shed some of their higher-paid players this season. Granted, the Mike Minor signing may have gone away from the norm a bit, but Merrifield is now the highest-paid player on this roster with Jorge Soler. Soler will be a free agent after this season, but Merrifield has a few years left, so KC may want to cut ties sooner rather than later.
Most Multi-Hit Games Since 2019:

DJ LeMahieu 79
Whit Merrifield 78
Rafael Devers 77

— Katie Sharp (@ktsharp) September 26, 2020
The cost to get Merrifield is the real question as I expect KC will want at least one good prospect in return. We have heard both Brennan Davis and Brailyn Marquez mentioned in a Merrifield deal before, but I anticipate Jed Hoyer keeping those two guys off-limits. Another name that surfaced as a surprise name in 2019 was that of Christopher Morel.
Unlike many bats the Cubs have had run through the system before, Morel is too raw but has a very high upside. That is why he lands in the top 10 prospects right now. With Maikel Franco hitting free agency, the Royals will be looking for third base help not only now but in the future. Morel is the perfect prospect to give them if they are looking at building for the future. With Bryant, David Bote, and several prospects in the minors, the Cubs do have some depth at that position.
Along with a prospect like Morel and what he brings to the table, the Royals will also want some MLB talent. Schwarber or Bryant would have been an ideal trade piece, but with Schwarber non-tendered, there is no way the Royals take on Bryant's contract. I am sure the Royals would consider a guy like Bote, but he wouldn't be enough to get the job done.
You would also have to look at the pitching side of things, which the Cubs have options, but none that are major league options. Alec Mills could ultimately get traded back to KC depending on what the Cubs do with the rotation. Instead, look for the Royals to look at some of the Cubs minor league arms that could help them in a few seasons. Not everyone will be available, but some will have to go.
Hoyer has said the farm system is on the rise, which is a good thing for this team's future. That also becomes a good thing when you factor trades into the equation as the Cubs could have more leverage than other teams. As an organization, don't expect them to jeopardize the farm system as they have in the past. However, don't rule out the possibility of making trades to get better.
Merrifield is a trade that makes this team better as he is a leadoff hitter that hits for average, has speed, and is someone you wouldn't have to flip flop in your lineup. He plays outfield, which is a position of need, and can also move to second base if needed. He is also cheaper than most making less than seven million dollars per year.
Most hits through 600 games in @Royals history (h/t @EliasSports):

1. WHIT MERRIFIELD (718)
2. George Brett (716)
3. Kevin Seitzer (695)
4. Amos Otis (677)
5. Carlos Beltrán (676)

— Nick Kappel (@NickKappel) September 22, 2020
The Cubs have shown interest in him for years. With a new man in charge, now is the time to make something happen and put your first stamp on this team.

Tags: Cubs Baseball
,
Dexter Fowler
,
Jason Heyward
,
Anthony Rizzo
,
Kris Bryant
,
Kyle Schwarber
,
Ian Happ
,
,
Jorge Soler
,
Brailyn Marquez
,
Christopher Morel
,
David Bote
,
Alec Mills