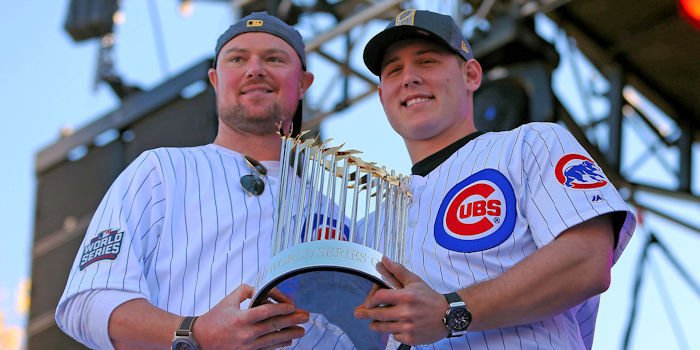 | | |
| --- | --- |
| Commentary: Thank you letter to Jon Lester | |
---
If you've been following our offseason content, we have been writing articles thanking various Cubs players for their contributions during their time in Chicago.
So far this offseason, we have written thank you letters to Yu Darvish, Victor Caratini, Kyle Schwarber, Theo Epstein, and even Len Kasper. But there has been one we have been hesitant to write, for two reasons.
First of all, there was always hope in the seed of our minds that the Cubs would bring 'Big Jon' back to finish his career in Chicago.
Secondly, there are not many athletes in the history of Chicago sports who have impacted an organization as Lester did.
So with that, thank you, Jon Lester.
In the fall of 2014, the Cubs organization seemed to be turning a corner toward success finally. Jake Arrieta and Kyle Hendricks were emerging as big talents in the organization, and phenom prospects Kris Bryant, Addison Russell, Albert Almora, Kyle Schwarber seemed primed to make their debuts. The Cubs were around the corner from being great.
But then, at the winter meetings, something changed… a definitive moment that alerted the MLB that the Cubs are here. That was signing Jon Lester — an ace left-hander with a great postseason resume — to a six-year 155 million dollar contract.
That moment was the first domino to fall of the Cubs turnaround, Joe Maddon, David Ross, and Dexter Fowler joined the Cubs that season, prospects came up and emerged, and the following offseason saw Ben Zobrist, Jason Heyward, and more added to a championship core that was anchored by Lester's presence.
So Jon, thank you for:
* Crafting the championship culture that led the Cubs to their first world title in over 100 years.
* The 77 games won in Chicago.
* Your postseason excellence, including your three outings in the 2016 World Series.
* The leadership you provided to the rotation.
* Bringing David Ross to the Cubs.
* Committing to being a better hitter.
* Picking off Ryan Braun and Tommy Pham.
* Your off-field efforts to improve the community.
* All of the beers you provided to the fans of the Cubs.
* Making Cubs baseball competitive and championship-caliber again.
I don't think anyone could argue that Lester was the single greatest free-agent signing in Cubs history — perhaps even Chicago sports history, right next to Marian Hossa.
Speculation has even begun to arise about whether or not Lester's number 34 will hang from the foul pole in the near future.
But regardless, his contributions to the organization can never be properly written about. His departure could not feel more like an end of an era — considering the era officially began with his arrival.
So good luck in Washington Jon, thank you for everything — and sorry the Cubs couldn't find the five million to keep you.

Tags: Cubs Baseball
,
Yu Darvish
,
Victor Caratini
,
Kyle Schwarber
,
Jon Lester
,
Jake Arrieta
,
Kyle Hendricks
,
Kris Bryant
,
Addison Russell
,
Albert Almora
,
David Ross
,
Dexter Fowler
,
Ben Zobrist
,
Jason Heyward
,
Joe Maddon
,
Theo Epstein