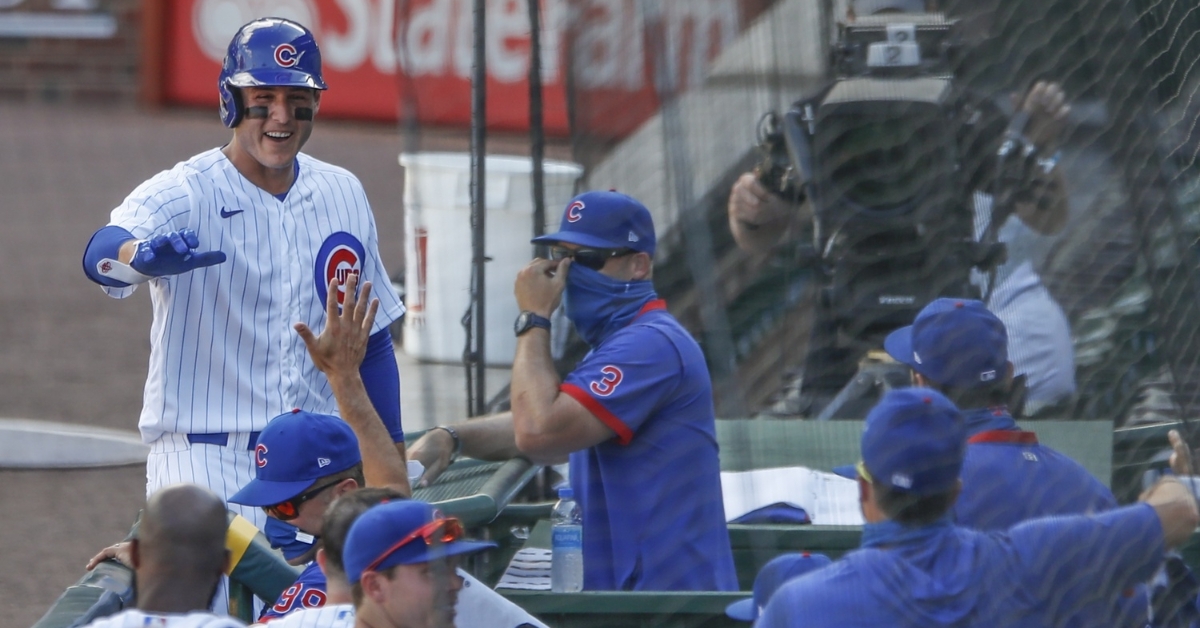 | | |
| --- | --- |
| Commentary: The Countdown is on for Hot Stove season | |
---
Another year has gone by, and once again, the Cubs were out of the playoffs early. Nobody could have foreseen Chicago getting swept 2-0 in the WildCard round - especially by the Marlins… yet it happened.
The 2020 World Series will end somewhere between October 24th and the 28th, with Hot Stove starting five days after the final game. This means it could begin as early as Thursday, October 29th (in the even there's a World Series sweep), or at the outset, it will begin as late as Monday, November 2nd, should the World Series go a full seven games. Either way, 2020-2021 Hot Stove will start sometime within the next 15 days. Yes, the countdown is on, and many teams - especially the Cubs - may be chomping at the bit to start doing business.
Theo Epstein's remarks in his annual end of the year press conference certainly convey the message that change is imminent, but then again, we heard that same thing last winter, and the Cubs did next to nothing to improve. However, they did become extremely active at the July 31st trade deadline, but that was a little too little and a little too late.
The Cubs have a ton of holes to fill, and that's without considering any one of several Chicago's players who could be traded, DFA'd, or non-tendered. Jon Lester is likely gone (unless the Cubs choose to fork out $25M for next season), as are Tyler Chatwood and Jose Quintana, who both earn unrestricted free agency this winter. That alone leaves the Cubs down to just 40% of a five-person starting rotation. Yu Darvish will remain, as will Kyle Hendricks, so there's a nice one-two punch at the front of the rotation. Alec Mills will undoubtedly join the front-five, leaving Chicago with two vacancies to fill while leaving them short a swingman in the pen.
Next, everyone seems to be high on Adbert Alzolay, though I still say that he's not ready to join the rotation regularly yet.
How much they spend this winter depends on whether Tom Ricketts is willing to tank the team. On the one hand, that's highly unlikely, but on the other, money seems to have become an issue at 1060 W. Addison. Still, should they cut Lester loose, that frees up $15M (he has a $10M buyout) to go shopping with, but $15M doesn't go far in today's free-agent market, not unless the Cubs want to continue to buy more of those so-called 'low risk, potentially high reward" pitchers - aka Tommy John survivors.
"Is it an end? No. Is it a bit of a crossroads and clearly a period of transition? Yes." -Theo Epstein
Then there's the mass exodus potentially coming from the pen. The Cubs had a handful of rentals this season, including Jeremy Jeffress. Jeffress proved to be worth his salary (and then some), but then again, they let Brandon Kintzler walk last winter, offering him a paltry $1.5M. The Marlins would pick Kintzler up for a bargain price of $3M for the year. Side note- Kintzler is again a free agent this season.
In addition to the decision to be made concerning Lester, the Cubs also hold team options on both Anthony Rizzo ($16.5M) and Daniel Descalso ($3.5M with a $1M buyout). Dumping Descalso (like the minute they can) would seem to be a no-brainer, but obviously, the decision to keep or deal Rizzo carries with it a lot of serious implications. There's been no talk of an extension for Rizz, and he's been very outwardly vocal about not wanting his teammates to sign team-friendly deals - something Rizzo himself did when he joined the team in 2013. Will the Cubs recognize his tremendous service and reward him with an extension? Let's be honest, it doesn't look likely, so the question becomes, do they trade him now or take advantage of one last year of relatively cheap labor for their first base superstar? If the Cubs elect to dispose of Rizzo, his buyout is worth $2M.
Then there's the pink elephant in the room: Kris Bryant. Bryant grossly underperformed at the plate this season, spending just over half of the year on the IL. Dealing with Scott Boras (KB's agent) is never an easy task, and with Bryant losing his service time grievance, Boras isn't about to factor in any hometown discounts for Tom Ricketts or Theo Epstein.
In my opinion, Bryant should have been dealt the minute word came down on his extra year of club control. Did the Cubs manipulate his service time? Absolutely, but while it may have been unethical, what they did was not illegal. Don't blame the Cubs. Blame the CBA that the union and MLB both agreed to.
I think a change of scenery might do Braynt some good, and it may benefit the Cubs as well. It's hard to bench the 2016 MVP, but it's also hard to pencil in a guy into the lineup who batted under .200 for most of the 2020 season. Bryant is not likely to re-sign with Chicago, so the Cubs can either deal him this winter or fork out an estimated $18.5M (estimated arbitration salary) for what will inevitably become a one-year rental.
What about Kyle Schwarber, Javier Baez, and other potential trade pieces? Javy's extension talks have gone nowhere, and much like Bryant, his plate appearances were mostly horrific this season. I think they're crazy to deal Schwarber, as his bat is full of power and his fielding is much improved. If they implement the universal DH now that they've tested it this season, Schwarbs could be a tremendous asset, although he's also reportedly turned down extension offers and is due for free agency after the 2021 season.
Willson Contreras' name has been floated as a possible trade piece, as have the names of others. The question is, how bold is Theo Epstein going to be, knowing this is his last year with Chicago. Epstein hasn't asked for an extension, but in all likelihood, he'll remain with the Cubs through the end of his contract, which concludes after next season. Ricketts will want Epstein to try and set the table for his successor, but how bold the Cubs become in this offseason will also depend on how bold Ricketts' check signing hand wishes to be.
You've heard it before Cubs' fans - there's always next year.

Tags: Cubs Baseball
,
Jon Lester
,
Tyler Chatwood
,
Jose Quintana
,
Yu Darvish
,
Kyle Hendricks
,
Alec Mills
,
Adbert Alzolay
,
Jeremy Jeffress
,
Brandon Kintzler
,
Anthony Rizzo
,
Daniel Descalso
,
Kris Bryant
,
Kyle Schwarber
,
Willson Contreras
,
Theo Epstein