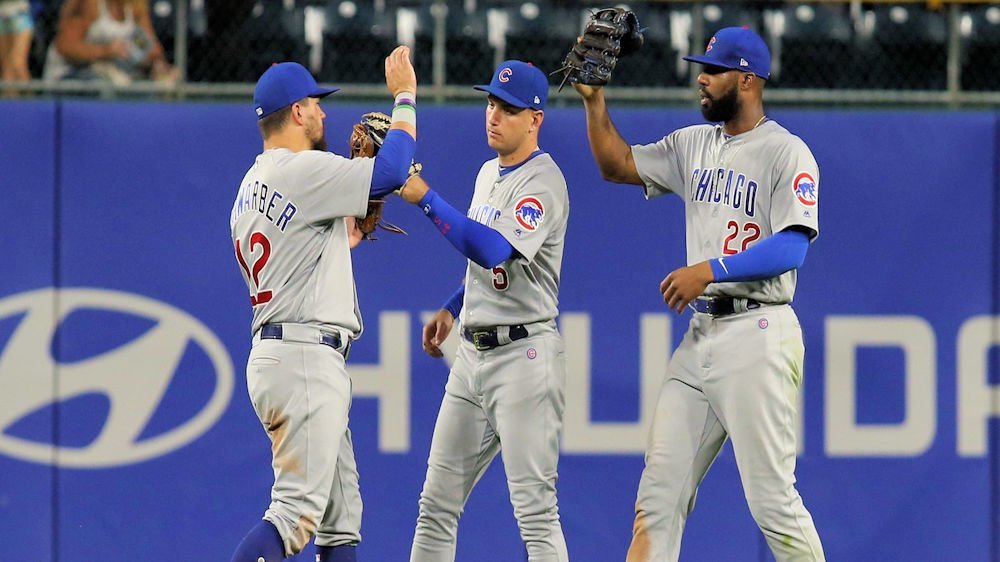 | | |
| --- | --- |
| Commentary: Things starting to look up in Wrigleyville | |
---
| | | |
| --- | --- | --- |
| Thursday, August 2, 2018, 12:38 PM | | |
I've said it 100 times- I relish following the Cubs, but I won't (and don't) sugarcoat things when they play poorly. After last night's demolition derby in Pittsburgh, I'm nothing but smiles this morning.
We saw a little of everything from Cole Hamels last night, as he made his pitching debut for the Cubs. I'd chalk up the few pitching imperfections (wild pitch, hit batsman, two walks) to a case of the jitters, associated with starting for a new team. For the most part Hamels was flawless, allowing no earned runs and striking out nine in five innings of work.
Javier Baez was there in true 'El Mago' form, beating out infield hits, stealing bases and causing the Pirates to become completely flustered. Bucs' starting pitcher, Nick Kingham, had Baez dead to rights on Javy's attempt to steal third early in the game, but an errant throw turned what should have been a "gimme" out, into a run for the North Siders as Javy cruised past third and headed home unchallenged.
Javy fans will enjoy this one. pic.twitter.com/IsdHBQe2by

— Chicago Cubs (@Cubs) August 1, 2018
The offense didn't stop with Javier Baez. The Cubs batted nine men in the first, with Cole Hamels' first strikeout as a Cub, coming on offense rather than defense. No worries though, Hamels would eventually earn his first hit as Cub when he beat out the throw to first, following a ball that he'd hit up the middle. It seems as though everyone was part of the "hit parade" last night, as by the start of the fourth-inning, Anthony Rizzo was stepping into the batter's box for the fourth time.
The Cubs' offense pummeled Kingham, scoring four runs in the top of the first, and forcing him out of the game after a 51-pitch, first-inning. Steven Brault came on for the Pirates in the top of the second, but by that time, the damage was done and the route was on.
Also making his debut for the Cubs, was veteran, right-handed reliever, Brandon Kintzler, who came on in relief of Hamels to start the bottom of the sixth. Through 1.1 innings, Kintzler looked solid, allowing one hit, one walk and no runs.
I thought it would have been wonderful to have seen Hamels starting, with Jesse Chavez coming in, followed by Kintlzer to close it out, but Joe Maddon had other plans. Taking the mound in the ninth, in what would be his first relief appearance, was none other than Tyler Chatwood. I'd be a liar if I didn't say that even with a seven-run lead that I was a little concerned, but Chatwood did fine, allowing a single and a walk, but shutting Pittsburgh down without allowing a run to close out the game.
For the record, the three newest Cubs now have a combined total of 15.1 innings without allowing an earned run, and if you count Chatwood (as a new reliever), they are at 16.1 innings.
I feel more secure about the Cubs' future for the 2018 post-season after seeing last night's game, than I have in weeks. Even with a 3.5 game lead over Milwaukee a week ago, I had a bad feeling that the Cubs still wasn't firing on all cylinders. The grind will inevitably continue some in the absence of Kris Bryant, Yu Darvish, and Brandon Morrow, but hopefully, the addition of Hamels, Kintzler, and Chavez will help to overcome it.