| | |
| --- | --- |
| Commentary: Vintage Kyle Hendricks arrives just in time | |
---
| | | |
| --- | --- | --- |
| 2022-05-10 15:06:37.0 | | |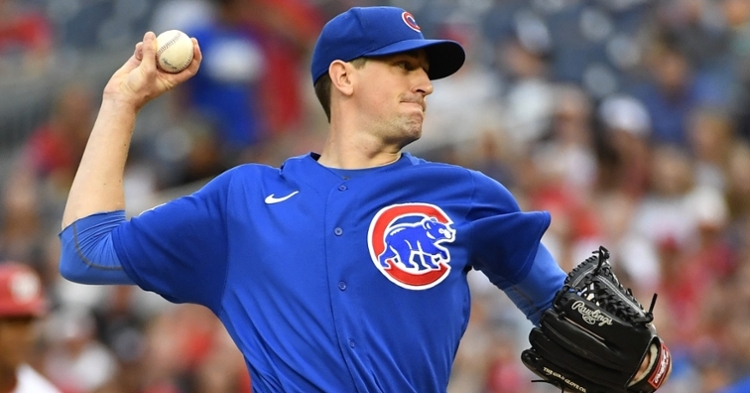 If you stayed up late into the night on Monday, you witnessed a bit of a Kyle Hendricks revival. The 32-year-old righthander dished out a vintage performance with batters off-balance all night.
Hendricks used his not-so-fastball perfectly to set up a sinker and changeup that dipped and dived, forcing the Padres lineup to chase en route to a season-tying seven strikeouts. He'd pepper in a curveball every now and then to get a cheap first strike.
The Padres lineup outside of superstar third baseman Manny Machado and first baseman Eric Hosmer isn't precisely a modern-day Murderer's Row.
Three of the players in the lineup are hitting below .200, and another is barely above .203. But these are still big-league hitters, and, well, even Machado and Hosmer looked average against Hendricks' pitch movement. The hard-hitting Machado popped out weakly to catcher Yan Gomes in foul territory in one at-bat, and his only hit was a soft flare into right field.
Kyle Hendricks, Filthy Changeups. ?? pic.twitter.com/sDwkGrgY5O

— Rob Friedman (@PitchingNinja) May 10, 2022
For the Cubs, seeing Hendricks deliver such a classic performance came just in time for a club that had been scuffling, putting it mildly.
You know the stats.
Before Monday, the team had scored 22 runs in the 12 games since they scored 21 for Hendricks on April 23.
Against San Diego, the Cubs showed off some traits that had been sorely lacking during their recent nosedive. Jason Heyward's diving catch with a man on stopped any sort of Padres rally in the seventh. Ian Happ's hustle turned a run-scoring single into a two-run double in the eighth. On that play, Nico Hoerner's smart baserunning forced an errant throw at the plate.
For one night, this offense had some mojo, which perfectly complemented Hendricks' presence on the mound. His 116-pitch performance, which ranks as the third-most pitches in his career, was phenomenal.
Never seen Kyle Hendricks this worked up before after David Ross took him out of the game. ??

(??: @WatchMarquee) pic.twitter.com/Pre3LZm6LG

— Cubs Zone ™? (@CubsZone) May 10, 2022
The way he mixed the pitches and had hitters off balance had memories of 2016 dancing in fans' heads. With the win Monday, the Cubs still sit at 10-19, just a pathetic Reds team away from the National League Central cellar.
So one 96.3 percent complete game outing will not suddenly turn this team into a playoff contender.
But, at least for one night, Hendricks reminded Cubs fans of what he can do when he's all right.
Now it's time for him to string a few of these together, which has been his weakness this year and last.
Kyle Hendricks on his 8.2 scoreless innings against the Padres tonight: pic.twitter.com/Gkst9QrzmB

— Maddie Lee (@maddie_m_lee) May 10, 2022