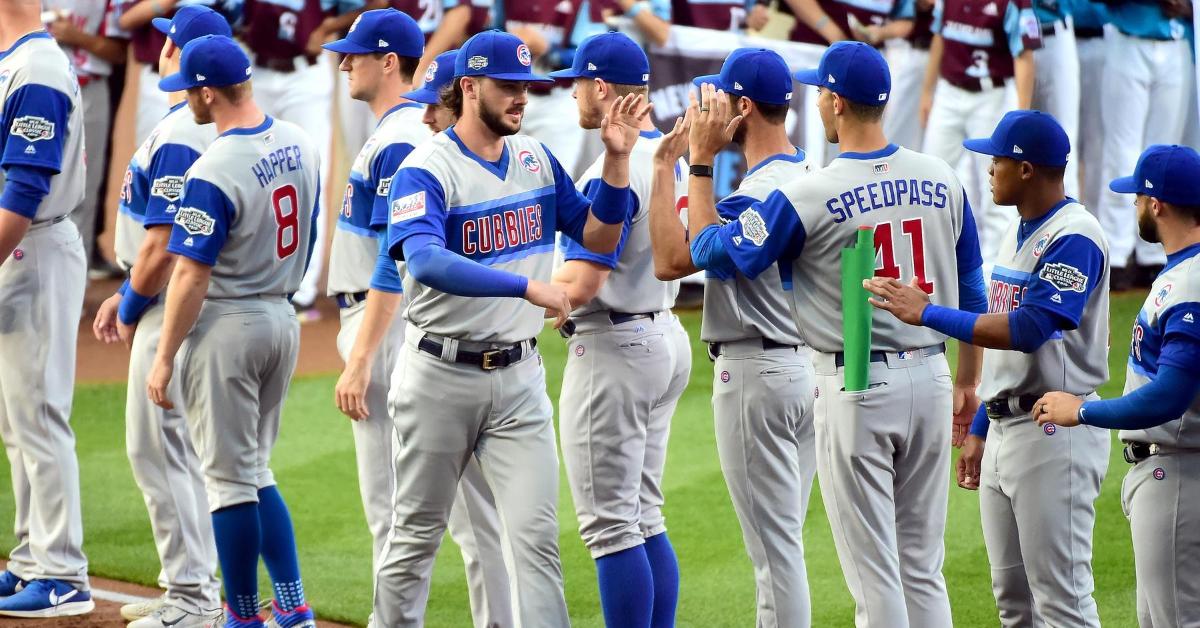 | | |
| --- | --- |
| Commentary: Was Sunday what Cubs needed to find their mojo? | |
---
At this point in the season, the Cubs are 25-39 on the road, and unless some historic miracle or run happens from now until the end of the season, the Cubs will have their first losing record on the road since 2014. However, last night was a step in the right direction as the Cubs knocked off the Pirates 7-1 to secure their first winning road series since May.
I don't want to get too excited about this road series win because it was against the Pirates and once again the bullpen, for the most part, did not perform well over the 10-game stretch. With, any road series win, it is a step in the right direction for this team and maybe yesterday's festivities are precisely what the Cubs needed to get back on track and rediscover their 2016 mojo.
When you look back at 2015, 2016 and even 2017, for the most part, one thing stood out when watching the Cubs play baseball and that was how much fun they were having as a team. No matter the good or the bad that was going on it always seemed like the Cubs were not only having fun but enjoying the game of baseball as it was meant to be enjoyed playing with an unbelievably loose vibe for nearly three seasons.
Then last season happened. After showing us for nearly five months that baseball was still fun, September came which was a month that Cubs want to forget leading to a game 163 and Wild Card game loss both on their home field. That was a dark time for the current Cubs roster, and it was not fun for any of them. The problem is, it seems as if that feeling has stuck with them longer than anyone has anticipated.
Ever since the start of the season, there have been three things that we have noticed in the Cubs play. The first thing that stands out has been just how good they have been at home. For whatever reason, the Cubs are playing amazing at Wrigley, much like they have been for years, but the dramatic home and road splits continue to show us just how much they have used their building as home-field advantage.
The second thing we notice has been the Cubs inability to win on the road consistently. This goes back to their 2-7 start on the road when not only could they not seem to pitch, but the hitting was inconsistent also. Guess what nothing has changed as they have the worst record in the NL on the road, yes even worse than the Marlins with only the Orioles and Royals having more losses on the road than the Cubs. That is not a good sign for a contending team that ends the season with their final seven contests on the road.
The final thing I have noticed, which is something not many people do is the overall body language of this team. Yes, the Cubs have struggled to play well on the road. Yes, they haven't put together a run where they win 15 of 20 games, and their body language has shown that all season. The problem is that body language has reached Wrigley where even when things are going right, it does not seem like this team is having fun playing baseball anymore.
I get that being a professional athlete is a business-driven by performance results. If you don't perform, you tend to lose your spot on the team, which can be tougher on some players than others. The problem I have noticed apart from Javy Baez who seems to enjoy life more than anyone alive, even the ones having good seasons don't look like they are having fun on the diamond anymore. It has gotten to the point where they seem to be pressing too much knowing that they have struggled on the road and playoff hopes are slipping away by each winless road series.
Even with all the road struggles, the Cubs have been in first place most of the season and are currently tied for first now so they should be having a little fun on the field. Known for their crazy road trip themes since arriving in Chicago, Joe Maddon continues to use those, but even those don't seem to affect these players that they once had.
Then came last night in Williamsport, a game of unique proportions and a game that I think the Cubs truly needed to come together. Not only did previous night give the Cubs their first road series win in over three months it allowed them to get away from the daily grind of a repetitious road routine that has not been met with positive results.
The Cubs participated in the second annual Little League Classic and saw firsthand what baseball means to kids. Remember these players were once Little Leaguers themselves with huge dreams. Throughout the day the Cubs had a chance not only to get away from their daily baseball activities but got to hang out with all the little leaguers and watch some of the Mexico Japan game before their Sunday night tilt.
When asked about it throughout the evening, every player raved about how much fun they had, and it showed on their faces all night. Not only were the Cubs winning 7-0 and on the verge of taking a road series but they were smiling, dancing and having fun in the dugout once again. This was something that got them through 2016 as they were known as the fun team during that title run.
Whether it was the cool jerseys, getting away from a standard road routine or just interacting and being around those players all day long the Cubs were having fun again. Javy Baez even went far enough to say that this is exactly what the Cubs needed to come together as a team moving forward.
I am not going to sit here and say one road series will cure what has happened the past three months, but it could be a step in the right direction if this team continues to have the fun, they had last night. Yes, baseball is still a job and a business, but it is meant to have fun while playing. When the Cubs have fun as a team, the proof is in the results as they tend to have a much more competitive team on the field.
Sometimes unexpected circumstances make you appreciate the little things in life, and that is exactly what all those little leaguers did for the Cubs on Sunday. Those kids don't get paid millions to play a game. They play it for free because they enjoy the game. They have fun because they become a family with their coaches and teammates, and they create an atmosphere that they will remember forever.
The Cubs were fortunate to be part of that experience and will now have this memory to take with them forever. If this game truly brought them together to help them realize they are still a family I expect to see a much looser, laid back, and fun team the final six weeks of the season. Should that happen, no one will want to play the Cubs come October because that is who the Cubs are. A wacky Manager, wild road trip themes and most of their roster still kids at heart who don't care about history and refuse to grow up.

Upgrade Your Account
Unlock premium boards and exclusive features (e.g. ad-free) by upgrading your account today.
Upgrade Now