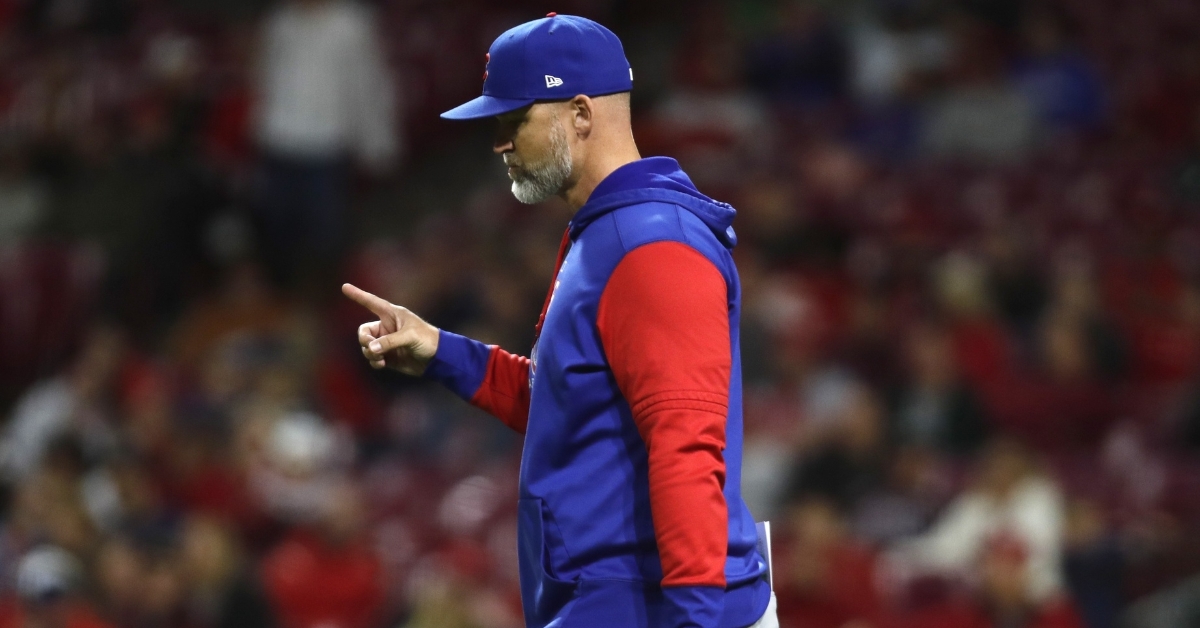 | | |
| --- | --- |
| Commentary: The Cubs bullpen has been a disaster | |
---
The Cubs were at the top of the baseball world in 2016 when they won the organization's first championship in over 100 years — but since then, it has been a steady climb down the mountain. Instead of sustained success and a potential dynasty, the Cubs are back to square one, rebuilding for the second time in a decade.
Instead of Theo Epstein running the ship this time around, it's Jed Hoyer. And it has seemed like for most of the rebuild thus far, Hoyer and Co. have been honing in on improving the aspects of the rebuild that Epstein's regime is typically hammered for lacking.
For example, during the Epstein era, the Cubs struggled to develop starting pitching (The only homegrown pitcher on the 2016 team was Rob Zastrny) and struggled to keep their talent in Chicago long-term (Anthony Rizzo, Kyle Schwarber, Kris Bryant, Javier Baez), struggled to acquire good hitters/pitchers during trades and free agency after 2016 (Jason Heyward, Daniel Descalso, Tyler Chatwood, Brandon Murrow) — while they excelled at piecing together a bullpen on a year by year bases, drafting hitters (Kris Bryant, Kyle Schwarber, Ian Happ) and discovering hidden gems in other organizations and developing them (Jake Arrieta, Kyle Hendricks, Anthony Rizzo, etc.)
So this time, the Cubs have been much better at hammering out homegrown pitching.
Justin Steele, Keegan Thompson, Adbert Alzolay, Javier Assad, Michael Rucker, Brandon Hughes, and Jeremiah Estrada are all players who have pitched at the major league level in 2023 alone who were drafted or signed and developed by the Cubs only — plus Cade Horton, Jordan Wicks, Daniel Palencia, DJ Herz, Kohl Franklin are minor leaguers who have only ever been the Cubs organization.
Not to mention players like Hayden Wesneski, Adrian Sampson, Caleb Kilian, Julian Merryweather, Mark Leiter Jr., or top prospects like Ben Brown and Nick Burdi, who were acquired from a different organization but are getting developed and finding success with the Cubs.
The Cubs also went through some painful departures from all-stars like Anthony Rizzo, Kris Bryant, Javier Baez, Kyle Schwarber, and Willson Contreras.
So this time, Hoyer is making a noticeable effort to extend talent that has already seen success in Chicago. Over this past offseason, Nico Hoerner and Ian Happ were offered extensions to stay with the club through the next few seasons.
The Cubs have also finally begun to make a real effort toward winning over the last two offseasons. Signing players like Marcus Stroman, Seiya Suzuki, Dansby Swanson, Trey Mancini, Jameson Taillon, Drew Smiley, Yan Gomes, and Tucker Barnhart to multiple-year contracts, plus Cody Bellinger, Brad Boxberger, Michael Fulmer, Eric Hosmer, Edwin Rios, Wade Miley and more to one-year deals in just the last two offseasons.
While obviously, some names on that list have already proven to be bad signings, the fact of the matter is the Cubs have used their money to make an effort to improve their ball club — something that fans have not seen much of near the end of Epstein's tenure and into the beginning of Hoyer's.
However, when you make such an effort to improve certain areas of roster construction, there are bound to be some holes left behind. The struggles of players like Nick Madrigal, Tucker Barnhart, Edwin Rios, Eric Hosmer, Patrick Wisdom, Miles Mastrobuoni, Luis Torrens, and Trey Mancini certainly leave more to be desired offensively — but the bullpen has been the most prominent example of an area of the roster that was simply not given enough to be good.
It feels like night after night; the Cubs have held a lead that eventually got coughed up by some combination of arms from the bullpen. Seventeen of the Cubs' losses have been 35 losses have been worn by the bullpen — and the only team with fewer saves in the entire MLB than the Cubs is the 14-win A's.
Codi Heuer is still injured, Keegan Thompson's struggles were so mighty that he was sent back to the minors, Michael Fulmer blew more saves than he converted in the "closer role," Brad Boxberger is on the injured list, Wesneski and Assad have been needed to fill innings in the rotation as opposed to the bullpen.
Adbert Alzolay has been effective but has been forced into a hybrid multi-inning / high leverage pitcher, Mark Leiter Jr. has been effective but has struggled at times, Julian Merryweather has recovered nicely from his rough start but is not a backend type of pitcher, Jeremiah Estrada, Brandon Hughes and Michael Rucker have been rocky at best.
The fact of the matter is, the Cubs' recent ability to craft together bullpens of young talent and veteran arms and be effective was bound to come to an end (names like Ryan Tepera, Andrew Chafin, Craig Kimbrel, David Robertson, Mychal Givens, Chris Martin, Scott Effross, Steve Cishek, Rex Brothers, Dan Winkler, Jeremy Jeffress, Brandon Kintzler come to mind).
It's hard to sustain that type of success when those players are not guaranteed to be a part of the bullpen past the trading deadline, let alone make it to the next season.
The bullpen has been a disaster this season. No lead feels safe.
The Cubs have the 6th worst bullpen ERA in the MLB, and David Ross' circle of trust is understandably tiny and does not include a closer.
It will be good for a lot of these players to potentially work their kinks out in a season that already looks lost in June and serve as an audition for the bullpen of the future — but if contending is a part of the Cubs' plan, this season and beyond, a better bullpen should at the top of Jed Hoyer's to-do list.

Tags: Cubs Baseball
,
Anthony Rizzo
,
Kyle Schwarber
,
Kris Bryant
,
Jason Heyward
,
Daniel Descalso
,
Tyler Chatwood
,
Ian Happ
,
Jake Arrieta
,
Kyle Hendricks
,
Justin Steele
,
Keegan Thompson
,
Adbert Alzolay
,
Javier Assad
,
Michael Rucker
,
Brandon Hughes
,
Jeremiah Estrada
,
Jordan Wicks
,
Daniel Palencia
,
Kohl Franklin
,
Hayden Wesneski
,
Adrian Sampson
,
Caleb Kilian
,
Julian Merryweather
,
Mark Leiter
,
Willson Contreras
,
Nico Hoerner
,
Marcus Stroman
,
Seiya Suzuki
,
Dansby Swanson
,
Trey Mancini
,
Jameson Taillon
,
Yan Gomes
,
Tucker Barnhart
,
Cody Bellinger
,
Michael Fulmer
,
Edwin Rios
,
Wade Miley
,
Nick Madrigal
,
Patrick Wisdom
,
Miles Mastrobuoni
,
Codi Heuer
,
Ryan Tepera
,
Andrew Chafin
,
Craig Kimbrel
,
David Robertson
,
Mychal Givens
,
Chris Martin
,
Scott Effross
,
Steve Cishek
,
Rex Brothers
,
Jeremy Jeffress
,
Brandon Kintzler
,
David Ross
,
Theo Epstein