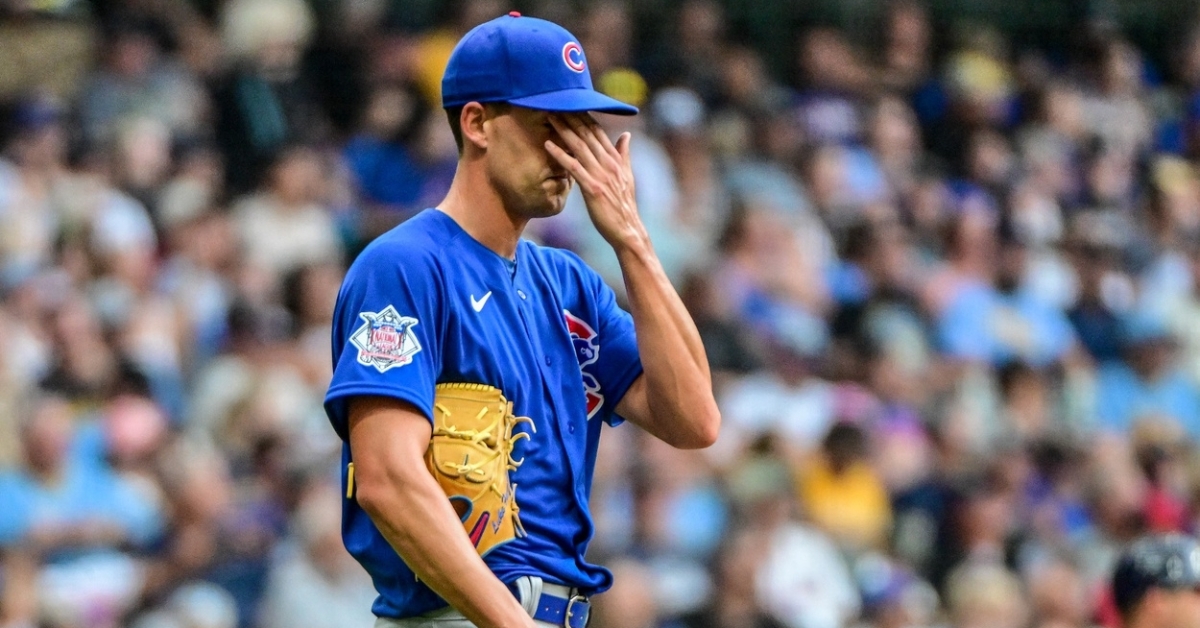 | | |
| --- | --- |
| Cubs bullpen blows game in loss to Brewers | |
---
| | | |
| --- | --- | --- |
| Sunday, August 28, 2022, 6:53 PM | | |
MILWAUKEE - Baseball is a game based on the coach's decisions, and it can often be decided by inches. After Craig Counsell made a horrible decision to lift Freddie Peralta after six no-hit innings on Friday, it was time for David Ross to make his own terrible decision which came back to bite the Chicago Cubs (55-73).
With Adrian Sampson pitching well against the Milwaukee Brewers (67-59), the manager had a decision to make whether or not to leave him in to face a lefty or go with Sean Newcomb. Despite being at just 61 pitches, Ross chose to go with Newcomb, and the move backfired immensely as he surrendered six earned runs which helped give the Brewers a 9-7 victory.
At some point, these managers need to stop playing the analytical side of the game and trust what their eyes see. If Ross had done that, he would have seen a pitcher in Sampson pitching well enough to be given a chance to finish that inning as he allowed just one run over 3 1/3 innings. Considering that the Cubs were going against Eric Lauer and had him on the ropes for once, you have to feel for Sampson.
Lauer was lights out in his previous two starts against the Cubs this season, and you could argue that he has pitched the best against the Cubs compared to every other starter. Lauer wasn't at his best on Sunday, needing 101 pitches to get through five innings while also allowing four runs, but he did what he needed to do to win the game as the decision Ross made cost the Cubs in this one.
Lauer has been outstanding all season, but after walking a pair of hitters in the first, you could see he wasn't at his best. Nico Hoerner would capitalize on that by picking up the go-ahead single to give the Cubs the early 1-0 lead. Milwaukee tried to respond with a pair of singles in the bottom of the first, but Nelson Velazquez gunned down Christian Yelich, trying to stretch a single into a double, which killed the rally.
The Cubs offense went back on the attack in the second inning, with Zach McKinstry leading things off with a single before a two-out walk put a pair of runners on base. Like in the first when the Cubs were in the same situation, Seiya Suzuki cashed in with another RBI single to double the lead as the Cubs took the 2-0 lead off Lauer.
Two-out, two-strike RBI knock for @suzuki_seiya_sb! pic.twitter.com/LJLcqskqFc

— Chicago Cubs (@Cubs) August 28, 2022
Sampson was good, but he wasn't perfect, allowing a leadoff double to Kolten Wong in the second. However, most importantly, he managed to get out of the inning without allowing a run. Despite being able to wiggle out of trouble in the second, he wasn't as fortunate in the second, with Willy Adames starting a two-out rally with a single before the Rowdy Tellez double put two runners on. Hunter Renfroe followed that up with a double to make things 2-1, but that would be it for the time being.
The bottom of the fourth is when things went south for the Cubs, and Ross has no one to blame but himself for his decision. After pulling Sampson in favor of Newcomb, the lefty went out and allowed three straight singles to begin his outing, including one to Garrett Mitchell that saw the Brewers take a 3-2 lead. Two pitches later saw Christian Yelich deposit one into the left-center field seats to extend the Brewers lead to 5-2.
Down, but not out, the Cubs continued to battle back in the fifth inning, with Ian Happ leading things off with a double. Hoerner continued his great game with a two-run shot two batters later, and just like that, it was a 5-4 game.
Knock knock.

Who's there?

Nico! pic.twitter.com/tZRcXLe4lQ

— Chicago Cubs (@Cubs) August 28, 2022
Newcomb continued to have his issues in the bottom of the fifth, walking the leadoff hitter and then serving up another two-run shot to Wong that saw the Brewers extend their lead to 7-4.
At that point, Ross saw enough from Newcomb and went back to the bullpen by choosing Luke Farrell. That decision could alter how things go in Toronto on Wednesday as the Cubs will need a starter for that game, but they will cross that bridge when it comes. Farrell got through the rest of the fifth without allowing a run, but would allow a pair of RBI singles to Renfroe and Keston Hiura in the sixth that saw the Brewers stretch that lead to 9-4. That came after the Cubs wasted a scoring chance in the top of the sixth, with the Renfroe single proving to be the game-winner.
Although things were not looking good at this point, the Cubs refused to pack it in as they continued to show more fight than anyone gives them credit for. With Franmil Reyes leading things off with a double to open the seventh, he would eventually come home to score on the Yan Gomes sacrifice fly to make things 9-5.
That score held until the ninth inning, with Rowan Wick taking over for Farrell to keep things close, but in the ninth, the Cubs made things a bit more interesting as the Brewer fans began to see some dejavu. With Brad Boxberger on the mound, Happ started things off with a single putting a runner on base.
Three pitches later saw Reyes unload for his 12th homer and third with the Cubs as Chicago was within striking distance 9-7.
Franmil Reyes launches his 3rd HR with the @Cubs. pic.twitter.com/KWdK1fk1G7

— Marquee Sports Network (@WatchMarquee) August 28, 2022
Hoerner followed that homer up with a single to bring the tying run to the plate, which forced Counsell to go with Devin Williams. For as good as Williams has been, he has struggled against the Cubs the past few outings, but after striking out Gomes to begin his outing, he got Willson Contreras to ground into a game-ending double-play to give the Brewers the massive win.
The Cubs had 11 hits in the game, with Hoerner leading the way with three hits and three RBIs. Happ and Reyes added two hits, with Suzuki, Nick Madrigal, Alfonso Rivas, and McKinstry having the rest.

Tags: Cubs Baseball
,
David Ross
,
Adrian Sampson
,
Sean Newcomb
,
Nico Hoerner
,
Nelson Velazquez
,
Zach McKinstry
,
Seiya Suzuki
,
Ian Happ
,
Luke Farrell
,
Yan Gomes
,
Rowan Wick
,
Willson Contreras
,
Nick Madrigal
,
Alfonso Rivas