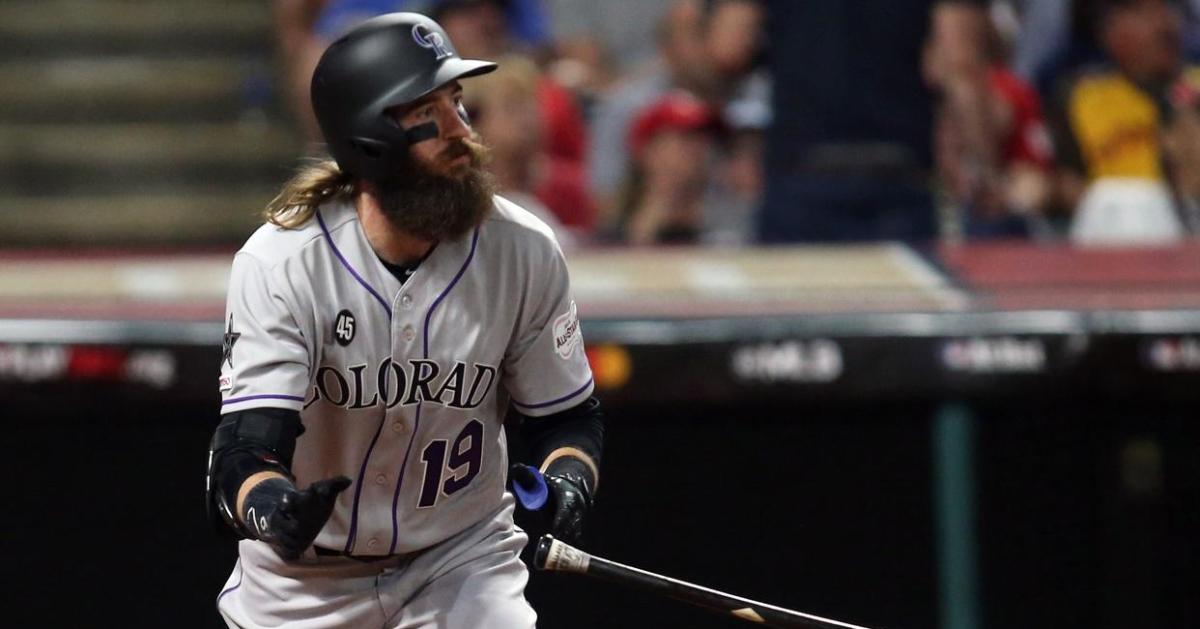 | | |
| --- | --- |
| Cubs' Hot Stove: Seven Days left to Trade | |
---
I love trading season, then again, I hate the trading season. The time I spend anticipating, ruminating and prognosticating could be better spent cutting the lawn, but somehow, I find myself thinking about the trade scenarios as I'm doing that as well. There's nothing better than to be able to say, "I told you so," but then again, there's nothing worse than having to eat crow. If there's one thing I know for sure, it's that if Theo doesn't get busy- and soon, I'll need a prescription for Valium, as this whole thing tends to make me neurotic.
There's always that chance that Theo Epstein ends up dealing someone that nobody ever thought would be dealt (think Robel Garcia, Pedro Strop), but then again, there's always that sigh of relief when an underperforming player is finally no longer part of the roster (think Daniel Descalso, Mike Montgomery, Brad Brach).
What hurts the most is to see a guy like Monty, who'd done so much for this team, become so discontent with his own performances and role as a reliever, that he asked to be traded. There were reputable reports that his request caused tension and discourse in the clubhouse, so much so, that Montgomery was sent home one day, like a child who'd received a suspension at school.
Even guys like Daniel Descalso are almost painful to see go (whether traded or designated), as I never question their loyalty or desire to win. The bottom line is, some guys just can't- for whatever reason- contribute to the team any longer.
With a week left until the deadline, the countdown (and pressure are on). So, who are the Cubs tied to at this point? Well, a handful of names, including a starter, two relievers, a closer, an outfielder and a designated hitter, not to mention probably a dozen other guys who we haven't heard about yet.
Shane Greene: The recent news that the Cubs are now tied to Tigers' closer, Shane Greene, has me a little perplexed. Granted, he'd be a backup and an alternative to Craig Kimbrel, but being that he's a righty, I can't see why the Cubs would need "an alternative" to Dirty Craig. Greene would probably be a wicked setup man, which makes me wonder f the Cubs plan on trading either Pedro Strop or Steve Cishek (whether to the Tigers or someone else).
Nick Castellanos: I have little doubt that any trade concerning Greene, would come as part of a package deal for outfielder, Nick Castellanos, as I believe Nick is the primary target here. While Castellanos delivers at the plate, his defense is well below average, making more of a DH /pinch-hitter than a defenseman. What the Cubs need a DH for, I have no idea, but if they could get Castellanos glove to start working, he could prove valuable in more ways than one.
Eric Sogard: This one intrigues me some, and he may be the best bet. Eric Sogard played for Milwaukee in 2017 and 2018, then wound up in Toronto as a free-agent back in December. Sogard is a decent infielder and plays second, third and short.
While the Cubs claim to be clamoring for a second-baseman who's able to hit, I think they've found that in Robel Garcia, yet rumors continue to swirl that Garcia may be dealt. The bigger assets that Sogard brings, are his bat (.304/.367/.487), which includes ten homers (total of 28 extra-base hits), 28 walks and 30 RBI in 273 at-bats, and his ability to back up Javier Baez at short.
Interestingly, the Brewers sent Sogard to the minors last year (circa June), as they seemed to feel he was underperforming as a fielder. After bringing him back up, Milwaukee released him on September 21.
I think Sogard could be a great option, but as always, it depends on the cost. Like a lot of the other trade targets, Sogard is also a straight rental.
Madison Bumgarner: I'm not certain exactly why the Cubs have been tied to MadBum, but they have. Reports say Bumgarner's contract contains a no-tread clause with several teams, including the Cubs, so he'd have to approve any deal that would send him to Chicago. Bumgarner is good, he's young, but he's also a rental.
Will Smith: Smith, a reliable, lefty reliever, currently has a 2.55 ERA over 42.1 innings, which is something the Cubs would benefit from, and he's working cheap this year- $4.23M. He's a rental, but an affordable one who could provide security. Obtaining, and more importantly, retaining, him would be something the Cubs could build on, but the Giants may be reluctant to sell-off their roster if they continue to win, and the Cubs certainly didn't help their cause on Monday night.
Tony Watson: While I haven't heard as much about the Cubs interest in Watson this summer, they were scouting both him and Smith over the winter. The rumors then said the Cubs could have the pair in exchange for Jason Heyward, Ian Happ, and a prospect, but nothing ever materialized. Even at age 34, Watson has remained effective, pitching to a 2.88 ERA this season, but he would also be a rental.
Jarrod Dyson Another aging rental, Dyson provides little benefit that I can see, so far as the Cubs are concerned. He's a reliable centerfielder, but his bat is lackluster this season, slashing only .249/.329/.362, which is comparable to Albert Almora Jr.'s .239/.275/.382. Dyson also trails Bert in homers, RBI and several other offense stats, while his defense is certainly no better. The fact that Almora is almost ten years younger, seems to make turning away from Dyson practically a no-brainer.
Charlie Blackmon: While the Cubs haven't been tied to Blackmon, he would be an option If the Cubs want that power-hitting outfielder, the Rockies may be the place to look. Colorado has announced that they're entertaining thoughts on Charlie Blackmon. Blackmon is aging (33), but he's controllable until age 37 under his current deal (4yrs./$77M), he hits the hell out of the ball, and he provides leadership- two things the Cubs need. Colorado would probably eat a chunk of his salary, especially if the Cubs offered someone decent (younger) in exchange.
Time is ticking Theo. Do something, please.

Upgrade Your Account
Unlock premium boards and exclusive features (e.g. ad-free) by upgrading your account today.
Upgrade Now

Tags: Cubs Baseball
,
Robel Garcia
,
Pedro Strop
,
Daniel Descalso
,
Mike Montgomery
,
Steve Cishek
,
,
Jason Heyward
,
,
Albert Almora Jr
,
Theo Epstein