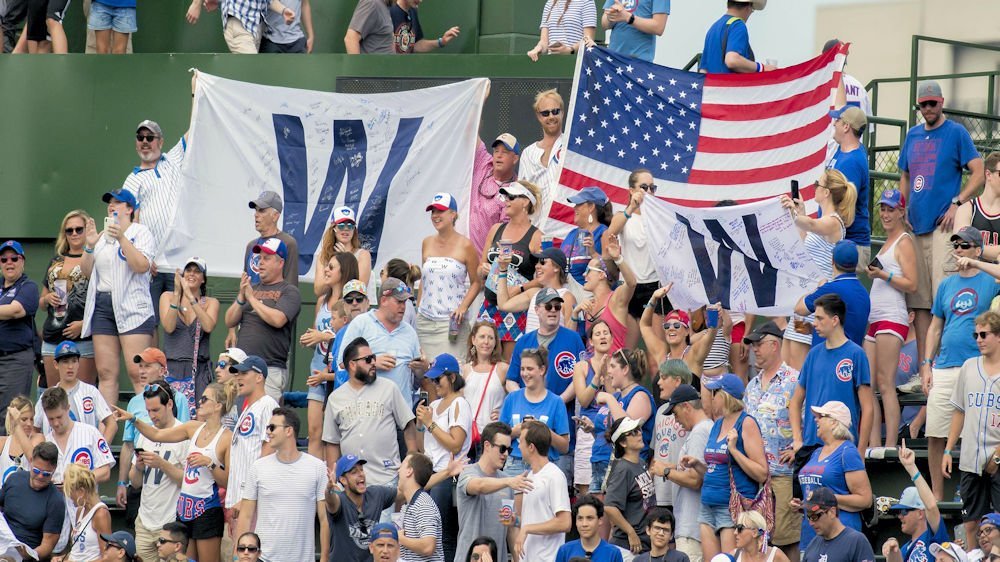 | | |
| --- | --- |
| Cubs Minor League News: 3-1 record, Young with game-winning homer, Zinn impressive, more | |
---
| | | |
| --- | --- | --- |
| Thursday, July 29, 2021, 12:57 PM | | |
With the Rookie Leagues enjoying their mid-week off day, the focus shifted to the full-season leagues where the Cubs were hoping for better results. Besides Iowa getting blown out by Louisville, the Cubs system got precisely what they were hoping for, posting a 3-1 record on the diamond Wednesday night to give fans something to cheer about.
LOUISVILLE BATS 17- IOWA CUBS 5
It was a night to forget over in Des Moines as the Louisville Bats broke out the Bats and pounded Iowa 17-5. Joe Biagini was the first of a long list of pitchers who struggled, with only Manuel Rodriguez giving Iowa a scoreless frame. Rowan Wick also made his AAA season debut after a successful stint with South Bend and served up five earned runs in just 1/3 of an inning.
Early on, fans were treated to a very well-played game with Alex Blandino putting Louisville up 1-0 in the first before an Abiatal Avelino homer in the second tied things up 1-1. After Biagini put together four strong innings on the mound, things began to unravel in the fifth as the Bats pushed across seven runs to take the 8-1 lead.
Four of those runs came off homers, with Chris Okey connecting for a solo shot and Jose Barrero mashing a three-run shot. Doubles by Braxton Lee and Alfredo Rodriguez capped off the scoring with Louisville up big. One inning later saw Louisville extend their lead to 10-1 before getting to Wick in the seventh.
As if a three-run shot wasn't good enough, Barrero added to his monster game with a bases-loaded double to make things 13-1. Michael De Leon answered with a three-run shot later in the inning to put Louisville up 16-1. Down 17-1 in the eighth, Caleb Knight made his AAA debut and greeted the fans with an impressive three-run shot. A Tony Wolters homer in the ninth capped off the scoring with Iowa falling 17-5.
Iowa collected eight hits in the loss, but it was Andrew Romine leading the way with two. Knight, Frank Schwindel, Nick Martini, Wolters, Avelino, and newly acquired Johneshwy Fargas rounded out the hits for Iowa. Sergio Alcantara suffered an 0-4 night, but is still hitting .305 for the season.
Pain. pic.twitter.com/txAQjouUTy

— Iowa Cubs (@IowaCubs) July 29, 2021
TENNESSEE SMOKIES 4 – CHATTANOOGA LOOKOUTS 3
One day after losing 4-3, the Smokies returned the favor scoring all their runs in one inning before pitching took care of the rest. Cam Sanders has endured plenty of growing pains this season, but he was at his best on Wednesday. Not only did he get through six innings, allowing three runs in the win, but he struck out nine hitters to go with two walks.
However, Sanders certainly had to earn his victory as Wilson Garcia put the Lookouts up 1-0 with a second-inning homer. One inning later saw Brian Rey come through with a sacrifice fly before Garcia added an RBI groundout, and just like that, Chattanooga was up 3-0 in the third, practically doing a carbon copy of Tuesday night.
Hoping to avoid another loss, the Smokies offense came to life in the third and pushed across all four of their runs to take the lead. Nelson Maldonado got things started with an RBI single before Brennen Davis pulled his team within 3-2 with an RBI fielders' choice. Later in the inning, Jared Young provided the game-winning hit as his third homer of the season gave the Smokies a 4-3 lead.
That one-run lead would not only hold up for a while, but would hold up for good as the bullpen duo of Bryan Hudson and Cayne Ueckert allowed just one hit over the final three innings to secure the win. The top of the Smokies order did the most damage, with Maldonado (3) and Darius Hill (2) connecting for five of the team's eight hits. Levi Jordan, Christopher Morel, and Young picked up the rest while Chase Strumpf and Davis combined to go 0-7.
See, we just needed today! Smokies win! #GoSmokies #SmokiesBaseball pic.twitter.com/U7pw0F68Wo

— Tennessee Smokies (@smokiesbaseball) July 29, 2021
SOUTH BEND CUBS 11 – QUAD CITIES RIVER BANDITS 4 (10 innings)
You read that score right. The Cubs topped Quad Cities 11-4 by pushing across seven runs in extra innings to take the cake. Matteo Bocchi continues to turn out quality starts, even though they don't go more than four innings. His ERA now sits at 3.29 for the season, following another two-run start.
Both runs charged to Bocchi came across in the third and fourth innings, where Michael Massey gave Quad Cities the 1-0 lead on a sacrifice fly before Seuly Matias added on with a single. Down 2-0 in the fifth, South Bend got their offense rolling using a wild pitch to get on the board ahead of the Delvin Zinn RBI groundout and Tyler Durna single to take a 3-2 lead.
That lead doubled to 4-2 in the sixth off a throwing error from Quad Cities, but homers by Tucker Bradley and Nathan Eaton in the seventh brought things to even once again. After Burl Carraway tossed a scoreless inning of relief, nine innings would not be enough as the Cubs were heading to extras.
Coming off a stretch with plenty of extra-inning luck, that continued for South Bend as they put the game away in the top of the 10th. A Jake Slaughter single provided the game-winning run, but the Josue Huma bases-loaded triple had the Cubs up 8-4. South Bend continued to pour it on as a wild pitch made things 9-4 before Zinn capped off the scoring with a two-run shot to give the Cubs the 11-4 win.
Relive some highlights from last night's SEVEN-RUN tenth inning. We're looking to make it two in a row tonight! (Video Courtesy: @QCRiverBandits).#SBCubs | #CubTogether pic.twitter.com/wl8kDnd5Uz

— South Bend Cubs (@SBCubs) July 29, 2021
Slaughter was one of three players to record two hits, joining Edmond Americaan and Durna. Huma and Zinn may have had just one hit, but they made their hits count as the duo combined for six RBIs. Bryce Ball and Nelson Velazquez also added hits.
South Bend explodes for seven runs in the tenth and even up the series in Quad Cities. Josue Huma had a three-RBI triple and Delvin Zinn belted his fourth homer of the year in the extra-inning onslaught#SBCubs | #CubTogether pic.twitter.com/noATecE9Px

— South Bend Cubs (@SBCubs) July 29, 2021
MYRTLE BEACH 7 PELICANS – AUGUSTA GREENJACKETS 3
Myrtle Beach continues to play much better baseball than earlier in the season, topping Augusta 7-3. The Pelicans got a good start from Jose Miguel Gonzalez, as the righty gave the team five innings of three-run six strikeout ball to secure the win. He was followed by Gabriel Jaramillo and Bailey Reid, who tossed four shutout innings, but it was Jaramillo who stood out, striking out six and lowering his ERA to 1.37 following three great innings.
It was all about the long ball early on as both teams exchanged homers. Cade Bunnell opened the scoring with a solo shot in the first, only to see Jordan Nwogu answer with a solo shot in the second. Stephen Paolini kept that streak going with a two-run shot in the bottom of the second to put Augusta up 3-1. That rough start didn't phase Gonzalez as he settled in nicely to not allow another run the rest of the way.
In fact, Augusta couldn't score the rest of the way as the Pelicans pitching was dominant across the game's final seven innings. Their performance gave the Pelicans offense a chance in which Kevin Made tied the game with an RBI single in the fourth before seeing Jonathan Sierra gave them the lead with a single in the sixth.
Sierra wasn't done having a good game as he padded the Pelicans lead with an RBI double in the eighth, followed by Ethan Hearn's single to make things 6-3. A wild pitch in the ninth pushed across the game's final run as the Pelicans rolled 7-3 for the victory.
Sierra has been in a bit of a slump recently, but it appears he is finding his way out, leading the way with three hits to go with his two RBIs. Made added a pair of hits to go with his two RBIs as they provided most of the offense. Hearn, Ezequiel Pagan, and Nwogu all added hits in the win, but Nwogu's discipline was impressive as he took four walks in the win. Ed Howard was hitless.
Wednesdays are for W's. #MBPelicans pic.twitter.com/HqdtM60bAZ

— Myrtle Beach Pelicans (@Pelicanbaseball) July 29, 2021

Tags: Cubs Baseball
,
Manuel Rodriguez
,
Rowan Wick
,
Abiatal Avelino
,
Caleb Knight
,
Cam Sanders
,
Nelson Maldonado
,
Brennen Davis
,
Jared Young
,
Bryan Hudson
,
Darius Hill
,
Levi Jordan
,
Christopher Morel
,
Chase Strumpf
,
Matteo Bocchi
,
Delvin Zinn
,
Tyler Durna
,
Josue Huma
,
Edmond Americaan
,
Nelson Velazquez
,
Jonathan Sierra