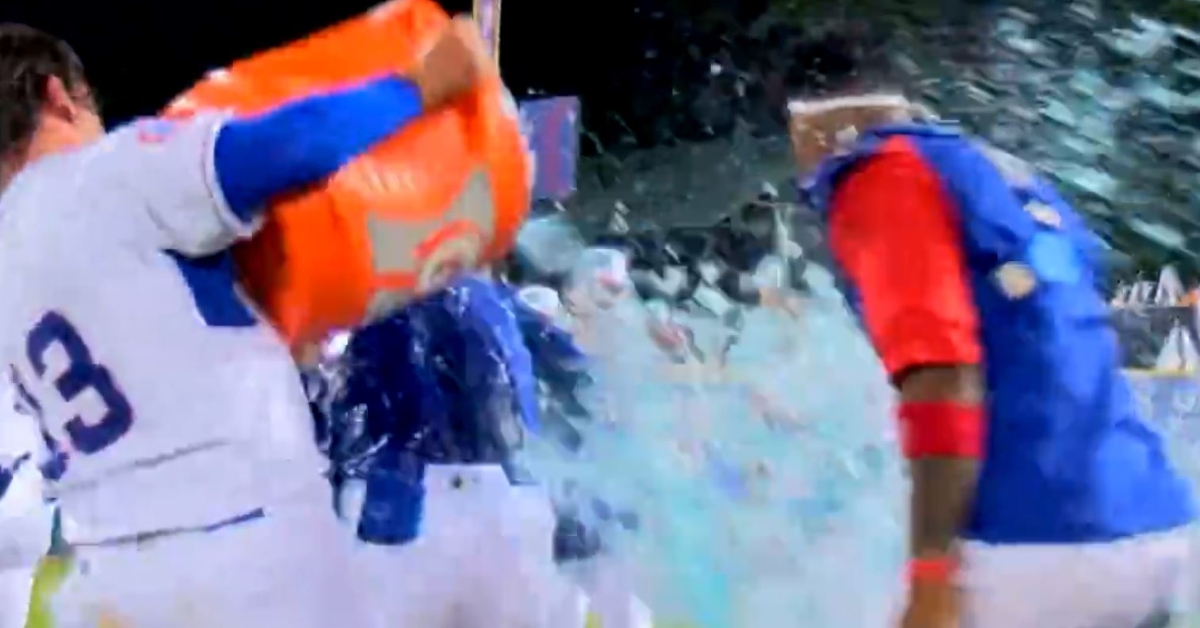 | | |
| --- | --- |
| Cubs Minor League News: PCA walks it off, Slaughter raking, Kilian impressive, more | |
---
This has been an exciting week for the Cubs and their system, as the wins have been plentiful and have come with tons of late-game magic. Despite the organization going 2-2 on Thursday, all four games were highly competitive, even if two ended in a heartbreak fashion.
IOWA CUBS 5 - TOLEDO MUD HENS 4
While the Chicago Cubs might struggle to win close games, the Iowa Cubs aren't struggling to win any games right now, as they have taken the first three of the series from Toledo. Unlike many of their wins where the offense destroyed the opposition, the Cubs have had to rely on better pitchers and clutch hitting the past two days to secure back-to-back one-run wins.
Caleb Kilian was back on the mound after putting together arguably his best start of the season last time out. Granted, his final line may not look the best, but it is better when you dive into it.
Kilian gave the Cubs five innings of four-run ball while walking one and striking out five. That is the key, as his command has been much better his past two times out.
Once Kilian was done, it was up to the pen to do their job as Cam Sanders started things with a scoreless sixth and picked up the win. He was followed by Baily Horn (who has not allowed a run since his promotion), Rowan Wick, and Nick Burdi, who is now 4/4 in save chances.
Getting back to Kilian, a large portion of the damage off of him came in the first inning, where the long ball was an issue. Justyn-Henry Malloy has had a good series thus far and continued that with a two-run shot to put the Mud Hens up 2-0. Two pitches later, it was Tyler Nevin's turn to go deep as the Mud Hens went back to back to take a 3-0 lead. Apart from that, Kilian was outstanding, and that is a nice sight to see for the Cubs and their fans.
Playing from behind is not a problem for this team, especially when you have an explosive offense like the Cubs do. Sergio Alcantara put Iowa on the board with a solo shot in the third as it was their turn to play long ball. That continued later in the inning with Jake Slaughter going deep again as Iowa stormed back to tie things up 3-3.
Sergio Alcántara and Jake Slaughter both go deep to tie it up! Good for your @GreatClips Clip of the Game. pic.twitter.com/fnHIbFq7fS

— Iowa Cubs (@IowaCubs) May 11, 2023
With Parker Meadows putting Toledo back in front with an RBI force out in the fourth, it would be up to the Cubs and their offense to find a way to rally late. That wouldn't be a problem with Yonathan Perlaza ripping an RBI triple to tie things up 4-4 in the sixth. Perlaza would come home to score later in the inning on the Brennen Davis single, as that hit proved to be the game-winner in the Cub's 5-4 win.
Slaughter continues his recent tear with two more hits and two more RBIs and is now hitting .308 with seven homers and 33 RBIs. Nelson Velazquez went hitless and had just one hit since his return to AAA.
Make that three straight🔥 pic.twitter.com/8NS3UTd8pl

— Iowa Cubs (@IowaCubs) May 11, 2023
TENNESSEE SMOKIES 4 - MONTGOMERY BISCUITS 3 (F/10)
The Smokies couldn't have asked for a better or more exciting start to their series with Montgomery as they have taken the first three games. In the process, they have opened a 4.5-game lead in their division, as it is theirs for the taking.
If you thought Wednesday was exciting with a late-game rally that led to a walk-off win, why not make it two walk-off wins in a row as the Smokies walked off the Biscuits in 10? Walker Powell was back on the mound, and he continues to put together a strong showing. Powell gave the Smokies five innings of two-run five strikeout ball as his ERA stands at 3.22 for the season.
However, when you look at how well Jacob Lopez was pitching, with eight strikeouts through four strong frames, it would be up to the Smokies to scratch and claw their way to a win. Lopez did surrender an early run, with Luis Vazquez going deep in the first to make things 1-0.
Luis Vazquez puts the Smokies on the board early with a solo shot in the first inning! @luisito_vaz #NextStartsHere #BestYearEver pic.twitter.com/oEF3K4D8im

— Tennessee Smokies (@smokiesbaseball) May 11, 2023
That was the game's lone run for quite a while until the Biscuits finally got to Powell in the fifth.
Evan Edwards provided all the damage against the right-hander as his two-run homer put the Biscuits in front 2-1. Still trailing in the seventh, Haydn McGeary brought things back to even with an RBI double, only to see the Biscuits retake the lead in the eighth, 3-2.
A double from Haydn McGeary ties the game! 2-2 in the bottom of the 7th. pic.twitter.com/tf4xIgIjZM

— Tennessee Smokies (@smokiesbaseball) May 12, 2023
Trailing by one and down to their final three outs, BJ Murray Jr. provided some late-game fireworks as his ninth-inning homer brought things back to even and helped send the game into extras.
Easy power from BJ Murray pic.twitter.com/2kwjdZQzEg

— Todd ⚾️🐻🦌 (@CubsCentral08) May 12, 2023
In the extra frame, Ben Hecht took care of business in the top half while Pete Crow-Armstrong delivered the walk-off single in the bottom of the 10th to lift the Smokies 4-3.
A WALKOFF FROM PETE CROW-ARMSTRONG!! SMOKIES WIN 4-3 IN THE BOTTOM OF THE 10TH! #NextStartsHere #BestYearEver #Cubs pic.twitter.com/yfXCsHe6dt

— Tennessee Smokies (@smokiesbaseball) May 12, 2023
Murray Jr led the offense with two hits as the Smokies had six hits as a team. PCA, Vazquez, McGeary and Caleb Knight had the rest.
A WALKOFF WIN! PETE CROW-ARMSTRONG WITH AN RBI BASE HIT UP THE MIDDLE! #BestYearEver #NextStartsHere #Cubs pic.twitter.com/xWDrCdH92l

— Tennessee Smokies (@smokiesbaseball) May 12, 2023
WISCONSIN TIMBER RATTLERS 3 - SOUTH BEND CUBS 1
The losing streak is over, at least for the Timber Rattlers, as they put an end to their eight-game losing streak on Thursday. Connor Noland was on the bump for the Cubs as he gave the Cubs five scoreless innings of four-strikeout balls. His ERA fell to 3.09 on the season. Pair that with Tyler Woessner from Wisconsin, who allowed one run in 5 1/3, and the fans were treated to a good old-fashioned pitcher's duel.
That was until Didier Vargas had a rough go of things, surrendering three earned runs in the seventh, which was the difference in the game. Despite tallying eight hits, it took six innings for South Bend to break through, using a Wild Pitch to grab a 1-0 lead. That lead didn't last long as Wisconsin used the long ball in the seventh to win the game, with Eduarqui Fernandez connected for the three-run shot.
Kevin Alcantara, James Triantos, and Ezequiel Pagan had multi-hit games and tallied six of the Cub's eight hits.
Alcântara has such a sweet swing that naturally goes to rightcenter pic.twitter.com/PVB9ZLyR6D

— Todd ⚾️🐻🦌 (@CubsCentral08) May 12, 2023
A slow, rolling single for James Triantos @IvyFutures pic.twitter.com/CpBQdhtoWF

— Todd ⚾️🐻🦌 (@CubsCentral08) May 12, 2023
The most underrated prospect right now is Ezequiel Pagan. He is such an amazing situational hitter… Case in point. pic.twitter.com/Y6HIKURNwe

— Todd ⚾️🐻🦌 (@CubsCentral08) May 12, 2023
Ethan Hearn and Liam Spence had the other two, while Sheldon Reed struck out three in his 1 1/3 innings.
Wisconsin grabs their first W of the week.

Back to it tomorrow! pic.twitter.com/a2cfRUFuS8

— South Bend Cubs (@SBCubs) May 12, 2023
LYNCHBURG HILLCATS 8 - MYRTLE BEACH PELICANS 5
There have been a lot of tough losses for the Pelicans this season, but this may top the list. After letting two games get away earlier in the week, the Pelicans held a 5-1 lead heading into the eighth. That was when the Pelicans bullpen imploded, allowing seven runs over the final two frames, including five in the night as the Hillcats rallied again 8-5.
Marino Santy made a rare start, but it was an adequate start going three innings and allowing an unearned run to lower his ERA to 3.00. He gave way to Angel Hernandez, who tossed three scoreless innings of relief before the back end of the pen had a rough go of things.
The lone run for Lynchburg until the eighth inning came in the second when they used an error to take a 1-0 lead. That lead didn't last long, with Jefferson Encarnacion tying things up in the bottom of the second with a homer.
Jefferson Encarnacion dinger pic.twitter.com/fDbimKDLDP

— Todd ⚾️🐻🦌 (@CubsCentral08) May 11, 2023
Pedro Ramirez added an RBI single shortly after as the Pelicans were in front 2-1.
Two innings later, it was the Myrtle Beach offense at it again, and this time, it was Juan Mora coming through with his first double of the season to extend the lead to 3-1. Mora would come around to score on the Miguel Fabrizio single as the Pelicans were in complete control 4-1. Despite Lynchburg picking up a pair of runs in the seventh to pull within 4-3, the Pelicans continued to battle, with Andy Garriola adding a sacrifice fly in the bottom of the seventh to put the Pelicans up 5-3.
Looking to lock things down in the ninth, things fell apart quickly for the Pelicans, which has been a theme this season. Guy Lipscomb started the rally with an RBI single before a costly wild pitch made things 5-5. The Hillcats kept the pressure on, with Maick Collado picking up the game-winning single to make things 6-5. The big blow came from Robert Lopez, whose two-RBI double capped off the five-run ninth in the Hillcats 8-5 win.
Juan Mora had the hot hand with three hits on offense, with Encarnacion adding two hits. The Pelicans had 10 hits as a team, but the wins haven't been there this week.
Didn't win today. pic.twitter.com/9pqeGR9MpK

— Myrtle Beach Pelicans (@Pelicanbaseball) May 12, 2023

Upgrade Your Account
Unlock premium boards and exclusive features (e.g. ad-free) by upgrading your account today.
Upgrade Now

Tags: Cubs Baseball
,
Caleb Kilian
,
Cam Sanders
,
Rowan Wick
,
Yonathan Perlaza
,
Brennen Davis
,
Nelson Velazquez
,
Walker Powell
,
Luis Vazquez
,
Ben Hecht
,
Caleb Knight
,
Didier Vargas
,
Kevin Alcantara
,
James Triantos
,
Ezequiel Pagan
,
Ethan Hearn
,
Sheldon Reed
,
Angel Hernandez
,
Juan Mora