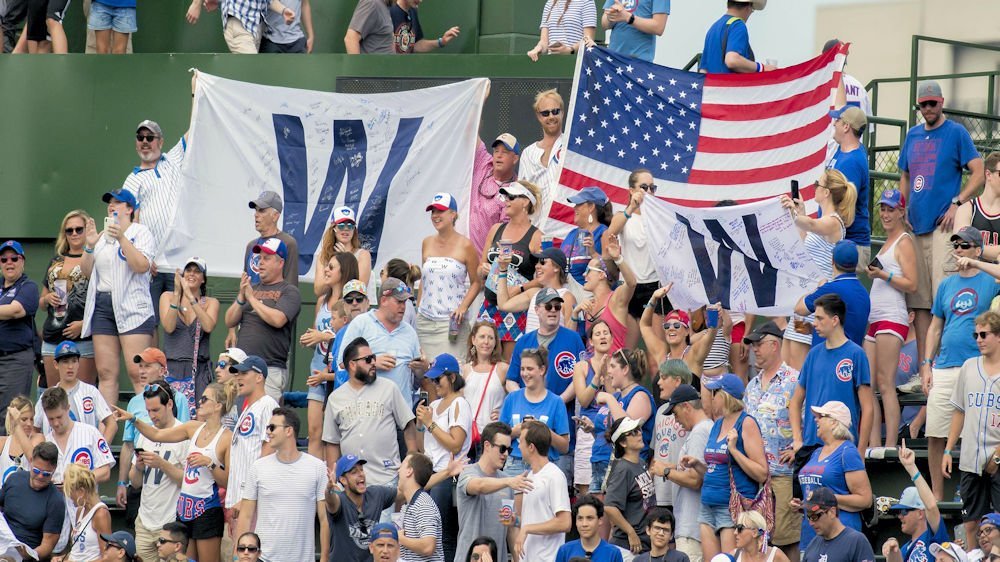 | | |
| --- | --- |
| Cubs Minor League News: I-Cubs lose, South Bend wins five straight, Pelicans win three in | |
---
| | | |
| --- | --- | --- |
| Thursday, May 27, 2021, 7:00 PM | | |
The Cubs almost did enough last night to pick up their second clean sweep of the season but settled to a 3-1 record on the night. Iowa was the unfortunate victim who didn't get the job done, but the rest of the system played great all night long.
It was a mix of good pitching, timely hitting, and just great offensive approaches that got the job done for the Cubs as they looked incredible on the farm last night. These are the kind of nights fans get excited about as there was plenty of fun to go around from start to finish.
SAINT PAUL SAINTS 4 – IOWA CUBS 3
The Cubs are in a bit of a rough right now, dropping their fourth straight contest on Wednesday. It didn't come without a bit of drama, as Iowa staged a late-game comeback only to come up short. Kohl Stewart took the ball once again and continues to pitch well in a starting role. He went six innings allowing just three runs on five hits, as his ERA remains under a 4.00 for the season.
In support of Stewart was Trayce Thompson, who delivered an RBI knock in the third to put Iowa in front 1-0. However, that lead was short-lived as Saint Paul pushed across three runs the next two innings to take a 3-1 lead. Drew Maggi and Tomas Telis picked up RBI singles, with Jimmy Kerrigan adding a sacrifice fly. Making his first appearance since April was Trevor Megill as he came on in relief in the seventh.
Megill looked good velocity-wise but only managed to last 1/3 of an inning as Telis added a second RBI single to take a 4-1 lead. In desperate need of some late-game offense, the Cubs started to rally in the eighth, with Abiatal Avelino ripping a double to make things 4-2 before coming home to score on a Vance Vizcaino single. Unfortunately, Thompson was thrown out at home on the same play keeping the Cubs behind 4-3.
That proved extremely costly as the Cubs couldn't get anything going in the ninth before falling 4-3. Along with Stewart and Megill, Robert Stock and Kyle Ryan saw time on the mound, with Ryan continuing his scoreless streak. The Cubs received six hits from the top of their order, with Thompson, Avelino, and Sergio Alcantara responsible for two hits. Vizcaino got in on the two-hit fun with Jacob Olson picking up the final hit. Taylor Gushue and Ian Miller both went hitless.
Couldn't quite come back. We'll be back for game three against St. Paul tomorrow at 7:08! pic.twitter.com/8uXN6wbkOg

— Iowa Cubs (@IowaCubs) May 26, 2021
TENNESSEE SMOKIES 11 – CHATTANOOGA LOOKOUTS 3
It was a great day for the Smokies all around as they made quick work of the Lookouts 11-3. Things were not always as smooth as they were as the Smokies used two big innings to score nine of their 11 runs making sure they came away with a win. Getting the start was Javier Assad as he continues to show his potential. Assad lasted just four innings but allowed three runs on five hits to keep his team in the game.
The trio of Ethan Roberts, Scott Effross, and Manuel Rodriguez took care of things from there, allowing just two hits in five scoreless innings of relief to secure the win. Anytime you can score first is good, and Grayson Byrd gave the Smokies the early lead with a first-inning double. After Michael De Leon tied things up with a double of his own in the bottom of the first, Erick Castillo gave the Smokies the lead for good in the second as his single made things 2-1.
The fourth inning is when the Smokies took command of the game, as that was the first of their two big innings. It all started with a Darius Hill bunt single before Miguel Amaya added a single himself to make things 4-1. With the bases juiced, Tyler Payne ripped a single of his own to bring home two more, and the Smokies took charge 6-1. Even with a five-run deficit, it didn't feel all that comfortable with Brian Rey singling home a pair of his own in the bottom of the fourth to close within 6-3. That was all for Assad at that point, and now the bullpen would be tested.
It wasn't until the eighth inning that Tennessee broke out in a big way when another run crossed. Castillo continued his big game with a second RBI single before Hill crushed his first homer of the season. All in all, the Smokies sent home five men in the eighth to claim the 11-3 win. Hill continues to have an impressive season going 3-5 with four RBIs to raise his average to 321 on the season.
The bottom three of the order comprised of Zach Wilson, Castillo, and Connor Myers each had two hits, with Castillo responsible for three more RBI's. Amaya picked up another hit and RBI to go with two walks, while Christopher Morel was the lone player who didn't record a hit.
Matt Swarmer had a fantastic outing, but ultimately the Smokies fall 7-3 to the Shuckers. #SmokiesBaseball https://t.co/sYp12NWcQO

— Tennessee Smokies (@smokiesbaseball) May 23, 2021
SOUTH BEND CUBS 5 – FORT WAYNE TIN CAPS 3
One day after the brawl that ensued between these teams, it was going to be interesting to see how things would transpire. What fans were treated as a bunch of late offense with the Cubs rallying late to provide Burl Carraway with his first career win. Derek Casey has had an up and down start to his season, but he looked like the Casey of old, going six innings and allowing just one run in a no-decision.
That run he allowed came in the first inning when Jonny Homza connected for an RBI single giving Fort Wayne the early lead. Fortunately for South Bend, they could answer in the bottom of the first, with Cole Roederer tying things up with a single of his own. With Casey done after six, Chase Strumpf did his best to back his starter as his single in the sixth gave the Cubs a 2-1 lead before turning it over to the pen.
While the decision needed to happen, it proved to not work early on, with Fort Wayne striking for a pair of runs off a Grant Little double and Agustin Ruiz single to take a 3-2 lead. Once again, the Cubs played catchup in the eighth, and Tyler Durna made sure to keep them alive as his force out made things 3-3. A Nelson Velazquez single put South Bend back in front 4-3 ahead of a Jake Slaughter groundout as Carraway slammed the door in the ninth to preserve the 5-3 win.
After struggling with his command much of the season, Carraway was dominant in his 1 1/3 inning of relief, walking none and striking out three. Roederer is starting to heat up since returning to the lineup, picking up two more hits to go with another RBI. Delvin Zinn, Strumpf, Durna, Velazquez, and Slaughter each added hits in the win.
Make that five straight wins! #FlytheW #SBCubs #CubTogether pic.twitter.com/bPIE74Dl4f

— South Bend Cubs (@SBCubs) May 27, 2021
MYRTLE BEACH PELICANS 6 – SALEM RED SOX 5
The Pelicans couldn't have asked for a better start to this series, taking the first two from Salem. Wednesday saw Myrtle Beach grab the early lead, only to rally back late to climb back to 500. DavidJohn Herz continues to show everyone why he is a top 30 prospect, going 3 2/3 scoreless innings again, allowing just one walk to go with five strikeouts. He now has a 0.75 ERA for the year.
Salem gifted the Pelicans their first run of the game with a passed ball in the first, but it was Jonathan Sierra coming through with a single in the fourth to extend the lead to 2-0. The Pelicans pushed another run across later that inning as Myrtle Beach was now in front 3-0.
That lead grew to 4-0 in the fifth when Fabien Pertuz grounded out, but much like many of their games this season, they were unable to keep things there as the Salem offense started to come through late. It all started on a throwing error in the sixth to get the Red Sox on the board before they really to work in the seventh. With a pair of runners on base, Caddanne Rafaela ripped an RBI double to close within one. He later came home to score on the Gilberto Jimenez single, and just like that, things were knotted up 4-4.
Hoping to bounce back, the Pelicans turned to their best hitter in Sierra as he laced the game-winning single in the eighth to make things 6-4. Salem got one of those runs back on a Nick Yorke single, but Scott Kobos was there to close things out for his second save. Kobos has yet to allow a run this season and has struck out 16 hitters in just nine innings of work.
The Pelicans pounded out 12 hits in the win, two each from Sierra, Edmond Americaan, Yohendrick Pinango, and Pablo Aliendo. Everyone else in the lineup, minus Pertuz, collected one hit as the Pelicans offense was alive and well.
Make that THREE in a row!

Pelicans take the first two games in Salem, game three coming up tomorrow night. #MBPelicans pic.twitter.com/fmNMOm2co1

— Myrtle Beach Pelicans (@Pelicanbaseball) May 27, 2021

Tags: Cubs Baseball
,
Kohl Stewart
,
Trevor Megill
,
Abiatal Avelino
,
Vance Vizcaino
,
Robert Stock
,
Kyle Ryan
,
Jacob Olson
,
Taylor Gushue
,
Ian Miller
,
Javier Assad
,
Ethan Roberts
,
Scott Effross
,
Manuel Rodriguez
,
Grayson Byrd
,
Erick Castillo
,
Darius Hill
,
Miguel Amaya
,
Connor Myers
,
Christopher Morel
,
Derek Casey
,
Cole Roederer
,
Chase Strumpf
,
Tyler Durna
,
Nelson Velazquez
,
Delvin Zinn
,
Jonathan Sierra
,
Edmond Americaan