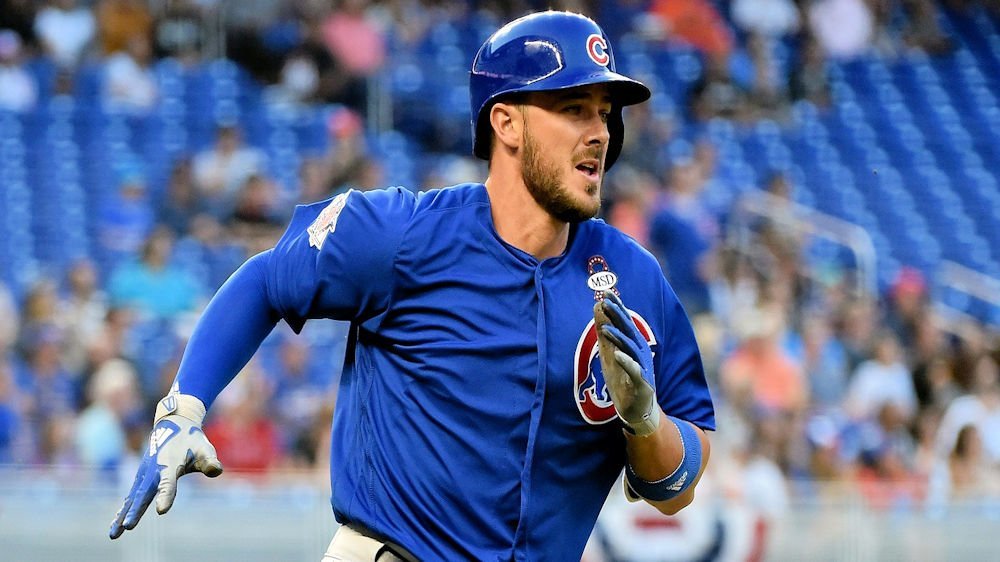 | | |
| --- | --- |
| Cubs News: 2020 Season Projections: Kris Bryant and other third basemen | |
---
| | | |
| --- | --- | --- |
| Thursday, March 19, 2020, 3:56 PM | | |
We continue to work on the left side of the infield as we move towards the hot corner at third base. Much like the previous installment of the shortstop position, the Cubs only have one true 3B on their roster, meaning this will be a combined effort between both Minors and Majors.
All offseason, plenty of talks surrounded the Cubs and what they were going to do at the third base position. Ideally, working out an extension with Kris Bryant was a priority, but it appears that won't happen, so his name surfaced in trade for Nolan Arenado straight up at one point. As of now, Bryant remains a Cub.
Kris Bryant: Make no mistake about this, Bryant has been the most successful draft during Theo Epstein's tenure, and it hasn't been close. Not only did he win the Golden Spikes Award his final year in college, but he went on to earn Minor League player of the year the following season, which was followed by NL Rookie of the Year and NL MVP. No player in MLB history has that type of resume for a four-year run, and it may be something we don't see for a long time.
Since then, however, Bryant has not played at an MVP level and frankly has been a shell of what he once was. Yes, Injuries played a big part in that during 2018, but both 2017 and 2019 were good seasons, just not at the level the Cubs were used to or expecting. With all the trade talks going around this offseason, it would be safe to assume that Bryant may have a chip on his shoulder this season. Would that be enough to bring his numbers back to his MVP form.
That is a question we may not know with this shortened season, but I was anticipating a big season from him in 2020 to further prove to everyone that he is still a top player in this league. Now we must adjust numbers accordingly based on what we expect from him this season.
Projection: .292 average, 21 homers, and 71 RBI's.
Bryant will be occupying a new spot in the line up this season as David Ross plans to use him as leadoff. While unorthodox to most fans, this could be a smart move given his high on-base percentage and ability to hit for average and power. Bryant may be the leadoff hitter, but he will only lead off once per game, meaning the RBI chances will still be there for him. Let's see if he can produce.
Carlos Asuaje: Signed as a minor leaguer this offseason, Asuaje finds himself in an interesting spot this season. Invited to camp as a non-roster invite, Asuaje was fighting for not only the final bench spot on the MLB roster but potentially some starting time at second base as well. That appears to be thrown out the window as the utility player is ticketed to Iowa to open the season.
The problem is where does he play once he gets there. Second base is his natural position, but expect Nico Hoerner to be there without any chance of giving up that job. If Robel Garcia ends up in Iowa that takes care of first base with Hernan Perez and Zack Short patrolling shortstop. That leaves third base as an open spot in Iowa, which I think Asuaje could play very soundly. It may take some getting used to, but I think he opens the season at third at least until Hoerner is MLB bound.
Projection: .288 average, six homers, and 25 RBI's.
The average will be solid, but playing in the Pacific Coast League will undoubtedly make your power numbers look better than they are, which is something Asuaje could benefit from. Not known as a hitter, Asuaje will have a chance to show some pop at Iowa as balls fly out of the PCL like nothing. As mentioned above, he won't remain at third long term and will only be there with Hoerner at Iowa, but for the time being, the Cubs could do worse than him at third.
Christopher Morel: The situation regarding Morel is an interesting one as he appears to be just scratching the surface. When you look at the 6' 140-pound third baseman, you see a skinny guy who almost is sure to fill out over time. That especially seems more likely when he is still just 20 years old.
The 2019 season was the first time the Cubs and the rest of the league got a glimpse of what he could be before an injury cut his season short. In 73 games, Morel held his own for South Bend, hitting a career-best .284 with six homers and 31 RBI's. The Cubs and MLB just noted his performance as he ranks on the Cubs top 30 prospect list entering 2020, but the rest of the league has seen what he can do, which is why his name has come up in trade talks most notably when discussing Whit Merrifield.
Now healthy once again, I am curious to see what Morel is all about. He has already proven that his lack of size is not an issue right now, and once he fills out, the sky is the limit. The Cubs would be wise to hold on to him long term unless they can pull the trigger and get a game-changing pitcher.
Projection: .279 average, five homers, and 33 RBI's.
Once again, these numbers are reflected because of a shortened season instead of projecting out a full 130 plus game season. Had the minors been playing an entire season, I honestly feel Morel was on the verge of busting out for a 15-homer season as his raw ability is enough to make up for lack of size. Even if South Bend plays just 65-70 games, those projected numbers are solid where you can do the math if you double the games played. Keep an eye on him for the next couple of seasons.
Orlando Zapata: The final third baseman we will look at comes from the Dominican Cubs 2 Rookie league in Orlando Zapata. The 21-year-old Venezuelan product has put together two productive years in the Dominican rookie League despite hitting for no power, zero homers as a matter of fact. What Zapata does to make up for his lack of power is displaying a keen eye at the plate that translates to a well above average contact rate.
After hitting just 239 in his first season, Zapata rebounded with a 298 average in 2019, bringing his career mark to 277. His RBI total doubled from 12 to 24, and his eye continues to remain strong, working 34 BBs to just 40 strikeouts in 97 career games. The most impressive thing about his season last year was not the increased average or RBI's, but just how much his eye improved from one season to the next. Yes, his strikeouts went from 18 to 22, which is no big deal, but the walks went from just five to 29 last year, giving him more base on balls than K's. That is unheard of in baseball these especially for young players.
Projection: .276 average, one homer, and 19 RBI's.
It is only a matter of time before Zapata gets to the next step of his development, whether that means Arizona or wherever. Fortunately for him, the Rookie league doesn't start until mid-June, so he, along with the rest of the players, should get a full season of play in this season. I look for the first homer of his professional career to happen at some point this season, especially if he ends up in Arizona, where the balls fly out of the yard. Regardless of what his numbers look like, he is a long way away from being remotely ready for big league action, but the Cubs appear to have options down the road should Bryant be on the way out soon.