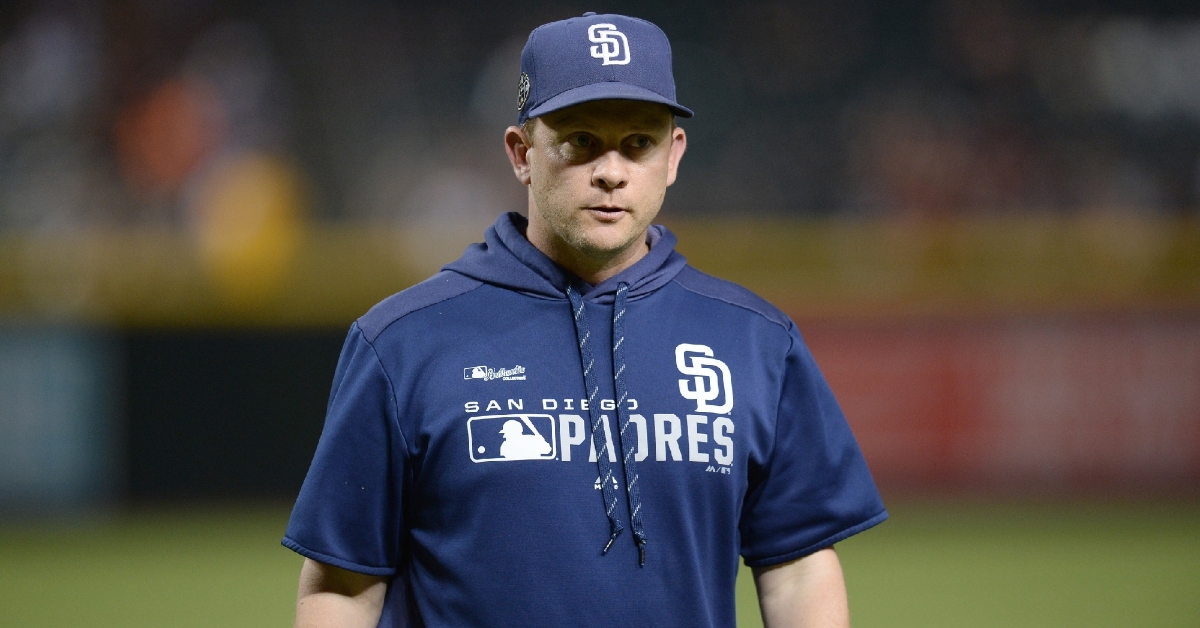 | | |
| --- | --- |
| Cubs News and Notes: Andy Green, Cubs linked to Merrifield, Contreras, Hot Stove, more | |
---
| | | |
| --- | --- | --- |
| Saturday, November 9, 2019, 7:56 AM | | |
CUBS NEWS AND NOTES
Andy Green: The Cubs have hired former Padres manager Andy Green to serve as the bench coach for David Ross.
Although reports said that Mark Loretta could be staying on as Ross' bench coach, I had strong doubts. Loretta interviewed for Joe Maddon's job, only to be passed over for Ross, then he interviewed for other manager jobs, but wasn't selected.
The biggest flashing neon sign which indicated Loretta's release was going to be imminent, came during Theo Epstein's press conference to announce Ross as the Cubs' next manager. Both Ross and Theo indicated that they needed a strong bench coach – that's to say one with past manager's experience – to guide Ross and his inexperience through at least the first year while David learned the ropes.
With four years under his belt in San Diego (2016-2019), Green has the managerial experience that the Cubs were looking for, even if his record as the Friars' skipper was only 274-366 (.428), with a pair each of fourth and fifth-place finishes in the NL West. In fairness to Green, it wasn't like the Padres were going to be king of the hill in California, somehow beating out the Dodgers for top honors and the remainder of the division (Diamondbacks, Giants, and the Rockies) aren't exactly slouches either.
Green also fits right into the mold of what's becoming the Cubs' new, youthful look, which I wrote about yesterday. At just 42 years of age, Green is six years younger than his predecessor and only over six months younger than David Ross. Now … let's see what Theo can do for adding youth to the roster's pitching department.
Whit Merrifield: According to Mark Gonzalez of the Tribune, Whit Merrifield may be one of the Cubs top priorities this winter, as there's reportedly a match between the Cubs and KC involving an outfielder and infielder.
Merrifield will be a priority this winter, and there's a match with the Royals involving a combination of an outfielder and infielder. I would expect the Castellanos free-agent sweepstakes to last well past the winter meetings, but I think the Cubs have a decent chance of re-signing him. -Mark Gonzalez, Chicago Tribune
The Cubs could certainly use a guy like Merrifield, and to get him, Theo is likely to exhibit that he meant what he said about dealing away high-level players from the Cubs' core. With Merrifield's ability to play both second and the outfield, it'll be interesting to see if it would be Kyle Schwarber, Albert Almora Jr, or (highly unlikely) Jason Heyward, who could be on the move – especially if the Cubs re-sign Nicholas Castellanos.
Merrifield could spell trouble for Nico Hoerner staying in Chicago (as opposed to being in Iowa) for 2020, should Ross want to use him at second. Still, the guy who could become displaced if Merrifield is acquired would be Ian Happ. Not that the Cubs will trade Happ – especially after his resurgence last season – but where would he fit in daily? Left? Not at all likely unless Theo deals Schwarbs. Right or center? Nope, not unless Castellanos leaves, and J-Hey suddenly finds himself traded. How about third, assuming Kris Bryant gets dealt? Maybe, but of all the positions Happ plays, third has always appeared to be his weakest.
I know what Maddon would've done; played him everywhere and anywhere for a few innings each day, while screwing up everybody's batting stats from not playing guys full time, but I don't think that you'll see nearly as much platooning from Ross – at least let's hope we won't.
Willson Contreras: I just wrote yesterday that I saw Willson Contreras being possibly more tradeable than KB, and how I didn't see both him and Bryant going in any combination deal. Maybe not together, but while KB may have to pack for KC if things go right for Theo, Willy may also be packing for a destination unknown.
Multiple teams in search of catching help believe Cubs catcher Willson Contreras will be available this winter. The Cubs will get creative this winter, and with a deep catching free agent market, they could trade Contreras and begin retooling under new manager David Ross.

— Jeff Passan (@JeffPassan) November 8, 2019
I'm not sure why Contreras' name has come suddenly into focus for so many teams, but apparently several are inquiring, and where's there's smoke, there's usually a little fire. Contreras would bring a good return in a trade, but let's hope Theo doesn't cut off his nose to spite his face on this one. I like Victor Caratini and do not doubt that he could handle being an everyday catcher. Still, I don't feel comfortable giving up Contreras' arm (or bat) to have Caratini serving with Miguel Amaya as his backup.
Cubs' Birthdays Celebrating today were former Cubs Darwin Barney (34), Henry Rodríguez (52), Jeff Blauser (54), and Dwight Smith (56).
Baseball Quotes: "I love to take my cuts, but I hate to take a third strike. Cause when you do, it's a real long walk back to the dugout." -Jimmy Foxx
You wait for a strike, then you knock the shit out of it. -Stan Musial

pic.twitter.com/cQQSncZ4FQ

— Baseball Quotes (@BaseballQuotes1) November 7, 2019
MLB and the Hot Stove
NL Central Hot Stove:
Brewers: Now former Milwaukee reliever, Drew Pomeranz, is drawing considerable attention in the free agent arena, as several teams are already showing interest. Pomeranz had been a starter, but after Craig Counsell moved him full-time to the bullpen, Pomeranz became nearly unstoppable.
Pirates: According to reports, Pittsburgh is considering former World Series-winning GM, Ben Cherington, as their Baseball Operations Head. Cherington spent several years as VP of Ops with Toronto and also happened to be Theo Epstein's replacement in Boston.
Reds: The Reds are reportedly showing serious interest in Didi Gregorious, as they continue their mission to climb the standings ladder in the NL Central. Other reports have the Reds tied to Yasmani Grandal.
From the rest of MLB:
New posting: The Hiroshima Carp have announced that they'll be posting infielder Ryosuke Kikuchi. He's a lifetime .271/.315/.391 hitter, including .261/.313/.406 in 619 plate appearances in 2019. His walk rate of 6.6% isn't all that appealing, but he's managed to quell his strikeout rate to just 16.4%.
Ryosuke Kikuchi, dynamic defender at second base, is on his way to @MLB. ???? @MLBNetwork https://t.co/ViFy4kXImF

— Jon Morosi (@jonmorosi) November 8, 2019
Phillies: Philly has announced that Juan Castro (manager of Mexico Beisbol) will be serving as the Phils major league infield coach.
The Phillies also say that this season, they don't feel nearly as comfortable giving up draft picks to sign free agents who've refused a qualifying offer.
Padres: San Diego has closed a gap in their coaching staff, naming Larry Rothschild as their next pitching coach. The Friars have also released sidearm slinger Eric Yardley.
Royals: After issuing a DFA on Monday, the Royals have now released RHO Jacob Barnes.
Rangers: Much like the Royals, Texas is also looking for an upgrade at third base (as well as for starting pitchers. If a "Merrifield to Chicago for Bryant" trade doesn't fly, I'm not sure what the Rangers could offer the Cubs in return, but the Cubs certainly can't afford to ship any (remotely good) starters their way.
White Sox: After receiving a qualifying offer, the Sox and Jose Abreu have started discussing a long-term deal to keep the 32-year-old first baseman on the south side.
Braves: Atlanta is already getting busy.
#Braves Sign RHP Darren O'Day: pic.twitter.com/WdX7B66Z8g

— Atlanta Braves (@Braves) November 8, 2019

Tags: Cubs Baseball
,
David Ross
,
Kyle Schwarber
,
Albert Almora Jr
,
Jason Heyward
,
,
,
Willson Contreras
,
Victor Caratini
,
Miguel Amaya
,
Joe Maddon
,
Theo Epstein
,
Mark Loretta