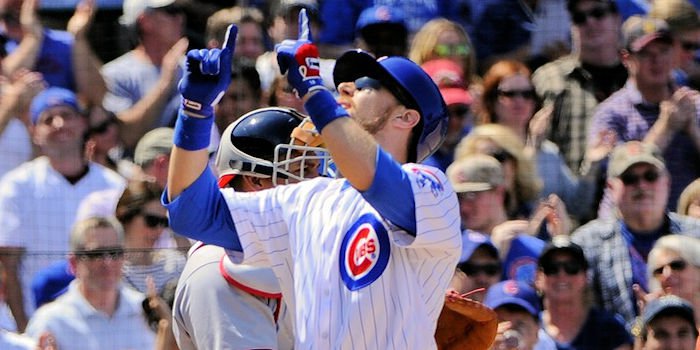 | | |
| --- | --- |
| Cubs News and Notes: Cubs and free agency, Maddon takes Cubs coaches, MLB Hot Stove, more | |
---
| | | |
| --- | --- | --- |
| Friday, November 1, 2019, 12:46 PM | | |
CUBS NEWS AND NOTES
No mo' Zo: I thought he'd retire – I really did, but Cubs' utility man Ben Zobrist has declared free agency. All of a sudden, my gut tells me that he's going to be playing in Anaheim.
Additional Cubs to elect free agency: Pedro Strop, Jonathan Lucroy, Cole Hamels, Steve Cishek, Brandon Kintzler, Nicholas Castellanos and Xavier Cedeno.
That's not to say that al will be leaving, as the Cubs have a few days to re-sign them (quiet period) before they hit the open market. Let's hope they focus on Kintzler and Castellanos.
Maddon hijacks a coach: Joe Maddon has stolen his first coach from the Cubs, as Brian Butterfield will now serve as one of Maddon's base coaches in Anaheim. Maddon has also staked a claim on conditioning coach Tim Buss. Although Butter had only served two years with the Northside Nine, Busy had been a part of the Cubs' organization since 2001.
Sources indicate two members of Joe Maddon's Cub staff will follow him to the Angels . Brian Butterfield will coach third base . Cubs Strength and conditioning coach Tim Buss will be in the Quality assurance role for Anaheim.The popular Buss was with Cubs since 2001.

— Bruce Levine (@MLBBruceLevine) November 1, 2019
Tim Buss is/was, in a lot of ways, the institutional memory of the Cubs clubhouse. I wrote about him when they opened the new weight room in 2016. https://t.co/BioJYLDQca

— jon greenberg (@jon_greenberg) November 1, 2019
David Ross: NBC Sports Chicago's Kelly Crull got the chance to interview manager, David Ross (I'm really liking the sound of that).
The more I listen to Ross, the more I've come to embrace him. Not that I was ever opposed to his nomination, but I did harbor some (though few) concerns about his lack of experience. I love the way that he continues to preach accountability and the way that he wants the players, coaches, upper management, and ownership to hold him accountable as well.
Ross admits that he'll make mistakes but says that he doesn't want them swept under a door, without someone first calling him out. For all of you remaining skeptics, give the guy a fighting chance – I genuinely believe he's going to turn a lot of heads toward a positively shining light.
Starlin Castro: Former Cubs' middle infielder Starlin Castro will soon be a free agent again, as Miami has declined their $16M club option on him for the 2020 season. Castro would (once again) be a good fit for the Cubs again, but at only age 29, he's likely to do well in the free-agent market.
MLBPA: Earlier this month, the league sent a proposal to the MLBPA that would've placed a cutoff date on free agents signing multiyear contracts, but the union summarily killed it. This proposal was intended to keep superstar free agents from remaining unsigned for extended periods during free agency as they seek their mega-millions (think Bryce Harper, Manny Machado, and Craig Kimbrel).
"After due consideration, we rejected their proposal as not being in the best interests of players. We asked if MLB was interested in discussing other, more direct, and tangible ways of incentivizing early signings, and they weren't at this time." -MLBPA Senior Director, Bruce Meyer
As Scott Boras begins licking his chops for his next colossal payday during this winter (Rendon, Cole, Castellanos, and 100 others), he says that any such deal would interfere with a player's rights. Huh? All the league suggested was that they'd establish a deadline to help teams (and players) sort through free agency and who they can (or cannot) afford. I see Boras' point here, but it's not like teams only had until November 15 to decide.
"They want to make the offseason more predictive as to when players sign and the answer to do that is to provide incentive, not limitation, on the free-agent right. A player has six years, and he should determine when he signs, that should be his choice because he's earned that right. Any restriction, any limitation on that timeframe, would restrict the right. Because some clubs make decisions in February, they wouldn't make in December. And there's obviously a strong history for that." -Scott Boras
More from Maddon: "I didn't know how the end of the season with the Cubs was going to work out either. Everyone thinks they knew, but they didn't, and I didn't either. When it got down to the last couple of days, it was really obvious to both sides. I didn't want to be back either. It was more of a bilateral than a unilateral decision."
Kendrick… the Cub? I know that I've been preaching a lot about the Cubs trending toward younger management, coaches, and (most importantly) players, but I can't find any caveat (other than being 36) as to why the Cubs shouldn't take a stab at Howie Kendrick.
Howie Kendrick would check off a lot of boxes for the Cubs.https://t.co/mZlnGudSNP

— Cubs Talk (@NBCSCubs) November 1, 2019
Without even discussing in detail, his offensive numbers (.344/.572/.966 with 17 HR and 62 RBI in 2019), Kendrick is a solid team player who would undoubtedly bring bona fide leadership ability to the Cubs' clubhouse. Much like Ben Zobrist, Kendrick is not only a student of the game, but one who enjoys taking the field, day in and day out. Unlike Zo, Hendrick played for an AAV for only $3.5M, whereas Zo was at $14M a year throughout his deal with Chicago.
Kendrick could serve as a backup to Anthony Rizzo at first base (which would be great if the Cubs decide to deal Victor Caratini). Still, he's also more than qualified to fill the Cubs question mark surrounding the need for a more reliable second baseman. Fresh off an outstanding World Series showing Howie may be just what the Cubbies need for both the team and new manager, David Ross.
Coming soon! Start making your reservation for the 2020 Cubs' Convention; tickets went on sale today.
Get ready!#CubsCon hotel packages, weekend passes and new fan experiences go on sale today: https://t.co/lP7WcyONoR pic.twitter.com/GbI04XlS7J

— Chicago Cubs (@Cubs) November 1, 2019
Baseball Quotes: "You're playing a game, whether it's Little League or Game 7 of the World Series. It's impossible to do well unless you're having a good time. People talk about pressure. Yeah, there's pressure. But I just look at it as fun." -Derek Jeter
People ask me what I do in winter when there's no baseball. I'll tell you what I do. I stare out the window and wait for spring. -Rogers Hornsby pic.twitter.com/u5VTO3JNb4

— Baseball Quotes (@BaseballQuotes1) October 31, 2019
Classy move by Freeman: Braves 1B Freddie Freeman stumbled upon a trick-or-treater dressed as himself. What he did next was pretty cool…
.@FreddieFreeman5 went trick-or-treating ...

And found another Freddie Freeman. pic.twitter.com/JYflTQSyoO

— MLB (@MLB) November 1, 2019
MLB and the Hot Stove
I woke up this morning to a burning Hot Stove. Not seeing the Cubs' name appear anywhere yet, but the stove is just starting to cook. Here we go.
NL Central:
Reds: The Reds acquired Travis Jankowski from the Padres in exchange for international bonus money. Jankowski was sidelined most of last year due to a broken wrist.
Cincinnati has also announced that they will exercise their $5.5M club option for infielder, Freddy Galvis.
I said this last year, but I'll repeat it: Watch out for the Reds. Their plan never materialized in 2019, when some of their big-name signings went bust, but they seem to be jumping right in the thick of things already for the 2020 season.
Pirates: Pittsburgh has dealt RHP Parker Markel to the Angels for cash.
Brewers: Milwaukee has exercised their $1.85 club option on catcher, Manny Pina, which may be a smart move, as Yasmani Grandal is expected to hit the free-agent market again.
Elsewhere in MLB:
Cole apologizes: While there was no excuse for his remarks following a Game-7 loss to Washington, Gerrit Cole has apologized for his comments. After the game, Cole said to an Astros' spokesperson, "I'm not an employee of the team. I guess as a representative of myself…"
Cole has now issued the following: "I was upset, and my tone did not come off quite the way I wanted it to. One win away. We had the lead with eight outs to go. It's just a tough pill to swallow." Cole added, "I'm really grateful for this experience. I've loved every minute of it. I'm not saying goodbye, by any means. I truthfully don't have a crystal ball. I could speak to what I know. And I know that I've loved every second here, and I loved competing with the guys."
Athletics: Oakland has exercised their $5.5M club option on RHP Yusmeiro Petit, but have declined the option on LHP Jake Diekman, electing to pay him a $500k buyout, rather than a $5.57M salary.
Mariners: Jerry Dipoto is cleaning house again. In addition to non-tendering and outrighting several players at the end of last week, the Mariners have now declined to pick up their club option on LHP Wade LeBlanc.
Yankees: NY has declined their $20M club option on 1B/Designated hitter Edwin Encarnacion.
Aroldis Chapman prefers to remain a Yankee and will pursue an extension with the team. If no extension can be done quickly, he will opt out of the $30M and 2 years left on his contract. Whereupon the Yankees will extend the $17.8M qualifying offer (which he obvs would decline)

— Jon Heyman (@JonHeyman) November 1, 2019
Rangers/White Sox: Texas has acquired (former Cubs') catcher Wellington Castillo (along with $250k in international draft bonus pool money) from the White Sox. In return, the South Siders will receive outfielder and corner infielder Jonah McReynolds.
Rangers: In addition to the above trade, the Rangers have outrighted LHP Jesse Biddle and outfielder Zack Granite. Furthermore, the team has declined club options on RHP Nate Jones ($1,25M buyout as opposed to the $3.75M option) and Shawn Kelley (250k buyout vs. $2.5M option).
Padres: SD has declined their $2M club option on LHP Aaron Loup and will pay him a $200k buyout. The team has also said goodbye to LHP Robbie Erlin, who cleared waivers and now enters free agency.
San Diego and new manager Jayce Tingler are also expected to hire Phillies' infield coach Bobby Dickerson to serve as their next bench coach.
Marlins Discussing Coaching Position With Hensley Meulens https://t.co/dLriIuxuIw pic.twitter.com/gegrWjBRO4

— MLB Trade Rumors (@mlbtraderumors) November 1, 2019
Giants: As SF races for the finish line in their search for a new skipper, Alex Pavlovic (NBC Sports Bay Area) says, "… either former Phillies manager Gabe Kapler, Astros bench coach Joe Espada, or Royals quality control coach Pedro Grifol will be the next Giants manager."
Former #Phillies skipper Gabe Kapler looks like a finalist for #SFGiants' managerial job https://t.co/Wb0r83v373 pic.twitter.com/aI2SHTHXM8

— MLB Trade Rumors (@mlbtraderumors) November 1, 2019
Dodgers: Los Angeles has selected the contract of LHP Victor Gonzalez from triple-A Oklahoma City. This move was made to protect the southpaw from being selected in the Rule 5 Draft.
Braves: Speedster, Billy Hamilton, has once again become available, as the Braves have now declined their $7.5M mutual option on him. Hamilton will receive a $1M buyout. Hamilton struggled offensively at the plate over his six seasons with Reds in (2013-2018) but suddenly began hitting better, once traded from KC to Atlanta (.268/.375/.317).
D-Backs: Bench coach, Jerry Narron has elected to leave Arizona's coaching staff. Although he wasn't fired, Arizona elected to move Luis Urueta into Narron's position after the 2019 season ended. It is unclear if Narron (age 63) has another opportunity lined up, or whether he'll be hanging it up.
Twins: Minnesota has announced that they'll be picking up the $12M club option on OF/DH Nelson Cruz.
Mets: The Mets are narrowing down their managerial search; the magic number is now three.
Mets manager derby is now down to Derek Shelton, Eduardo Perez and Carlos Beltran

— Jon Heyman (@JonHeyman) November 1, 2019
Rockies: Colorado has now appointed Darryl Scott to serve as their next bullpen coach, replacing Darren Holmes. Scott has been with the Rox for over a decade, serving as the pitching coach for four of Colorado's minor league affiliates.

Tags: Cubs Baseball
,
Ben Zobrist
,
Pedro Strop
,
Cole Hamels
,
Steve Cishek
,
Brandon Kintzler
,
Xavier Cedeno
,
David Ross
,
Anthony Rizzo
,
Victor Caratini
,
Aroldis Chapman
,
Joe Maddon
,
Brian Butterfield