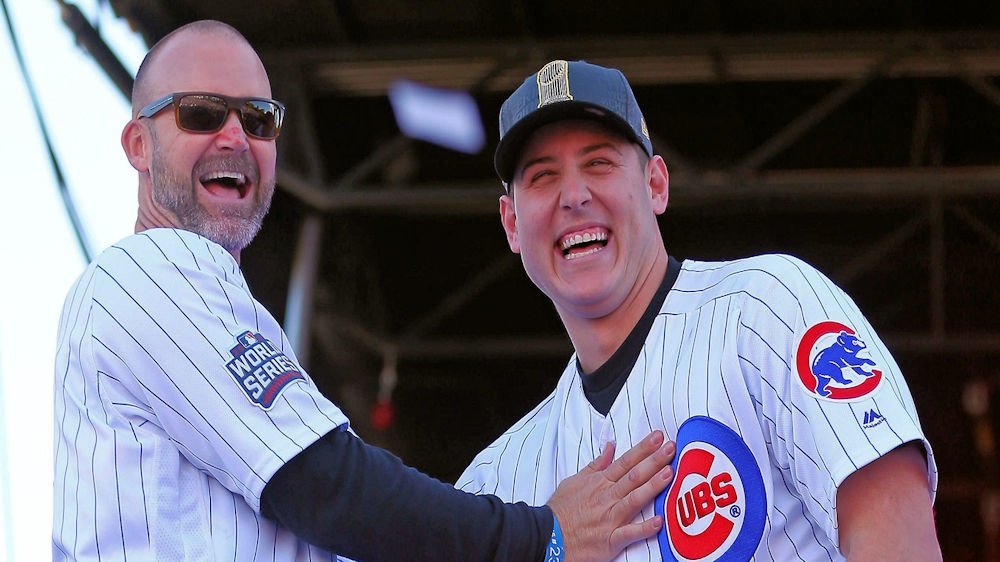 | | |
| --- | --- |
| Cubs News and Notes: Cubs manager talk, Rangers linked to KB, Contreras, Postseason, more | |
---
| | | |
| --- | --- | --- |
| Saturday, October 5, 2019, 5:06 PM | | |
MLB Postseason
The MLB playoffs are now in full swing, and it won't be too long before we are down to just four teams. All eight playoff teams were in action on Friday, but this afternoon and evening will feature only the American League. Twins/Yankees began at 4:07 PM Central, while the Astros/Rays get underway at 8:07 PM Central; both games will be televised on Fox Sports 1.
NLDS:
Braves vs. Cardinals: Atlanta should have never lost Game-1, but a huge effort in the late innings created a win for the Cards. Yesterday afternoon, the Braves pulled even in the best-of-five series, besting the Birds by a 3-0 score. Series tied 1-1.
Nationals vs. Dodgers: Surprisingly, Stephen Strasburg and the Nats managed to get the best of Clayton Kershaw and the Dodgers yesterday, tying that series at 1-1 as well. The Nats tallied three runs over the first two innings on Friday, leading them to a 4-2 win.
ALDS:
Twins vs. Yankees: The Yanks took a 1-0 lead in this series, as they topped the Twins 10-4. Minnesota had a 2-0 lead as the top of the third ended, but then imploded as New York's offense tallied ten runs over the next five innings.
Astros vs. Rays: The Astros (not surprisingly) took a 1-0 lead in their opener with Tampa, outscoring the rays 6-2. Rays manager, Kevin Cash, said, "We got Verlander-ed."
CUBS NEWS AND NOTES
Interviews commence: The Cubs interviewed Mark Loretta on Thursday and plan to interview David Ross, Joe Girardi and Will Venable next week. If I had to guess, I'd think they'd have a manager in place by the 20th of the month; Halloween at the latest.
Here is my Cubs thought for the day: Not sure why this WOULD NOT be David Ross' job to lose. At last year's winter meetings, the Cubs front office said they were missing a 'David Ross' type in there. Well, now they can just hire him. Totally just my opinion, nothing more.

— Jesse Rogers (@ESPNChiCubs) October 5, 2019
I'm getting a few of these tweets. Maddon is not a Ross type guy and vice versa. https://t.co/kAGSBEolLf

— Jesse Rogers (@ESPNChiCubs) October 5, 2019
Food for thought: "A self-assured manager – the right Joe at the right time – wins a World Series in his second year on the job. He incorporates data into his decision-making process, represents the franchise with integrity, and never oversees a losing season. But over time, his methods create friction with the front office, the clubhouse dynamic changes, and the boss ultimately decides that the team needs a new voice;" Patrick Mooney wrote those words of The Athletic.
The thing is, Patrick wasn't talking about Joe Maddon, he was describing Joe Girardi's tenure with the Yanks. How could two guys, with such different personalities, styles and temperaments, share such a perfect description of the time each spent with their last team? You can read more in Mooney's article (subscription only) entitled, "Will Joe Girardi's Yankees experience help him land the Cubs' managing gig?"
Joe Girardi: Another report on Girardi says the would-be manager has also done extensive homework on the Mets, beginning more than two weeks before the team fired Mickey Callaway.
Joe Girardi, who has Cubs interview coming up, is said keenly interested in Mets as well. Both big market teams bring chance to win and he has roots in both cities. One thing: Cubs appear likely to stay in-house, Mets wide open. Also, clamoring for Joe G among Mets fans.

— Jon Heyman (@JonHeyman) October 5, 2019
Epstein/Maddon Poll: If there's one thing that makes my Saturday mornings interesting (other than my wife waking up in a bad mood), it's ESPN 1000's polls. This morning they asked whether Joe Maddon or Theo Epstein would be in higher demand, if they were both "free agents" right now. I like Theo, but I would have thought Joe would be the guy more sought after; nope.
If Theo and Maddon were both "free agents" right now, more teams would want to hire:

— ESPN 1000 (@ESPN1000) October 5, 2019
What changes? In this year's exit speech, Theo said he wants to see the Cubs "grinding" during every game, rather than resting on the mentality that things will be fine. Theo said the same last year, "We need to play every game as though it were a Game-163." And how did that work out in 2019? Exactly.
Theo also says he wants more clubhouse accountability, and an atmosphere that doesn't condone "sloppy mistakes, mental mistakes, aren't tolerated going forward." Again, good stuff and a positive attitude, but these same things have been going on for two seasons now. Although I'm still not confident that Girardi is the right choice, the Cubs need someone who can spur them into playing the way that wins games consistently.
Rangers might have interest in Kris Bryant or Willson Contreras:
"If Bryant ends up getting moved they're going to be a team the Cubs talk to," MLB insider Jon Morosi about the Rangers on 670 The Score in Chicago Tuesday.
"I would say Texas' farm system is solid, not great, but it's good enough. They got some young pitching there, which is what the Cubs need. ... I think that's a really really good potential fit there. I think better on Willson Contreras than Bryant, but either one makes some sense.
"If you're a Cubs fan, study up on those Rangers prospect lists in the days to come because that's going to be a major story of the winter."
Cubs' Birthdays: Celebrating yesterday, were ex-Cubs Rey Sánchez (52) and posthumously, Al Heist (92), Charlie Pechouš (123), Norm McMillan (124), and Roger Denzer (148).
Baseball Quotes: "The way a team plays as a whole determines its success. You may have the greatest bunch of individual stars in the world, but if they don't play together, the club won't be worth a dime." -Babe Ruth
If I was being paid thirty-thousand dollars a year, the very least I could do was hit .400. -Ted Williams pic.twitter.com/JlfbRZU6VN

— Baseball Quotes (@BaseballQuotes1) October 4, 2019
MLB and the HOT STOVE
Hey, batter: Not much in the way of Hot Stove today, but I did stumble upon this. Pete Alonso knows how to hit a baseball; and a Furby, and a pumpkin, and a Lego house and …
Pete will literally crush anything. ??

via @colbertlateshow pic.twitter.com/aweGYoAIPw

— MLB (@MLB) October 5, 2019
More candidates: Although neither has been tied to the Cubs, another pair of managerial candidates have entered the pool. Former Jays' manager John Gibbons wants another shot, while Brewers first base coach John Subero hopes to be considered for a position somewhere.