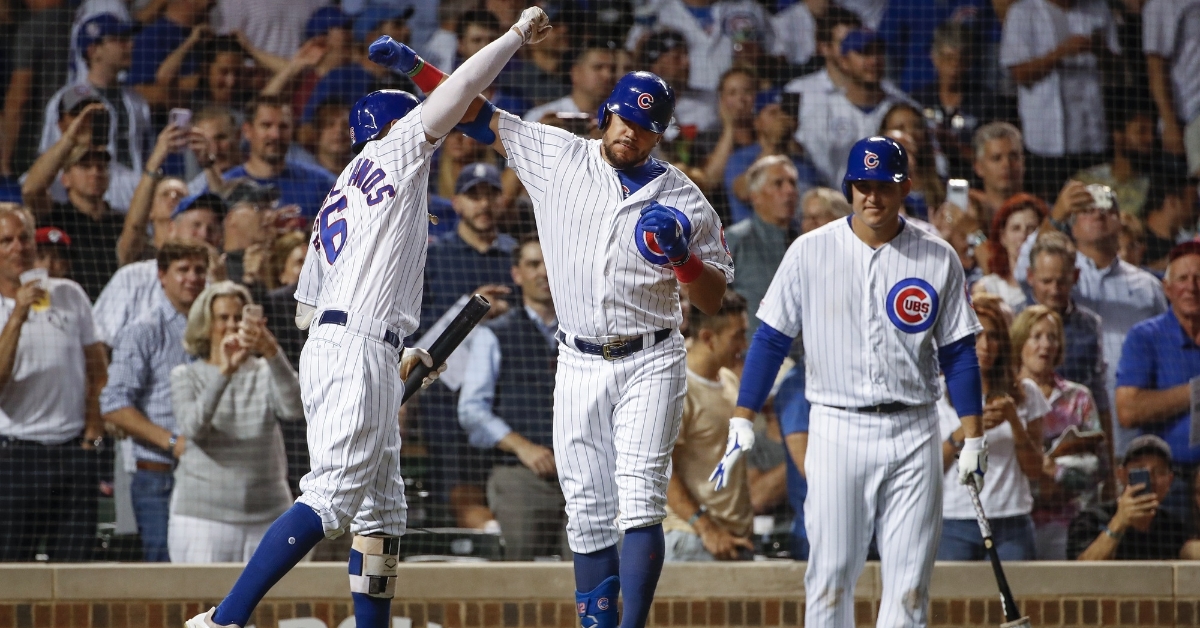 | | |
| --- | --- |
| Cubs News and Notes: Expectations Rising, Lester vs Lackey, Cubs on Zobrist, Free Willy | |
---
| | | |
| --- | --- | --- |
| Thursday, September 5, 2019, 8:26 AM | | |
Next Game: Thursday: LHP Jose Quintana (12-8, 3.90 ERA) vs Chase Anderson (6-4, 4.58 ERA). Game information: 6:10 PM CDT; Televised on NBC Sports Chicago.
Thursday's Game Preview:
After getting back on track with a two-game sweep of the Mariners, the Cubs got a much-needed day off to regroup, as they prepare to start a four-game series with the Brewers (in Milwaukee) tonight.
The Cardinals don't seem to want to lose very often lately (now 7-3 in their last 10), so the Cubs are going to have to rely on themselves to hang tough until St. Louis finally slips. They've gained momentum and talent with the activations of Willson Contreras and Ben Zobrist, but they still lack some depth in the absences of Kris Bryant and Javier Baez. Despite both of them struggling at the plate in recent weeks, the amount of defensive strength that KB and Javy provide can only serve to strengthen the Cubs.
Milwaukee's found themselves in a rut over the past ten games (5-5), but they'll look to jump back on track as they face the Cubs, who are now 6-4 in their last 10. For more, check out my series preview.
CUBS NEWS AND NOTES
Cubs/Brewers Probable Pitchers: Friday: LHP Cole Hamels (7-5, 3.69 ERA) vs RHP Zach Davies (8-7, 3.76 ERA). Game information: 7:10 PM CDT; Televised on NBC Sports Chicago. Saturday: RHP Yu Darvish (5-6, 4.25 ERA) vs LHP Gio Gonzalez (2-2, 4.14 ERA). Game information: 6:10PM CDT; Televised on WGN. Sunday: RHP Kyle Hendricks (9-9, 3.47 ERA) vs RHP Adrian Houser (6-5, 3.52 ERA). Game information: 1:10 PM CDT; Televised on NBC Sports Chicago.
Expectations rising: I had little doubt that Willson Contreras would return with a bang- such a bang, that he smacked a 450-foot home run on his first at-bat Tuesday night- what I questioned though, was the impact that Ben Zobrist might have. I never doubted that his presence alone would inspire the team, but I harbored reservations about what his on-field performances would look like.
I have to admit that I was impressed with Zobrist on Tuesday. His defense looked solid, as he made a sliding grab in shallow right while ranging quickly to his left, and his patience at the plate was impressive. Although he struck out in his first at-bat, Zo would grab a walk and lay down a beautiful bunt single. Let's hope that he continues to improve, as the Cubs will need every bit of help they can get, as we come down to the wire.
Lester on surpassing Lackey: After surpassing John Lackey in career wins (189) on Tuesday night, the banter started back and forth between Lackey and Jon Lester. Jon says, "There's already been some texts fired out back and forth. I'll spare you guys on the details of what's been said and what's not been said. It's all in good fun. I looked up to him for a long, long time."
Food for thought: 2018 Cubs: 66 stolen bases (104 attempts); 2019 Cubs: 41 stolen bases (65 attempts). 2018 Cubs: 40 sac-bunts, 46 sac-flies; 2019 Cubs: 28 sac-bunts, 31 sac-flies. 2018 Cubs: 167 homers; 2019 Cubs: 216 homers. 2018 Cubs: 1,286 "non-homerun" hits; 2019 Cubs: 945 non-homerun hits. 2018 Cubs: 761 runs scored; 2019 Cubs: 675 runs scored.
Playing small-ball scores runs, but players are more worried about personal statistics than what does a greater amount of good for the team. Somewhere in the next two dozen games, the Cubs' offense needs to figure out to rectify this problem, and It continues to cost them runs and games.
Chatwood to start in 2020? I've maintained for a while that with his newfound control, Tyler Chatwood would be rejoining the Cubs rotation in 2020. According to Chatwood, he's hoping the same. "Yeah, I hope so," Chatwood said. "Last year didn't go the way I wanted. But I think I've shown that I'm back to myself this year. Hopefully, I get that chance. That's my goal. That's what I feel like I still am."
Schwarber on Zo's return: "It was great having Zo, and obviously Contreras back, too. Benny at the top of the lineup, seeing a lot of pitches up there and Contreras having a lot of good at-bats, with the home run there. Being able to have those two guys back, it's definitely a good thing."
Others had plenty to say about Zo as well…
Free Willy! Tuesday night's homer for Willson Contreras was his 20th of the season. With that dinger, Contreras is now in the record books as one of only three catchers in MLB history with multiple, 20-homer seasons.
.@WContreras40 is one of three catchers in #Cubs history with multiple 20-homer seasons.#EverybodyIn pic.twitter.com/IiEvSg5N6z

— Chicago Cubs (@Cubs) September 4, 2019
Rowan Wick: There's an old saying, "No man ever stands so high, as when kneels to help a child," and Rowan Wick certainly exemplified that recently. Wick visited Advocate Children's- a hospital that the Cubs do a lot of charity work with- and met up with a young man named Anthony, who says that Rowan is his favorite player. Rowan gave the boy a 5-second hug that will undoubtedly last a lifetime.
This heartfelt hug between @cubs fan Anthony and his favorite player, @RowanWick, is all you need to see today! ?? #EverybodyIn #AdvocateKids pic.twitter.com/egX13RbVnX

— Advocate Children's (@AdvocateKids) September 3, 2019
Baseball Quotes: "My theme is, 'The spirit of friendship is the balance of life.' Not money. Not the World Series. It's friendship. The relationships I have with people, that's enough to keep me happy. -Ernie Banks
Good is not good when better is expected. -Vin Scully pic.twitter.com/SwdGJARqbi

— Baseball Quotes (@BaseballQuotes1) September 4, 2019
Cubs Birthdays: Celebrating yesterday, were ex-Cubs Jim McAnany (83), Eddie Waitkus (100), and John "Red" Corriden (132) (all posthumously).
THIS WEEK'S NL CENTRAL SCHEDULE:
(Wins in green, losses in red)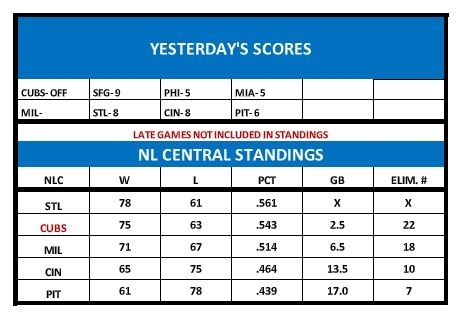 Upgrade Your Account
Unlock premium boards and exclusive features (e.g. ad-free) by upgrading your account today.
Upgrade Now

Tags: Cubs Baseball
,
Jose Quintana
,
Willson Contreras
,
Ben Zobrist
,
,
,
Cole Hamels
,
Yu Darvish
,
Kyle Hendricks
,
John Lackey
,
,
Tyler Chatwood
,
Rowan Wick