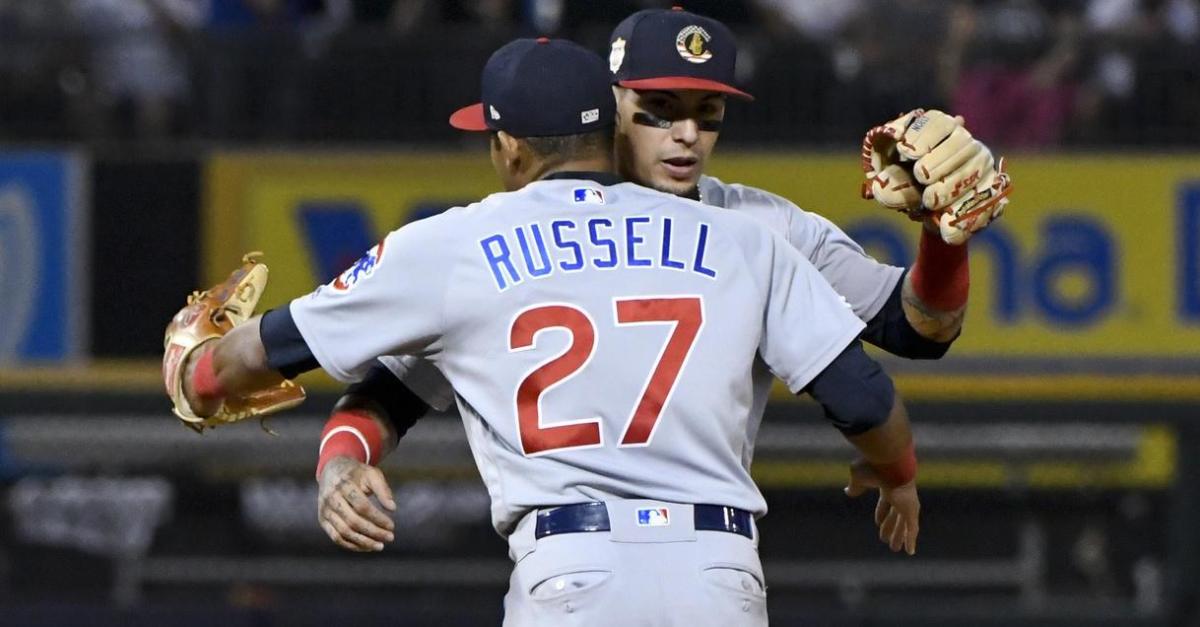 | | |
| --- | --- |
| Cubs News and Notes: Fly the W, Epstein on Maddon, Cubs scouting Merrifield, more | |
---
| | | |
| --- | --- | --- |
| Sunday, July 7, 2019, 8:21 AM | | |
Next Game: Today, 1:10 PM CDT: Cubs @ White Sox RHP Kyle Hendricks (7-6, 3.45 ERA) vs RHP Ivan Nova (3-7, 5.92 ERA).
Saturday's Game Recap:
Oh, there's nothing like the joy of seeing the Cubs beat the White Sox, mainly when it includes (A) a good performance by Jon Lester; (B) Decent offense by the Cubs; (C) A save by Craig Kimbrel and (D) the feeling of freedom you get after having to listen to AJ Pierzynski for three-and-a-half hours. (Makes me feel like I live vicariously through Michael Barrett every time I see this video...)
The Cubs jumped out to an early, 1-0 lead in the first, when Kris Bryant's two-out, bloop double scored Javier Baez from second. The Sox would tie it up in the third, and then all would go quiet for an inning.
The Cubs exploded for a five-run fifth, batting a total of eight men in the inning, causing not only Giolito to exit out the game, but Marshall as well. Hits weren't even the problem; it was all the walks that the Sox issued- five from Giolito and a pair from Marshall that did the South-Siders in.
Jon Lester would last into the seventh inning, but after getting into a minor jam (you'd think the world was on fire from Joe Maddon's reaction), Lester was pulled for Steve Cishek. The Sox would grab a pair, but the Cubs still held a 6-3 lead, going into the eighth, and it would remain that way into the bottom of the ninth.
Cue that Guns and Roses tune, 'because here comes Dirty Craig Kimbrel. Craig would issue a walk, but by the end of the frame, he'd strike out the side with upper 90s heat and a filthy, filthy 85 mph breaking ball.
Weird that there wasn't one homer in the game, but it did feature some sloppy offense by the Cubs. Two of the runs given up by Big-Jon were unearned, and the "highlight" of the evening had to be Addison Russell, taking all the time in the world on a routine groundball, then throwing it a mile wide of Anthony Rizzo, allowing the runner to advance to second.
Cubs [W]in 6-3. Game two tomorrow afternoon.

CUBS NEWS AND NOTES:
Cubs/Pirates Probable Pitchers
Theo's mixed message: When interviewed about the possibility that Joe Maddon could be fired, Theo offered a bit of a double-speak message (not uncommon for him). At the beginning of the following quote, it sounds like Joe is out, but then it sounds like he wants to continue to build, with Maddon as part of the team, citing his consistency. I ended up having to take aspirin, after trying to decipher this- you decide:
"Joe has a unique challenge, too, because it's his fifth year with this team, and he's remarkably consistent. But we all contribute to the environment, including the manager. So when players aren't responding to the environment I think sometimes you have to sort of do the impossible, which is try to find a new approach and new ways to reach guys while also maintaining one of your greatest strengths, which is your consistency and your ability to be the same guy whether things are going well or poorly."
Kris Bryant: "I just care so much. Every big situation, I want to come through. Every big play, I want to make it. When I don't, I feel like it's the end of the world. I feel like I let everybody down."
Cubs scouting Merrifield? According to ESPN 1000, the Cubs had a Pro Scout at Nationals Park on Friday night, scouting Royals 2B/OF Whit Merrifield. Merrifield could offer a secure solution to the Cubs' second base woes while providing platoon relief in the outfield, but the best part may be his bat. He is currently slashing .307/.355/.496, with an OPS of .851.
Merrifield turns in his best offensive numbers while playing the outfield, but his offensive stats while playing second base reflect a .293/.356/.534 slash line. For those who demand Theo secure a leadoff hitter, Merrifield bats .301/.351/.494, however, he bats .342/.375/.500 in the #2 spot. No matter where they play him, scoring Merrifield would be huge.
Milestones/Achievements: Javier Baez is the fourth player in Cubs' history with 21 doubles, 22 homers and 60 RBI by the All-Star break (Sammy Sosa [2001], Derrek Lee [2005] and Kris Bryant [2016] are the other three). Javy is also only the second Cubs' middle-infielder with 22 homers before the break (Ryne Sandberg had 24 in 1980).
Jon Lester has 68 wins as a Cub, leaving him just one win short of tying Jack Pfiester (1906-1911), and Johnny Schmitz (1941-1942, 1946-1951) for 5th most wins by a lefty. Lester's 823 Ks are the fourth most by any Cubs lefty, his 144 starts rank 7th, and his .648 winning percentage ranks number one among Cubs lefties who have a minimum of 75 decisions.
Certain to piss someone off: Ian Happ had a multiple-homer game yesterday in Iowa. This is excellent news for both Happ and the I-Cubs, but consistency remains his problem. Batting in the minors is a far cry different than facing guys like Max Scherzer, Zack Greinke, and Hyun-Jin Ryu. I firmly believe that Happ has talent; however, that talent may be limited to a Triple-A level. He's failed to show consistency for the last two years at the major league level, and I don't see him returning to the Cubs, nor do I see him staying in Chicago's farm system. Trade him. Get what you can get and let him attempt to flourish in an environment that will provide him consistent playing time.
Cubs vs. NL Central: Once the break is concluded, 45 of the Cubs remaining 72 games will be against NLC Rivals. The Cubs are currently 3-3 (.500) vs. the Brewers, 3-4 (.429) vs. the Pirates, 6-3 (.667) vs. the Cards and 3-6 (.333) vs. the Reds. Overall, the Cubs are 15-16 (.484) vs. the NL Central. And that dog won't hunt when it comes to a postseason run.
What the hell? I appreciate the concept of not taking sides, but c'mon man, this isn't World War II, and you're not Switzerland. Pick a team.
Nah man you gotta pick a side pic.twitter.com/TPrmrPmAor

— NBC Sports Chicago (@NBCSChicago) July 6, 2019
Joe Maddon: As rumors continue to swirl about Maddon's future with the -Cubs, I heard a very interesting stat about the Cubs' managers- only four of them over the teams 130+ year history have ever seen a sixth year: Cap Anson: 17 seasons (1881-1897; Frank Chance: 6 seasons (1907-1912); Charlie Grimm: 12 seasons (1933-1938, 1945-1949, 1960); Leo Durocher: 7 seasons (1966-1972);
Potential: I said it the day they signed Nico Hoerner last year: This kid is going to be fire. The Tennessee Smokies dug up a stat comparing Hoerner to Kris Bryant. The two seem eerily similar.
Prospect Ballers #cubs @nico_hoerner vs. @KrisBryant_23 After 20 games with @smokiesbaseball



Nico: 21 hits, 5 doubles, 3 triples, 2 HR, 9 RBI, 304 BA, .385 OBP, .551 SLG

KB : 21 hits, 5 doubles, 4 HR, 10 RBI, .304 BA, .435 OBP, .565 SLG



Scary similar.

July 6, 2019
Gotta love Grandpa Rossy: A picture (or Tweet) is worth 1000 words:
This is my mood after all the food I ate the past two days lol ?? pic.twitter.com/7Kz8VRIqto

— David Ross (@D_Ross3) July 6, 2019
Fangraphs: According to Fangraphs, the Dodgers have a 100% chance of making the playoffs, the Braves have a 96.1% chance, and the Cubbies chances are now down to just 72.7%,
Giants will sell, but can Cubs buy? Also according to Fangraphs, the Giants have a 0.4% chance of making the playoffs, meaning that they're highly likely to sell off essential parts of the MLB roster. With the Cubs yearning for Will Smith and (on a lesser scale) Tony Watson- both lefty relievers, Chicago has the possibility of swinging a deal, but the pair, especially Smith, won't come cheap.
Best wishes: Indians' righty, Carlos Carrasco had been missing work due to some illness, described only as an "unspecified blood disorder;" Carrasco has now revealed that he has leukemia. Carlos last pitched on May 30 and is now said to be undergoing treatment, which reportedly has the disease under control. Carrasco hopes to be able to return to the lineup this season. I wish him the best for a speedy recovery and a healthy return to a sport that's better with him in it.
"This is going to make me stronger than I've ever been." - Carlos Carrasco

Stay #CookieStrong. We ?? you! pic.twitter.com/KokfX0wayr

— Cleveland Indians (@Indians) July 6, 2019
Baseball Quotes: "I had only one superstition. I made sure to touch all the bases when I hit a home run." -Babe Ruth
Cub Birthdays: Celebrating yesterday, were ex-Cubs Lance Johnson (56) and posthumously, Frank Kellert (95).
NL CENTRAL SCHEDULE (June 23 – June 29, 2019)
(Wins are in green, losses in red)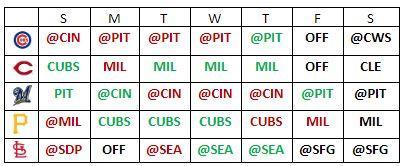 NL CENTRAL SCOREBOARD/STANDINGS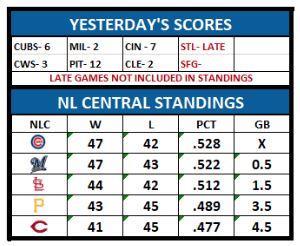 Tags: Cubs Baseball
,
,
Kyle Hendricks
,
,
,
Steve Cishek
,
Addison Russell
,
Anthony Rizzo
,
,
David Ross
,
Joe Maddon