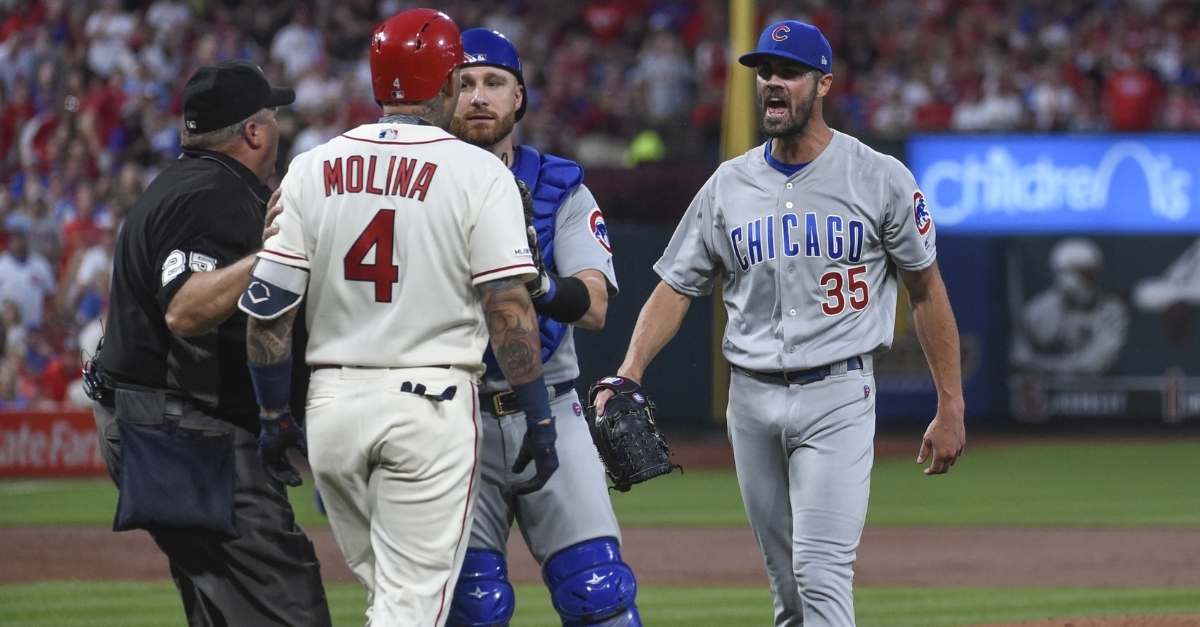 | | |
| --- | --- |
| Cubs News and Notes: Fly the W, Maddon's fate, Cubs' window, KB on Maddon, more | |
---
| | | |
| --- | --- | --- |
| Sunday, September 29, 2019, 8:03 AM | | |
Next Game: Sunday: Pitchers Derek Holland (2-4, 5.47 ERA) vs John Flaherty (10-8, 2.85 ERA). Game information: 2:15 PM CDT; Televised on ABC-7.
Saturday's Game Recap:
At this point, Milwaukee, Wisconsin probably has just about as many Cubs fans as Chicago does, as the Cubs are the one thing standing in the way of the Cardinals first trip to the playoffs since 2015, and they're the only team who can help the Brewers.
Last night, Cole Hamels made his final start of the year, and presumably his last as a Cub, as he faced Adam Wainwright and a desperate Cards team.
Kyle Schwarber would get the Cubs going in the first with a two-out Schwar-bomb to the right. Ian Happ would start his night off on a good note, singling to the right, but Jonathan Lucroy whiffed to end the two-out threat. Cubs lead 1-0.
Benches clear in STL

Molina and Hamels jawing at each other after Molina was grazed with a pitch: pic.twitter.com/Uhac3CBy99

— Tony Andracki (@TonyAndracki23) September 28, 2019
Nico Hoerner's single in the second would count, as Happ homered that inning to make it 3-0 Cubs.
Ian Happ's two-run homer in the 3rd gives him a .438/.455/1.031 slash line over his past 13 games. Four doubles, five homers and 13 RBI in that stretch.

— Jordan Bastian (@MLBastian) September 29, 2019
Then Happ would do it again in the fifth with Schwarbs on base to make it 5-0. If this keeps up, Ken's going to be on an apology tour…
Victor Caratini smashed one to the right, making it 6-0, with still only one away. Addison Russell's single would be the last straw for Mike Shildt, who promptly replaced Wainwright with Dominic Leone, who would stop the bleeding. Cubs lead 6-0.
With Hamels out and Kyle Ryan in, the Cards got on the board with Bader's solo-shot to the left. After back-to-back walks, Ryan was out; enter David Phelps. Edman would triple, making it 6-3 Cubs.
It would take the Cubs multiple relievers to get through the bottom of the seventh, by the time it was over with, the Cards had pulled to within one run. Cubs lead 6-5 after seven.
Tony Kemp's RBI single, combined with Nico Hoerner's sac-fly would put the Cubs back up by two in the eighth.
Pedro Strop would start giving momentum back in the bottom of the eighth, serving up a home run ball to DeJong, then issuing a walk to Bader. After 27 pitches, he'd finally get Martinez looking and Dexter Fowler swinging to end the frame.
Brandon Kintzler with the save. Cubs win it 8-6.
Also, of importance to the NL Central race, Colorado walked-off Milwaukee in the 10th, so if the Cubs can complete the sweep tomorrow in St. Louis and Milwaukee wins, the Cards and Crew are headed for a game-163.
CUBS NEWS AND NOTES
Maddon on the NL Central race: "Everybody thinks their baby is the cutest, but the other kids are cute, too." When Maddon was asked if he'll use an opener (starter) for the final game, he replied, "We'll use an opener, a seconder, a third and a fourth."
I'd think he might be a little more serious, but I guess that this is a passive-aggressive way to show Theo that Maddon refuses to sweat. I will credit him for one thing. He's definitely kept a relaxed upper lip through this whole saga. Maddon was expected to meet with Theo last night after the game for the answer to the question surrounding his future, and when asked if drinks would be involved, Joe replied, "Probably, yeah. Not that I need any more of those."
Maddon to address reporters soon. Last few days he's engaged with his players about the finality of his situation. Good, emotional talks is how a couple put it. Only thing left is for the Cubs or him to make it official.

— Jesse Rogers (@ESPNChiCubs) September 28, 2019
Almora update: Almora told reporters after the game, that he had cramped up off-and-on in pregame warmups and then cramped up again in the top of the sixth while downplaying any concern for the injury. Almora had some brilliant defensive work in the first five innings, including robbing Yadi Molina of a go-ahead home run, which Almora called the best defensive feat of his Major League career.
The Cubs' window to win: ESPN 1000 asked fans where the Cubs' window of opportunity stood, and a good portion felt that time was running out quickly. I think they still have a little time, but they better get the pieces together this winter, or they can kiss it goodbye.
The #Cubs "Window to win" is:

— ESPN 1000 (@ESPN1000) September 28, 2019
Darvish's agent: The following quote is from Joel Wolfe (Yu Darvish's agent) and appears in Patrick Mooney's subscription-based article in The Athletic, entitled, How Yu Darvish found himself during a lost season for the Cubs. "This may sound funny- it's hard to articulate- but he's like a free man. A lot of times these guys are constrained by so many different things, whether it's the contract or the pressure they put on themselves to perform, trying to please people in their lives or fans or teams or whatever.
Sitting there listening to him, just watching his body language and how he was talking about it, I was like, 'Wow, the confidence level is the best I've seen in him as long as I've known him.' This reminds me of the guy when he came over here (from Japan), except much more mature and settled down. Now he's a mature father, husband, veteran pitcher secure in himself as a teammate and as a pitcher. He can just go out there and get the job done."
Hoerner back to school: In the next few weeks, the Cubs' players will be back with their families, on the golf course, and a few may even go to Disney; not Nico Hoerner though. Hoerner is headed back to Stanford to tackle the final 15 credit hours needed for his bachelor's degree. Kudos to Nico for recognizing that baseball may not always fulfill his needs in life.
Kris Bryant on Maddon: "I told him that I'm bummed how this has all played out for him. I appreciate all our talks. He knew what made me tick. I'm not easy. I'm tough on myself, and he understood that. Whoever gets him is going to be lucky."
Schwarbs has Maddon-itis: When asked about the situation surrounding the likelihood that he or anyone of several Cubs could be on the move this winter, Schwarber says, "Whatever happens, happens."
Schwarber: "Whatever happens, happens" pic.twitter.com/djpmbUK7OM

— Mark Gonzales (@MDGonzales) September 28, 2019
Verlander rakes: Congratulations to Astros' ace, Justin Verlander, who collected his 3,000th major league strikeout last night. Between him and Gerrit Cole, I'd say whoever meets them in the playoffs may have more than a little trouble.
Baseball Quotes: "My dad taught me to switch-hit. He and my grandfather, who was left-handed, pitched to me every day after school in the back yard. I batted lefty against my dad and righty against my granddad." -Mickey Mantle
I became a good pitcher when I stopped trying to make them miss the ball and started trying to make them hit it. -Sandy Koufax pic.twitter.com/zbYlDyavvN

— Baseball Quotes (@BaseballQuotes1) September 27, 2019
Cubs' Birthdays: Celebrating yesterday, were ex-Cubs Joey Nation (41) and posthumously, Dick Gernert (91), Dick Barrett (113), Jim Brillhart (116), Hank Grampp (116), and Wilbur Good (134).
THIS WEEK'S NL CENTRAL SCHEDULE:
(Wins in green, losses in red)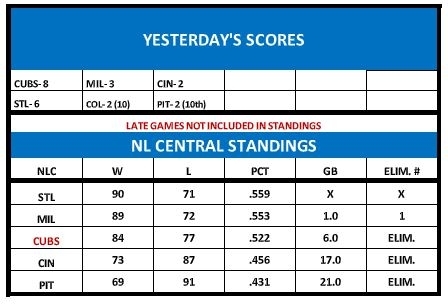 Tags: Cubs Baseball
,
Cole Hamels
,
Kyle Schwarber
,
,
Victor Caratini
,
Addison Russell
,
Kyle Ryan
,
Pedro Strop
,
Dexter Fowler
,
Brandon Kintzler
,
Yu Darvish
,