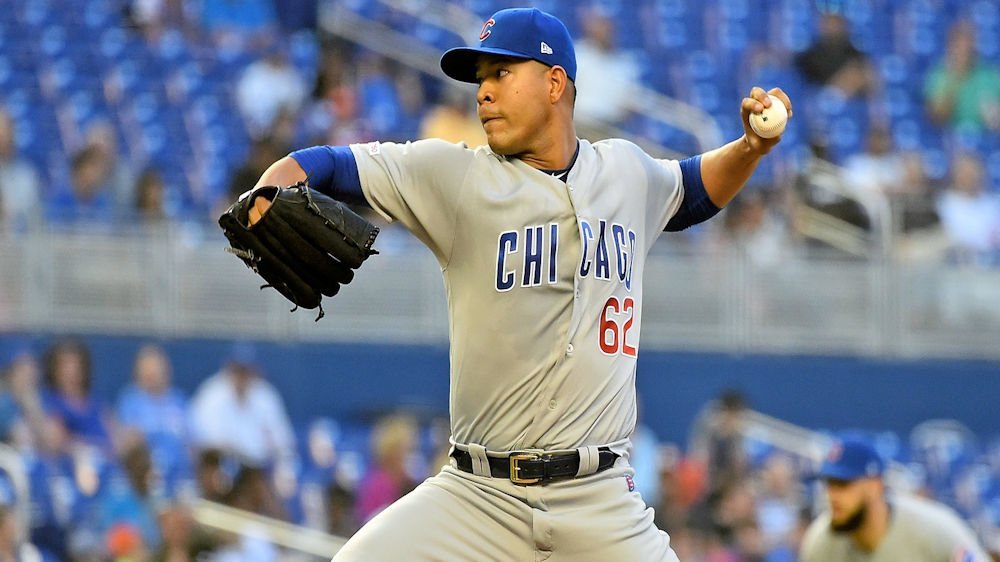 | | |
| --- | --- |
| Cubs News and Notes: Qualifying offers, Cubs arbitration group, Trade ideas, more | |
---
CUBS NEWS AND NOTES
Qualifying offers: The magical number is out. This year, any player eligible to receive a qualifying offer is entitled to $18.9M. Players are only entitled to receive a QO once during their career, and the two Cubs eligible this season are Jose Quintana and Tyler Chatwood. According to various articles on other sites, the Cubs aren't planning to offer either player a qualifying offer. However, speculation suggests that both could come back as free agents on "team-friendly" deals.
The Cubs gave up a ton to get Quintana, including top prospects Eloy Jimenez and Dylan Cease but didn't quite get an ace in return - generally the expectation for giving up a pair of highly touted prospects. Quintana has chewed up a ton of innings but has never really been dazzling, more so quietly solid as I've always called him. Q saw limited action this year, partially due to nearly severing his thumb during a dishwashing accident at home - sheesh, and my wife wonders why I try to get out of doing the dishes…
Chatwood has a little bit of a different story. After leaving the Rockies, the Cubs signed Chatty to a three-year/$38M deal, during which time he grossly underperformed for a season (2018). Tommy Hottovy rightened Chatwood's mind and arm in 2019, but by that time, Joe Maddon had buried Chatwood so deep in the pen, you hardly remembered that he was on the team.
Enter 2020. Maddon's out, David Ross is in, and the Cubs need a starter. Chatwood got the nod and came out firing, though a couple of rough outings, ultimately followed by an injury, left him sidelined after just five starts this season. The two bad starts crushed his ERA, leaving him at 5.30 on the year.
Chatwood is turning 31 in mid-December, while Q will be turning 32 next May. $18.9 million is a lot of cash, but if Chatwood can continue what he started, he may be worth a one-year deal. The problem for Chatty comes in the form of Alec Mills and Adbert Alzolay. While I'm not sure Alzolay can be effective as a #5 starter regularly, Mills is definitely coming into his own.
Ironically, with the likelihood that Jon Lester has pitched his last game in a Cubs' uniform, Q may have a little more staying power as the Cubs will be without a lefty starter if both leave. The free-agent class is large this winter, and while replacing Q might be a simple task, replacing Lester - even as the Cubs #4 starter this season, may not be so easy.
Arbitration time: It's getting to be that time of the year again. No, no, not the holiday season, but rather arbitration time (much cheaper for fans than Christmas). Arbitration is that time when your team tells you they want you but remind you how much you suck. Meanwhile, your agent is selling you as the greatest invention since trashcans were installed in Houston's dugout.
The Cubs have seven players due for arbitration this season, but I don't think all of them will see the start of the 2021 season in a Cubs' uniform. According to MLB Trade Rumors, here are the projected salaries for the Cubs' arbitration-eligible group.
Kris Bryant (4.171) – $18.5MM
Javier Baez (4.089) – $9.3MM
Kyle Schwarber (4.086) – $8.0MM
Willson Contreras (3.108) – $4.5MM
Albert Almora (3.073) – $1.8MM
Jharel Cotton (2.158) – $800K
Kyle Ryan (2.139) – $1.1MM
I wouldn't expect to see Bryant there next year, nor would I be shocked to see Almora traded or DFA'd. Both need a change of scenery, and the Cubs aren't likely to keep either. They may get through arbitration before Bryant's trade occurs, but don't be shocked if Almora is non-tendered. That kid can play ball; unfortunately for him, he never gets the opportunity, especially with the way Ian Happ has emerged.
I'd expect Cotton to be either non-tendered or DFA'd as well. I have no idea what they ever saw in him, and he's done little.
As for the remainder, expect the Cubs to tender them contracts, but if Tom Ricketts and Tho Epstein are serious about shaking things up, I'd be willing to bet that either Javy or Schwarbs gets dealt." WHAT?" you ask. Yes, that's what I said. Had Victor Caratini played better at the plate this year, I would have added Willson Contreras' name to that list as well. Not because there's anything wrong with Willy, far from it, but because the Cubs have finally realized that this team never became the dynasty that it should have.
The Cubs' sole mission last year was to extend Baez, but those talks failed miserably. All sides were able to blame the delay on COVID-19 initially, but that excuse only played for so long. A year later, we are still nothing in the way of an extension for Baez. The fact that Javy hit a paltry .203/.238/.360 with 75 strikeouts in 235 plate appearances (32%) K rate) this year probably isn't helping him or his agent much, nor are his seven errors at shortstop doing him any favors.
Javy Baez is a phenomenal ballplayer, but he lost his mojo like so many others on his team.
Cubs' Birthdays: Happy Birthday to ex-Cubs Kennie Steenstra (50), Damian Miller (51), Bryan Hickerson (57), Mike Capel (59), George Frazier (66), and posthumously, Charlie Silvera (96), William "Pickles" Dillhoefer (127), and George "Rube" Waddell (144).
Baseball Quotes: "It's hard to be a Chicago Cubs fan. Everyone gets that. There have been so many close calls, like in 1962, when they missed the postseason by 42.5 games." – King Kaufman
MLB NEWS AND NOTES
Surprise, surprise, surprise: Who'd have thought that three games into the ALCS, that the Astros would be on the verge of being swept by the Tampa Bay Rays? Even more astonishing, who'd have thought that two games to the NLCS, the Dodgers would be down two-zip to the Braves?
I would be so glad to see some fresh faces in the World Series this year. Not that the Dodgers ever seem to win it (the last one was 1988), but Tampa vs. Atlanta isn't something you probably figured on two weeks ago when all of this started.

Upgrade Your Account
Unlock premium boards and exclusive features (e.g. ad-free) by upgrading your account today.
Upgrade Now

Tags: Cubs Baseball
,
Jose Quintana
,
Tyler Chatwood
,
David Ross
,
Alec Mills
,
Adbert Alzolay
,
Jon Lester
,
Kris Bryant
,
Kyle Schwarber
,
Willson Contreras
,
Albert Almora
,
Jharel Cotton
,
Kyle Ryan
,
Ian Happ
,
Victor Caratini
,
Javy Baez
,
Joe Maddon
,
Tommy Hottovy