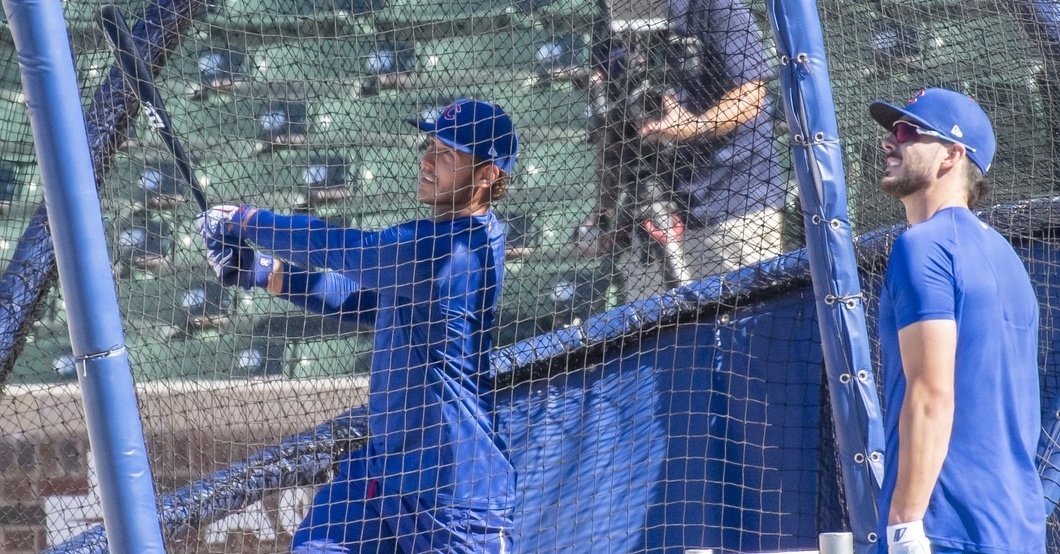 | | |
| --- | --- |
| Cubs News and Notes: Rizzo back, Almora slams into wall, Chapman has COVID-19, more | |
---
| | | |
| --- | --- | --- |
| Sunday, July 12, 2020, 8:33 AM | | |
CUBS NEWS AND NOTES
Next Game: Sunday, July 19th (preseason) White Sox @ Cubs. 7:05 CDST. Opening Day: Friday, July 24th. Brewers @ Cubs (pitchers TBD), televised on ESPN, with the first pitch at 6:10 PM CDST.
Rizzo's back is back: Good news from the Cubs' skipper, as David Ross informed the media on Saturday that Anthony Rizzo is back to working out with the team.
"Got some swings off and felt good," Ross said. "Everything's continued to move in the right direction. And we'll continue to build him up. He's itching to see some live pitching here soon, so we'll get that in the works."
Not that Rizz is any stranger to back issues, but this is awfully early in the spring, err, uh, summer, I mean, for the Cubs' captain to be enduring problems. One can only hope that Rizz gets it out of his system now, as the Cubs will definitely be needing his bat as they embark on this 60-game sprint to the finish. Rizz came back in full glory, hitting dingers during batting practice.
Also joining Rizzo on the practice squad today, was reliever Kyle Ryan. The Cubs will also need good things out of Ryan this season, as their bullpen seems exponentially weaker than it did last year.
Ryan, Rizzo back on the field. pic.twitter.com/LtDwU3RnbY

— Marquee Sports Network (@WatchMarquee) July 11, 2020
Almora injured: Albert Almora Jr. was injured on Friday, after colliding with the wall in center.
"Almora was trying to track down a deep fly off the bat of Kris Bryant but slammed into the bricks and ivy in center before falling to the warning track.
Almora was escorted off the field by the Cubs' training staff and subsequently diagnosed with a mild left rib contusion (bruise). Almora wound up foregoing yesterday's practice to get treatment. The injury was not considered to be serious.
Bryant sends a Kimbrel pitch deep to CF and Almora hits the wall hard. Being checked on now. pic.twitter.com/TcNGSc5rWF

— Jordan Bastian (@MLBastian) July 11, 2020
Following the injury, David Ross told the media, "That brick wall does not move -- at all," Ross said. "There's a fine line when you're sitting in this seat. You love the mindset of Albert and trying to catch every ball and kind of throwing caution to the wind. And then you're like, 'It's a scrimmage.' You'd like him to be a little more timid, but I don't want to ever take that away from my players.
"And Albert's got that ability to go into that wall and catch the ball. I definitely was concerned as I ran out there and heard his voice. And as most players are going to, they're going to try to fight you to stay in, if they feel like they're fine. Ran him in to get checked out. [Head athletic trainer P.J. Mainville] gave it the thumbs up." (Quotes courtesy of Jordan Bastian.)
Cubs adding more dugout-style seats so players can better spread out.

Ross: "They're going to take out some of the seats and cover that area down there, so players have got some area to sit and move around a little bit. That was a concern of ours." pic.twitter.com/w3ypq4tTvq

— Jordan Bastian (@MLBastian) July 11, 2020
"[Almora] wanted to get back out there, so we ran him out there, and he got the game-winning hit for the white team. And then I had to go over to the blue side, and they were complaining about him batting out of order. That's where the competition is right now with this group, saying that run doesn't count because Al batted out of order. I mean, it's hilarious. These guys they want to win at everything they do." -- Ross, on Almora re-entering Friday's intra-squad game.
COVID issues: The issues with COVID-19 testing procedures keep surfacing, and once again, they've affected the Cubs. Practice on Friday had to be pushed back, as test results from Tuesday hadn't been received. This delay marking the second time in a week, there's been issues.
The Cubs still have not had a positive coronavirus test reported, David Ross said. Kyle Ryan has arrived in Chicago and tested. He will report to camp if those results come back negative.

— Chris Emma (@CEmma670) July 10, 2020
For his part, Theo Epstein is happy overall with the procedure, stating " I think the testing program has made big strides, even over the last week."
With the number of issues, it's no wonder that players continue to opt-out of playing this season. The latest being Buster Posey of the Giants.
Then some have no choice to opt-out to quarantine, as they've been bitten by the virus bug.
Chapman tests positive: I loathe the Yankees, but I always keep an eye on former Cubs' reliever, Aroldis Chapman. Not that the Yanks aren't perpetually plagued with health and injury issues, but now Chapman has been diagnosed with COVID-19.
Breaking: Aroldis Chapman has tested positive for COVID-19, Yankees manager Aaron Boone said.

Chapman has mild symptoms, according to Boone. pic.twitter.com/olqzqwnTAA

— SportsCenter (@SportsCenter) July 11, 2020
According to Yanks' skipper Aaron Boone, Chapman was mildly symptomatic but is doing well.
Per MLB safety protocols, Chapman will now have to self-quarantine, then pass two tests before he's allowed to return to action with the Bronx Bombers.
Cubs' Birthdays: Celebrating yesterday (all posthumously) were ex-Cubs James "Hank" Griffin (134), Harry Wolter (136), Jimmy Slagle (147), George Meakim (155), and William "Pop" Schriver (155).
Baseball Quotes: "New Rule: Don't name your kid after a ballpark. Cubs fans Paul and Teri Fields have named their newborn son Wrigley. Wrigley Fields. A child is supposed to be an independent individual, not a means of touting your own personal hobbies. At least that's what I've always taught my kids, Panama Red and Jacuzzi."
- Bill Maher
Hitting the ball was easy. Running around the bases was the tough part. -Mickey Mantle pic.twitter.com/oVaCizrQS9

— Baseball Quotes (@BaseballQuotes1) April 5, 2020
MLB NEWS AND NOTES
At war: Every once in a while, you'll see an MLB player lose his cool, lashing out (back) at a fan on social media. Not that those instances aren't deserved, as it's usually in retaliation from being attacked by the fan. Yu Darvish is a genius when it comes to carefully plotting revenge.
OF Randal Grichuk (Blue Jays) and Marcus Stroman (former Jays pitcher) took it to the next level this weekend, not attacking fan(s), but rather one another.
Oh my god. pic.twitter.com/WFjmNInZXN

— Leah Kessel (@leahflame) July 11, 2020