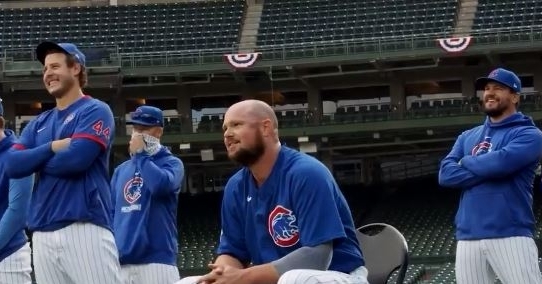 | | |
| --- | --- |
| Cubs News and Notes: Rizzo, Pederson show off power in tie, Lester to have surgery, more | |
---
| | | |
| --- | --- | --- |
| Thursday, March 4, 2021, 11:38 AM | | |
Hello, Cubs fans out there! I hope everyone is having a great day.
Check out the latest news, photos, and tidbits from spring training with the Cubbies with our latest edition of Cubs News and Notes.
We will try to have this feature several times a week, so everyone gets a summary of what is happening regularly at Cubs camp.
Let's get right all the Cubs notes!
First off, it was announced that former Cubs pitcher Jon Lester will have a thyroid gland removed that has been troubling him.
He should be back before Opening Day and David Ross had the following reaction on hearing the news from his buddy.
"All the best to Jon. We'll say a prayer for him. He's not worried, so that makes me not worried."
Jon Lester, as many know, was diagnosed with lymphoma in '06. Went through chemotherapy, returned to pitch for Red Sox in July '07, has been healthy ever since. Reported to Nats coaches/doctors this spring he was feeling tired. Thyroid issue discovered, he'll now have it removed.

— Mark Zuckerman (@MarkZuckerman) March 3, 2021
The Cubs and the Mariners had a high-scoring affair contest that ended in a tie 8-8 on Wednesday afternoon.
Check out some of the highlights from the contest shown on ESPN.
Anthony Rizzo had one of the longest homers ever at Sloan Park:
Rizz-oh my goodness... ??@ARizzo44 pic.twitter.com/jJuAPW5ZT7

— Chicago Cubs (@Cubs) March 3, 2021
Cubs veteran outfielder Jason Heyward accidentally says a bad word on live TV:
Jason Heyward on what David Ross would tell him as a rookie

"You better have your shit in line" pic.twitter.com/0hjflrT8Yv

— Aldo Soto (@AldoSoto21) March 3, 2021
Javy Baez was being interviewed by ESPN when the Mariners made a great play in the outfield robbing Rizzo:
Javy Baez reacts to Anthony Rizzo lining out to the track, sends ESPN to break. pic.twitter.com/VTdMeCTs2L

— Matt Clapp (@TheBlogfines) March 3, 2021
The Cubs first spring training homer goes to newcomer Joc Pederson:
Joc Pederson hits his 1st HR for @Cubs!#GoCubsGo pic.twitter.com/Yp2uNPNxWO

— Billy Krumb (@ClubhouseCancer) March 3, 2021
The Cubs are signing veteran infielder Eric Sogard to a minor league deal on Wednesday, pending a physical:
#Cubs adding veteran infielder: https://t.co/d0IFDTSVuD pic.twitter.com/ptXBamKQAg

— CubsHQ.com (@ChicagoCubsHQ) March 3, 2021
Cubs reliever Dillon Maples has changed up his delivery on the mound:
Dillon Maples displayed decidedly different mechanics on Tuesday, so I wanted to take a look at them. Here his is in July of 2020 vs. Game 2 of spring. Side by side via @CFCubsRelated pic.twitter.com/V5kCdEYeFF

— Evan Altman (@DEvanAltman) March 3, 2021
In case you missed it, veteran reliever Pedro Strop is back with the Cubs and very happy about it:
Pedro Strop on re-signing with #Cubs: "I'm just so happy to be back": https://t.co/xtzIskVQj3 pic.twitter.com/FWPABjtvXY

— CubsHQ.com (@ChicagoCubsHQ) March 3, 2021
A few pics from Thursday's game:
Play ball! pic.twitter.com/nINqU6B1zf

— Chicago Cubs (@Cubs) March 3, 2021
Five years ago, Munenori Kawasaki brought the house down with this romantic ballad:
5 years ago today, Munenori Kawasaki gave us the best concert at Spring Training. He sang, "I don't want to miss a thing". Kawasaki was so much fun to have on the team. ??

(??: @Cubs) #Cubs pic.twitter.com/mj9LpRpDBa

— Cubs Zone ™? (@CubsZone) March 4, 2021
More flashback moments with comedian Will Ferrell at Cubs camp five years ago:
#TBT to Will Ferrell's Spring Training appearances throughout the Cactus League in 2015.

He had quite the stint with the @Cubs. ?? pic.twitter.com/0nWaIlo7gk

— MLB Vault (@MLBVault) March 4, 2021
The Cubs were on hand to watch batting practice from veteran slugger Yoenis Cespedes recently:
#Cubs among teams that scouted Yoenis Cespedes at FL showcase: https://t.co/LJ45fSkqqO pic.twitter.com/BZHGoDsJWJ

— CubsHQ.com (@ChicagoCubsHQ) March 3, 2021
Cute video of Kris Bryant and his young son Kyler walking around the facilities at Sloan Park:
Kyler's first time at Spring Training! ???? @KrisBryant_23

(??: @Jess__bryant) pic.twitter.com/cMSkEVwKSk

— Cubs Zone ™? (@CubsZone) March 2, 2021
Grandpa Rossy still knows how to throw the baseball around a little:
Still got it ???? pic.twitter.com/FtoeruMsQH

— Marquee Sports Network (@WatchMarquee) March 3, 2021
The Triple-A including the Iowa Cubs will be delayed a month while more vaccines get administered throughout the country:
Triple-A to be delayed a month as alternate sites return in 2021: https://t.co/ODDNFuOBIY pic.twitter.com/gJ8LjQEhvw

— CubsHQ.com (@ChicagoCubsHQ) March 3, 2021
Best wishes to Yankees manager Aaron Boone as he is having a procedure to put in a pacemaker.
"The thoughts of the entire organization are with Aaron and his family as he undergoes this procedure and takes the time he needs to properly heal," said Yankees Managing General Partner Hal Steinbrenner. "Aaron leads our players, coaches and staff with a rare combination of work ethic, intelligence and a genuine concern for others. Our only priority at this time is Aaron's health and well-being, and we will support him in every way throughout his recovery."
The New York Yankees today announced that Manager Aaron Boone is taking an immediate medical leave of absence to receive a pacemaker. Surgery is expected to be performed later today at St. Joseph's Hospital in Tampa.

Sending ?? to our skipper. pic.twitter.com/rwJo0hAMDd

— New York Yankees (@Yankees) March 3, 2021
Wrigleyville is getting a Cane's, which is mostly chicken fingers and fries. It's gonna pretty delicious!
Wrigley's newest food option pic.twitter.com/UX3MeW6mMy

— Paul Sullivan (@PWSullivan) March 3, 2021