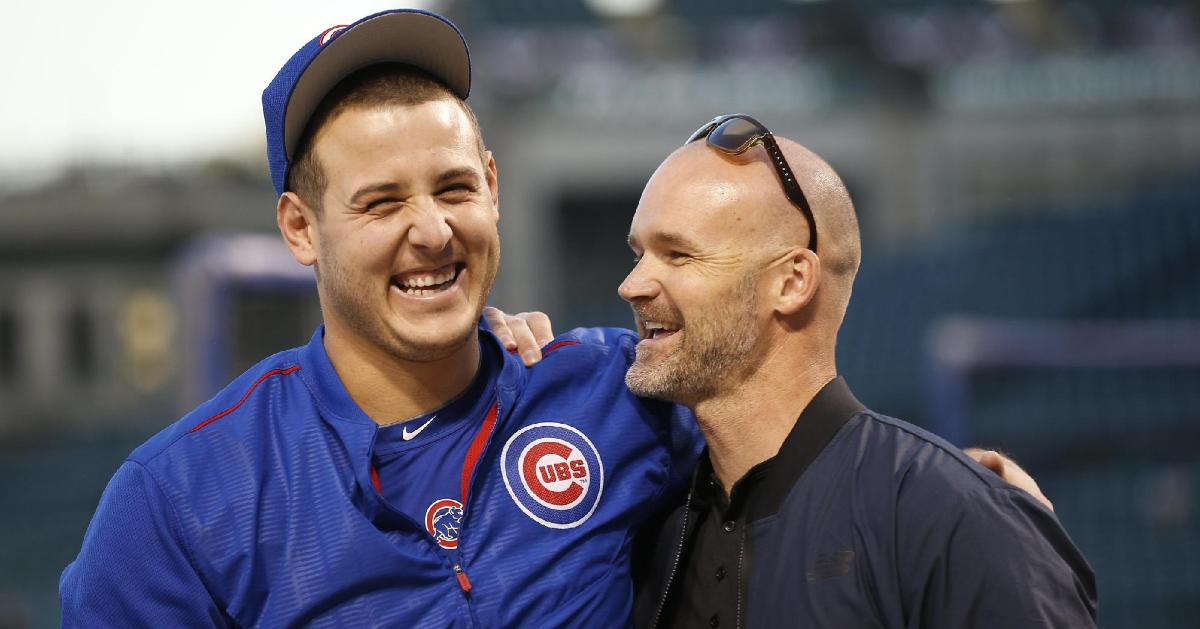 | | |
| --- | --- |
| Cubs News and Notes: Ross interview, Qualifying offers, Maddon's halo, Hot stove, more | |
---
| | | |
| --- | --- | --- |
| Saturday, October 12, 2019, 8:25 AM | | |
MLB Postseason
NLCS:
Nationals vs. Cardinals; Game-1: Anibal Sanchez did the dealing for Washington last night (in St. Louis), holding the Cards to just one hit (1 walk, five strikeouts) over 7.2 innings. Sean Doolittle picked up the remaining 1.1 innings, as the Nats winged the Cards by a final of 2-0. Washington now leads the best-of-7 series 1-0.
Game-2 of the NLCS is scheduled for this afternoon at 3:08 PM Central (TBS); Max Scherzer vs. Adam Wainwright.
Game 1 belonged to Aníbal Sánchez. #NLCS pic.twitter.com/Jir3jS4OIP

— MLB (@MLB) October 12, 2019
ALCS
The Yanks will face Houston in the ALCS; Game-1 tonight at 7:08 PM Central (FOX); Justin Verlander vs. James Paxton.
CUBS NEWS AND NOTES
David Ross: The other day, Joe Girardi got his chance to dazzle Theo to the tune of an eight-hour interview, and yesterday morning it was David Ross' turn to do the same. The press was able to get some pics of Ross, Theo Epstein, and Jed Hoyer as the three took off for some Starbuck's.
David Ross gets an all-expenses-paid trip to Starbucks during Thursday's interview for the Cubs manager job.

October 11, 2019
There's no word on when an official decision will come down, but the Cubs are still interested in talking to both Carlos Beltran (Yankees special assistant coach) and Astros' bench coach, Joe Espada.
Hearing Carlos Beltran is very serious candidate for Mets manager. Has close relationship w/key FO guys Allard Baird and Omar Minaya, both said to support. @Ken_Rosenthal 1st linked CB to job. Interestingly, 3/4 known candidates have no MLB managing experience; also Bell, Shelton

— Jon Heyman (@JonHeyman) October 11, 2019
Trouble in paradise: According to Jeff Passan (ESPN), qualifying offers for players reaching free agent status will drop $100k for this winter, with the new QO being $17.8M. The QO number reflects the average salary of baseball's 125 highest-paid players.
Only a handful or two of players every offseason receive the QO — and just a few of those accept it. That said, the flatlining at the top end, with salaries bottoming out at the bottom, is another indicator of the game's changing economics and root of players' discontent with it.

— Jeff Passan (@JeffPassan) October 11, 2019
I'm not sure what to make of this, other than the fact that not many players who are eligible to receive qualifying offers are going to be staying with their current teams.
For those who don't understand qualifying offers MLB's website defines them as: "Clubs wishing to receive compensatory draft picks for the loss of a free agent can make a one-year "qualifying offer," worth the mean salary of MLB's 125 highest-paid players, to their impending free agents prior to the onset of free agency if and only if:
That player has never received a qualifying offer previously in his career.
2. That player spent the entire season on that team's roster (in-season acquisitions are ineligible).
There's a ton more to it than that, but that's the gist of it.
Cole Hamels will be eligible to receive a QO this year, which may prove tricky for the Cubs. To receive a compensatory draft pick for Hamels, the Cubs must make Hamels a qualifying offer. Hamels played for $20M in 2019, and many feel that with his age (36 in late-December), he'd certainly be willing to sign for less.
If the Cubs offer him the $17.8M, Hamels may re-sign, but if the team wants to move toward younger pitchers (and I think they will), Chicago cannot extend him an offer, thus causing them not to get that compensatory pick.
Quick pick-me-up: I had to add the following tweet. Aerial shots of Wrigley Field are always enough to make you want to be there. Oh well, 166 more days until the Cubs open in Milwaukee (March 26th), then it'll be the Home Opener against the Pirates on March 30th (Note to self: Wear a parka, long-Johns and Mukluks).
Nothing like a sunny Wrigley pic to brighten a dreary Chicago day. pic.twitter.com/b4PWBN7hnF

— Wrigley Aerials (@WrigleyAerials) October 11, 2019
"If…the Cubs trade Javier Baez…"? When I started suggesting that Kris Bryant would be traded this winter, my editor thought I'd bumped my head really, really hard. I was able to justify Bryant being dealt, but under no circumstance can I see the Cubs trading Javy, no matter how good Nico Hoerner is.
Go home Tribune. You're drunk. https://t.co/Uky5LzfQR0

— Charles the Cat™ (@CharlsMeow) October 12, 2019
Maddon's appears to be a lock: Joe Maddon continues to be reported as the next Angels manager, although the team also interviewed Showalter, John Farrell, and Johnny Washington. According to Scott Miller of "Bleacher Report, "It appears Washington, Showalter, and Farrell will have to look elsewhere, though, as Maddon is all but officially" locked in as the Angels' next manager."
All I can say is that I hope Tommy La Stella doesn't spend eight innings a game, riding the bench again. I think it will also be interesting to see how Mike Trout and others react to Maddon's style of managing.
Bryant wants more: "Coming back from last year, yes, there is plenty to be proud of for me, but there's always going to be things that I want to do better. That's how I'm always going to answer that question, whether it's an MVP year or the worst year in my career. I'm always going to say I want to be better until I'm done playing this game."
Bryant is coming off his third-best season (offensively), having slashed .282/.382/.521 with 31 homers, 74 walks, and 145 strikeouts.
Through My Eyes: Ian Happ's collection entitled, "Through My Eyes," will be releasing its third installment soon.
As described on the website by Ian Happ, "Through My Eyes" is a three-piece series of original artwork drawn by Patrick Vale. Each piece captures unique player views of Wrigley Field. The inspiration for this series came to me after bringing fans onto the field and seeing the same reaction over and over.
Your first personal encounter with Wrigley is awe-inspiring; the stadium feels like it's alive. This is the same field where Ernie Banks and Billy Williams played, where Babe Ruth called his shot. Over 100 years of Cubs history emanates from every corner of the stadium. I wanted to bring this experience to life with a series that exposes fans to the players' exclusive viewpoint."
Third installment of Through My Eyes coming soon! 70% of every sale goes directly to the Happ Family Charitable Fund benefitting mental health. Go check out https://t.co/sx8THK8WQI for new pricing and sizes!! pic.twitter.com/w8Iva84nDv

— Ian Happ (@ihapp_1) October 11, 2019
Cubs' Birthdays: Celebrating yesterday were ex-Cubs Jesús Sánchez (45), Rick James (72), and posthumously, Bob Chipman (101).
Baseball Quotes: "My job isn't to strike guys out, it's to get them out, sometimes by striking them out." -Tom Seaver
Willie Mays Hayes. I hit like Mays, and I run like Hayes.

You may run like Hayes, but you hit like sh*t. -Major League pic.twitter.com/wvYiWdKvgd

— Baseball Quotes (@BaseballQuotes1) October 9, 2019
MLB and the HOT STOVE
Phillies: According to Jon Heyman (670 The Score), Buck Showalter may be a prime candidate for the managing job in Philly. Citing Matt Gelb (The Athletic- Philly), "[Showalter] had a good rapport with Phillies [president] Andy MacPhail when both were in Baltimore."
Mets: After parting ways with Mickey Callaway, the Mets are now holding their face-to-face interviews for their next manager. Their prime
target seems to be Carlos Beltran, but Derek Shelton, Joe Girardi, and Mike Bell have also scheduled interviews.
Brewers: Yasmani Grandal may soon hit the open market, although he and the Brewers have a mutual $16M ($2.25M buyout). Grandal's contract does not entitle him to receive a qualifying offer and is expected to back out of the option for bigger and better things. The switch-hitting Grandal compiled a .246/.380/.468 batting line, a career-high 28 home runs, and 5.2 fWAR in 632 plate appearances.